Antonio Conte says Chelsea's trip to pointless Crystal Palace on Saturday will come too soon for Alvaro Morata but he is hoping to have the Spain forward back to face Roma in the Champions League.
However, N'Golo Kante requires a scan on a hamstring injury suffered with France in the 1-0 World Cup qualifying win over Bulgaria last Saturday and is likely to be out for the rest of the month.
Striker Morata missed international duty due to his hamstring problem sustained against Manchester City on September 30, but after initial fears of a long lay-off he then targeted returning for the Palace contest.
Wednesday's Champions League tie at home to the Italians, where the Blues will be seeking a third win from three Group C games, is now Morata's focus claims Conte.
"As you know very well we have three injured players. [Alvaro] Morata, I hope to have him back very soon, for the next game," said the Italian.
"[Danny] Drinkwater is progressing well but not ready yet. We must have patience with his calf problem. We may have to adapt some defenders into midfielders."
"And Kante, we are going to do a scan next week to check is situation. He's improving but, for sure, he has a hamstring problem and this is a big loss for us because you know very well the importance of Kante in our team.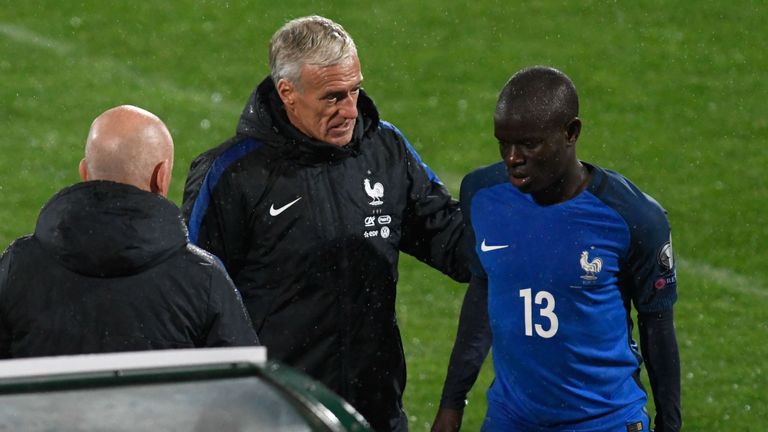 "From the previous scan, maybe he will be out for around 20 or 21 days.
"We don't have a similar player with the same characteristics. Now we have Tiemoue Bakayoko and Cesc Fabregas. We have to find different solutions."
The domestic fixture schedule in the next few weeks is favourable for the injury-hit Blues, who are seeking to respond from the 1-0 home reverse to City as Premier League fixtures with Watford and at Bournemouth are sandwiched in a Carabao Cup fourth-round tie against Everton.