Thierry Henry on Antonio Conte's management of Eden Hazard
Last Updated: 20/01/18 9:14pm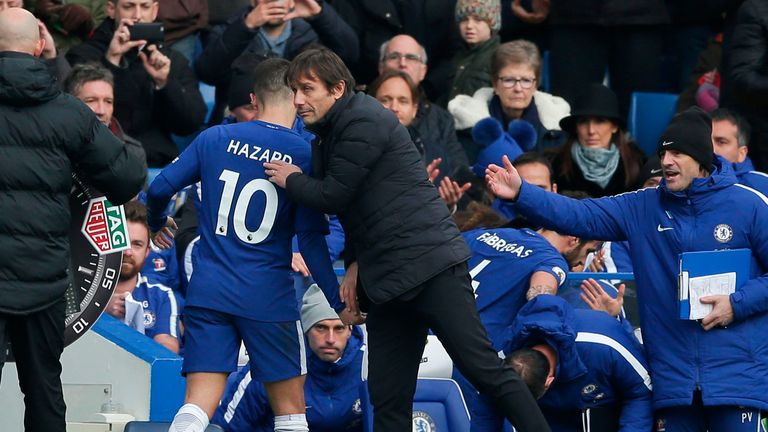 Thierry Henry thinks Antonio Conte deserves significant praise for his management of Eden Hazard after the Belgian was "unplayable" at Brighton.
An inspired performance from Hazard, where he helped himself to two goals, helped Chelsea get back to winning ways in the Premier League with a comprehensive 4-0 victory.
Conte's side were without a win in five games in all competitions heading into the clash on the south coast and were lacklustre in their previous match against Leicester, where Hazard was substituted after 62 minutes.
That decision at the time was met with boos from some parts of the Chelsea fanbase but Henry thinks Conte has managed the player perfectly in order to get the best out of him.
"I like what Antonio Conte does," Henry said.
"I watched the game against Leicester and they weren't scoring goals - Conte took him off. When you do that to a player like him with the quality he has, it woke him up. From the beginning today, he meant business.
"Conte did it last season ahead of a game with Arsenal and we all know what he did to Arsenal with that goal last year. I like the way Hazard reacted from the Leicester game.
"That's the job of the boss - sometimes a player might be tired, sometimes a player needs a reminder that he's not doing enough. I'm not saying Hazard wasn't. Usually when you take the main player off after an hour when you're supposed to win that game. It got the reaction of, 'OK, I'm on the bench, but we'll see next week'."