Maurizio Sarri: Chelsea not yet Premier League contenders
Chelsea beat Arsenal 3-2 in a thriller at Stamford Bridge on Saturday
By Gerard Brand
Last Updated: 18/08/18 10:24pm
Maurizio Sarri admits he does not see Chelsea as potential title contenders yet, and admits they are in trouble when they do not press all over the pitch.
Chelsea came out on top in a five-goal thriller against Arsenal at Stamford Bridge on Saturday, following their opening-day win over Huddersfield.
But Arsenal were allowed several clear chances towards the end of the first half, and Sarri was not completely happy by his side's performance.
Chelsea pip Arsenal after thriller
As it happened
Asked if he sees Chelsea as potential title challengers, Sarri said candidly: "Not in this moment. We did very well in the last 25 minutes today, but I think that we have to work, we have to improve in the defensive parts, and I am not talking about only the defenders.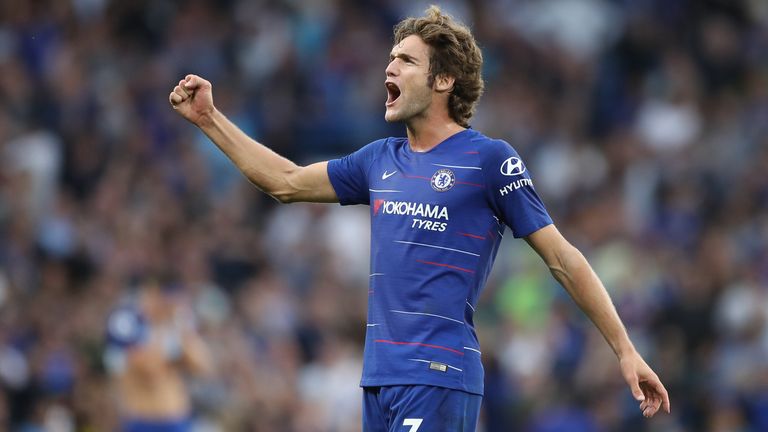 "The defensive phase of all the team, all players. Because if we press very high, we are able to do well. But in the moment where we are not going to press in the other half, we are in trouble. So I think we have to work and need to improve.
"I think we have done very well for 75 minutes. 15 minutes from maybe the 30th-minute was horrible. We lost the distances I think, we were not able to cover the last third, or press as a team, only one player to player.
"I think that the players were very good in the second half. It was not easy in the final part of the first half.
"We want to defend by looking only at the ball. We have to stay very compact and need to press on the other half. In that 15 minutes, we were not able to do this, so we were in trouble.
"We have to improve because I think we did really very well in the first 25 minutes today, but we need to continue to press and press and press in the other half. Otherwise, for us it may be a problem. I hope we will be able to play 90 minutes like the first 25 in two months."
Eden Hazard started on the bench for Chelsea again on Saturday, but came on in the second half with devastating impact.
The Belgian returned late following his nation's run to the third-place play-off in Russia, and Sarri says he hopes Hazard will be ready to complete 90 minutes in the next fortnight latest.
"It's clear. He is a great player, but I think that in this moment he is not able to play for 90 minutes, so I think that it was better for 25, 30 minutes when the intensity of the match is going down.
"But I hope, one more week, maximum two weeks, he will be able to play for 90 minutes."