Olivier Giroud's Chelsea future in doubt as he confirms offers from other clubs
Assistant manager Gianfranco Zola says he wants Olivier Giroud to sign long-term contract at Chelsea
By Liam Grace
Last Updated: 18/04/19 5:56am
Olivier Giroud has cast doubt over his Chelsea future once again by confirming that he has received offers from other clubs.
The 32-year-old France international striker sees his current deal expire this summer unless Chelsea activate a year-long extension, which they have until the end of the season to do.
Giroud has been unsettled at Stamford Bridge due to a lack of first-team games, admitting in January that his future at the club looked bleak following the arrival of Gonzalo Higuain from Juventus.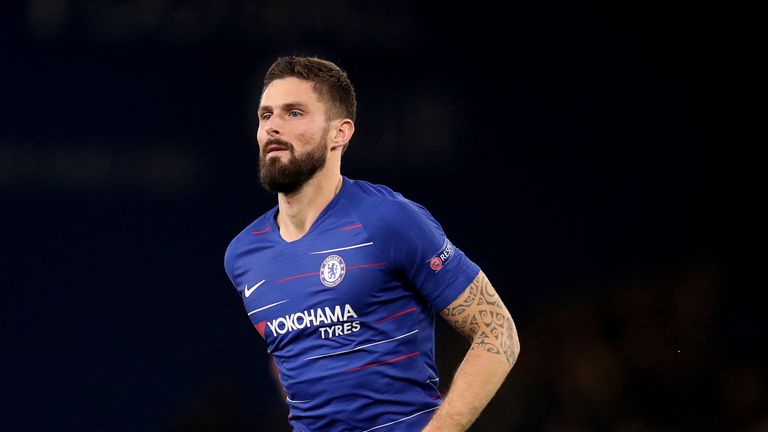 He has made just seven starts in the Premier League this season and only six appearances in the division since Higuain's arrival in the winter transfer window.
"I am frustrated when not on the pitch, but I just don't want to show it," Giroud said on Wednesday, ahead of Chelsea's Europa League quarter-final second leg against Slavia Prague.
"I am not happy to be the second striker. I don't know [if I will be here next season] you have to speak to Marina [Granovskaia]. I want to enjoy my football. It must be decided by the end of the season.
"Yes [I have received offers from other clubs] but I cannot tell you yet. I am focused on Chelsea."
Yes [I have received offers from other clubs] but I cannot tell you yet. I am focused on Chelsea
Olivier Giroud
Earlier this month, Chelsea boss Maurizio Sarri said he expects Giroud to stay at the club for another season via the year-long extension clause in his contract.
Sarri did not face the media on Wednesday because he was booked in for minor dental surgery, but in his place, assistant manger Gianfranco Zola said that he sees a long-term future for Giroud at Chelsea.
"Olivier Giroud has been magnificent," Zola said. "It is not down to me if he will stay, because I do not have that power. I hope he will stay - it would be good for him to sign for a long time."
Chelsea are set to be under a transfer embargo this summer after being punished by FIFA for breaking rules regarding the signing of overseas players under the age of 18.