Gonzalo Higuain's Chelsea career has stuttered, casting doubt over his long-term future
Watch Chelsea v Burnley on Monday Night Football, live on Sky Sports Premier League from 7pm; Kick-off 8pm.
Last Updated: 22/04/19 7:16pm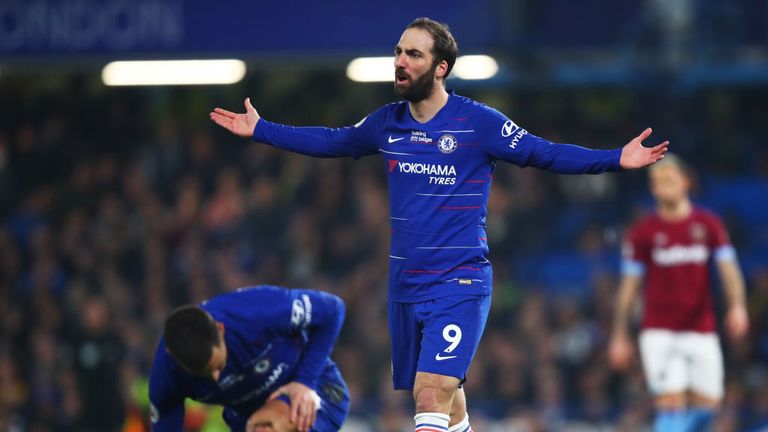 Having scored just three goals since arriving in January, time is running out for Gonzalo Higuain to convince Chelsea he deserves to prolong his stay in England, writes Pete Hall.
With Chelsea waiting to see whether their appeal over the two-year transfer ban imposed on them by FIFA will be successful, Maurizio Sarri and the Chelsea hierarchy cannot make too many plans with regards to their summer activity.
To add to the sense of uncertainty, it is not yet known if Chelsea would be able to activate their right to make Gonzalo Higuain's deal permanent this summer if a ban is in place, but should the 31-year-old continue to look a shadow of his former prolific self, then a decision to allow him to return to Italy may well be one of choice rather than one forced upon the club.
"I'm happy here," Higuain said last month. "It's always nice to try a new league, and it's my first taste of the Premier League.
"So my intention is to stay here. Obviously it's a period where I'm adapting, but I'm hoping that, although I've only got a short time, I can finish well."
Finishing well is certainly a must, because so far, Higuain has been anything but a success at Stamford Bridge.
With the outgoing Alvaro Morata failing to live up to the billing, Higuain was brought in by a manager who extracted the best out of the former Argentina international during his Napoli tenure. This time, though, Sarri has acquired a far less potent version of his former star striker.
In 2015-16, Higuain plundered a colossal 36 league goals as Sarri's Napoli finished second behind Juventus in Serie A, causing the champions to make Higuain the most expensive Italian transfer when signing the league's leading marksman just a few months later.
However, after initially continuing to find the net, the goals started to tail off, with a loan move to AC Milan failing to reinvigorate a striker seemingly past his best.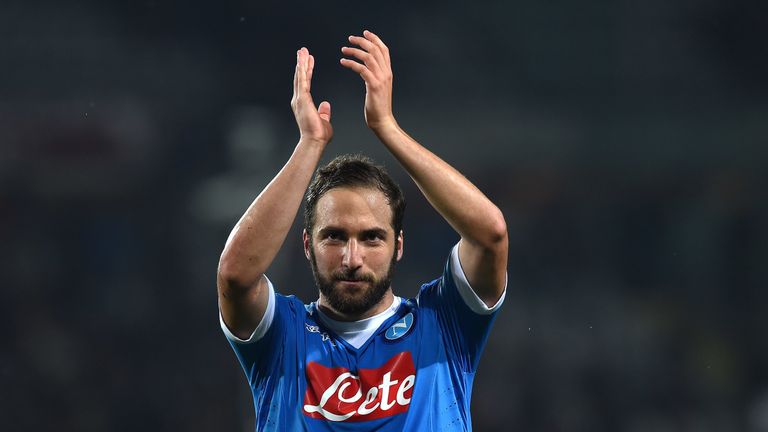 Then came the call from Sarri, giving Higuain one last chance to show his best days are not behind him - an opportunity that has passed Higuain by.
Three goals in 14 appearances, two of those at home against bottom side Huddersfield, has done little to show the Chelsea board he is the answer to their struggles to find a front-line striker.
Mobility has been the issue. While his predecessor Morata averaged 13 sprints per 90 minutes before heading to Atletico Madrid in January, Higuain averages almost half that figure (7.4), with current rival Olivier Giroud averaging 12.4 sprints per 90 minutes.
Given his fitness problems over the past few seasons, such statistics can be forgiven, starting his spell in London as the focal point of the attack, mainly with his back to goal and bringing others into play.
However, Higuain, without an assist since arriving in England, has created just 1.3 chances per 90 minutes for team-mates, compared to Giroud (1.9).
What is most worrying is just how quickly Higuain has tailed off. After two fine finishes against Huddersfield, Higuain has just one more strike to his name, against 19th-placed Fulham.
In 413 minutes since that goal against Chelsea's west London rivals, Higuain has fired just five shots on target - a lack of potency that echoed the latter part of his AC Milan spell, where he managed one goal in his last 12 appearances in northern Italy.
"Gonzalo has to improve," Sarri said two weeks ago. "He has to improve physically and mentally, but I think also he will be able to be very useful for us in the last part of the season.
"He needs time to improve his physical condition and time to be suitable for the Premier League. I think he is able to do it."
Time, though, is not on Higuain's side. Chelsea's hand may be forced should the imposed transfer ban remain intact, but if he continues to offer such little return from now until the end of the season, Chelsea are hardly going to move heaven and earth to permanently sign a striker very much on the wane.
Paul Merson's verdict
"He is just that bit older now. He has tried to come into this league and hit the ground running, but he simply cannot do that anymore.
"When he was in his pomp, he would have been a massive success over here - he was a proper player. He is not blessed with a lot of pace, and Chelsea do not make many chances, so he was always going to struggle.
"Would you pay £30m for him? I don't think the manager will be there next season anyway, and he is the reason that he came. No other manager would have gone in for a striker of his age and that short of goals. He could go to the MLS or something like that next - he just has not been a success over here, not even close."