Torres 'stronger than ever'
Fernando Torres insists he is feeling 'stronger than ever' after a turbulent start to his Chelsea career.
Last Updated: 30/08/12 6:02pm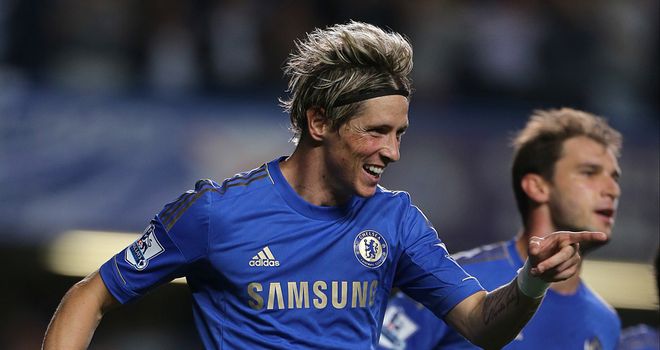 Fernando Torres insists he is feeling 'stronger than ever' after a turbulent start to his Chelsea career.
The Spanish ace believes he is a "better player and better person" since his record £50million switch in January 2011.
The striker is relishing playing for the Blues and looks certain to lead the line against former club Atletico Madrid on Friday in the UEFA Super Cup.
Speaking in Monaco on Thursday ahead of the tie, he said: "I would change nothing that happened to me last season.
"That taught me a lot of things. I learned a lot about a lot of people, in both ways. I learned a lot of things last season - good, bad. It made me a better player, a better person, and I'm stronger than ever now."
He added: "In these 18 months, I've become a better player. I have played in a different way to that I played at Liverpool.
"I can play more outside the box, associating more with my team-mates. I gave a lot of assists last season. I can mix it more."
Torres admitted that last term he felt like a teenager having to prove himself all over again.
Never been
"I'd never been on the bench like eight games in a row," he said.
"I started to understand everyone in the team. When you're playing, you don't think about these things.
"But when you're there, you understand what people go through on the bench. It was a new experience. I learned a lot of things about that, which made me a better team-mate.
"I always tried to be a good team-mate, as I was as captain in Madrid. But I lost that at Liverpool, when I was never captain.
"[At Chelsea] I went back to when I was 17 or 18, having to fight every day for my place.
"I never want to go back to that situation again."
Torres was the most expensive player ever transferred between British clubs and is likely to remain so for some time.
"The money Chelsea paid for me was never something I was worried about," he said.
Difficult change
"It didn't make me play badly. It was just a difficult change from Liverpool to Chelsea. The adaptation took more time than it should.
"But all these things are in the past. Let's think about the present. The future can be brilliant, even better."
He added: "You know you're going to play, or think you are, and that gives you more time to play your football.
"That's the main difference between this and the previous one-and-a-half seasons at Chelsea.
"I'm playing more minutes and the confidence is back."
Torres has doubtless been helped by Chelsea's summer signings and he was looking forward to a bright future.
"Let's enjoy now. The team is playing really well, the new players are settled and doing well, and we're in a good run now," he said.
"Let's go about winning the first trophy of the season for Chelsea tomorrow. If we do that, there'll be more to come for Chelsea."