Jose Mourinho says Frank Lampard will return to Chelsea in the future
Chelsea boss Jose Mourinho believes Frank Lampard will return to the club in some capacity in the future.
Last Updated: 06/06/14 9:40am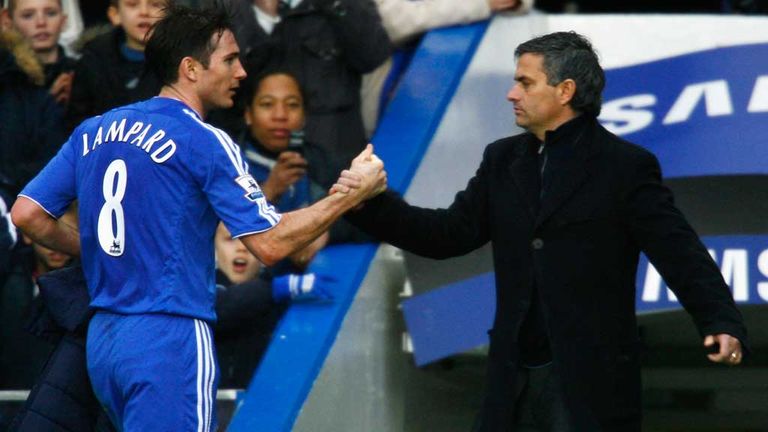 Lampard ended his 13-year association at Stamford Bridge earlier this week after announcing he was leaving the club this summer at the end of his contract.
Mourinho claims Chelsea owner Roman Abramovich has made it clear he wants Lampard to return to the west London outfit as soon as his playing career is over.
The Portuguese coach, speaking in his role as a Yahoo World Cup Ambassador, admitted it was difficult having the face-to-face meeting with Lampard to discuss their parting of ways.
"You can't imagine how difficult it was," Mourinho said. "But at the same time, I can feel some happiness about the process because, for sure, he comes back to Chelsea.
"Mr Abramovich - the No.1, the most important person - wants very much for Frank to be back, I want him to be back, the staff want him to be back, so he comes back, for sure.
"The other thing is that he can come back the way he wants. Mr Abramovich has left the door completely open for him on the understanding Frank can do anything he wants at this club.
"He can come back when he wants and, to repeat Mr Abramovich's words, the way he wants.
"He can be a coach, he can start at the academy, he can start being my assistant at the same time because he is doing his coaching badges or he can start in a different role.
"He can decide: 'I don't want to start immediately at the coaching role, I want to be an ambassador, I want to work hand in hand with the CEO, representing the club in important places of our life.'
"It's not the end of Frank Lampard's career in Chelsea. It's just a little break.
"He is one of the most important players in the history of the club."
Mourinho also revealed that he expects Lampard to end his international career with England after the World Cup.
Lampard, who is Roy Hodgson's vice-captain in Brazil, has won over 100 caps for England and Mourinho believes it could be the ideal end to his international career.
"I think the World Cup is the perfect way for somebody with more than 100 caps to finish his career in the national team," added Mourinho.
"I told him that: 'Don't go more than the World Cup. The World Cup is the right moment to finish.' Does he accept that? Yes."