Jose Mourinho reveals he passed up and opportunity to bring Diego Costa to Chelsea eight years ago
Last Updated: 18/08/14 9:18am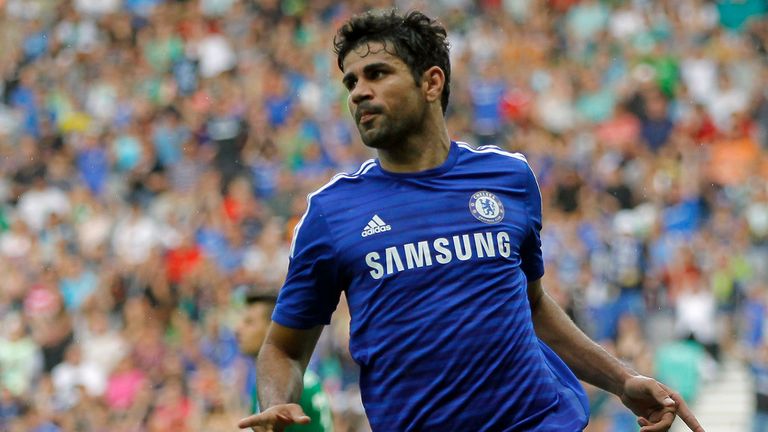 Chelsea boss Jose Mourinho has revealed he passed up the opportunity to sign Diego Costa eight years ago, when the player was at Braga.
Mourinho believes several clubs failed to recognise the potential of the Brazilian-born forward when he was still a teenager breaking through in Portugal.
"To be fair when he was in Portugal I had a look at him, so everybody was blind, including myself," said Mourinho.
Costa will make his competitive debut for Chelsea on Monday at Burnley in front of the Sky Sports cameras and the Blues manager is confident his £32m acquisition from Atletico Madrid has the potential to be a star in the Premier League this season.
"He can be, yes I know," Mourinho said. "He's still the guy that comes from a very small village behind the sunset.
"His village is behind the sunset - you want to arrive there, and it's difficult to arrive. He's still that guy.
"He's still that guy, the way he behaves, the way he acts, the way he interacts, he's still that naive, pure, simple, humble guy."
Mourinho claims he will stick to his game plan as he looks to claim his first trophy since returning to Stamford Bridge last summer, but he is determined to stick to his plans.
"It doesn't change my approach," said Mourinho. "It doesn't change my vision, my feeling.
"We can do nothing more than say, we can do nothing more than feel: we feel we are title contenders, we can't add anything else to this.
"If the first team is better than us, if we are good, very good, but somebody is better than us, that's football, that's not a failure.
"But the only thing you can do is to be good. We have to be good, to be better than last season, in everything.
"We have to fight for titles, and after that if somebody is really better than us, it's because they were fantastic."