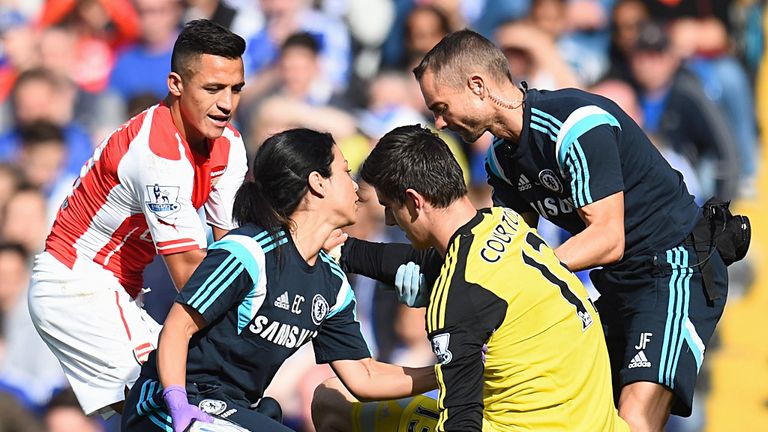 Goalkeeper Thibaut Courtois has defended Chelsea's medical staff for their handling of his head injury during the game against Arsenal.
The Belgium international suffered the blow in a collision with Alexis Sanchez during the 2-0 victory at Stamford Bridge on October 5, which left him dizzy and bleeding from one ear.
Courtois was initially cleared to continue by Chelsea doctor Eva Carneiro but was withdrawn and replaced by Petr Cech more than 13 minutes later after his symptoms worsened.
But the 22-year-old, who played 90 minutes for Belgium in their 6-0 European Qualifier win over Andorra on Friday, played down the significance of what happened.
"The doctor of Chelsea did well, I think. She asked me the questions she needed to ask and I could repeat immediately so I was feeling well and didn't have to come off," he told Sky Sports.
"I didn't feel I was knocked out but I was hit. I didn't have a headache or anything, but after a few minutes I felt worse and worse.
"Then I started to feel a little dizzy and I couldn't see the ball anymore, and there was a little blood coming from my ear. Because I saw trouble, I went off.
"I know you have to be careful, but I was not really knocked out."
Courtois underwent a series of subsequent tests in hospital, which forced him to join up with Belgium a day later than the rest of the squad.
"I had some neck pains, dizziness, and headaches for a few days afterwards, so that's why I stayed in England," Courtois said.
"I had a little confusion I think, and a little blood.  I had neurological tests to see if my brain was responding correctly and, after it was okay, I travelled to Belgium."
Belgium face Bosnia-Herzegovina in their next European Qualfier on Monday, with Courtois set to start once more, and captain Vincent Kompany has also been given the all clear after a knock.