Jose Mourinho has admitted Gary Cahill and Diego Costa are doubts for Chelsea's Community Shield match with Arsenal on Sunday.
The Blues ended their pre-season tour of the United States with a 4-2 penalty shoot-out win over Barcelona, following a 2-2 draw at FedExField in Washington on Wednesday. 
But the victory over the European champions was tainted by injuries suffered by Cahill and Costa. 
England defender Cahill left the pitch with a suspected broken nose after scoring Chelsea's 85th-minute equaliser, while Spain forward Costa was replaced on the hour mark by Loic Remy due to a worry over his hamstring.
Next up for Chelsea is the season's curtain raiser with Arsenal at Wembley and Mourinho says he will wait to hear the full diagnosis of the pair's injuries before making a decision on whether to include them in his squad for the match. 
"Cahill has a chance of a broken nose, maybe yes, maybe no. If no, perfect. If yes, he will get a mask tomorrow to be ready for Sunday," the Chelsea boss told the club's official website. 
"Diego felt a little thing in his hamstring. We believe it is just a feeling, no more than that, but we have to wait."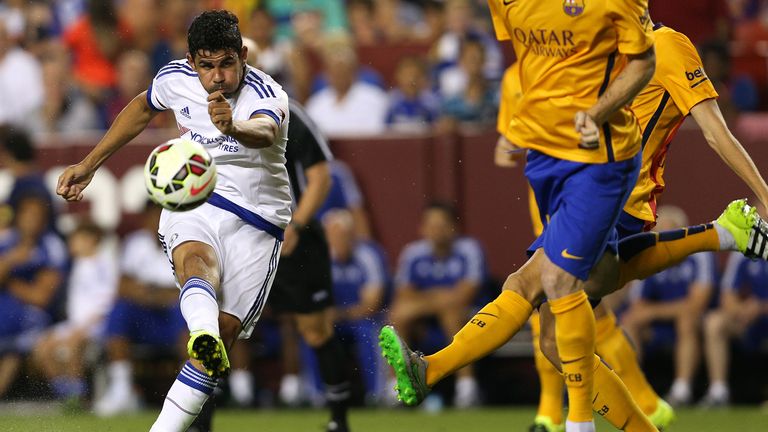 Despite the concerns over the pair, Mourinho was full of praise for the workout provided by their Barcelona counterparts, and the supporters who turned out for the pre-season friendly. 
"My first thought when I got on the pitch was the amazing colour of the game," he added. 
"The crowd was beautiful. The blue guys and the Barcelona people were together. There was lots of colour. The screens were amazing.
"Barcelona were not worried about winning or losing. They were training - the same as us. It was not a tactical game. It was two teams looking for the best intensity, the best form.
"For me it was fantastic. I thanked Luis Enrique a lot for what they gave us. It was just what we needed.
"It was 2-2, it could have been 4-4. The penalties mean nothing for us, nothing for Barca but for the people it means a lot. The 70,000 or so people that were here go home happy.
"It was good promotion for soccer in the US and good for the promotion of our clubs."