The Football Association has provided reasons to Liverpool why Jordan Rossiter played three entire England U19s matches in five days, SSNHQ understands.
Liverpool boss Jurgen Klopp revealed his frustrations on Wednesday, accusing the governing body of mishandling his midfielder after the teenager returned from international duty with a hamstring problem.
Klopp said: "I never heard of an 18-year-old playing three games in five days.
"That is the problem why he is injured and I don't think he will be ready until the next international break. I don't know who I have to talk to about this but I will find a way because it is not okay.
"These young players are our future. If we handle them like horses we get horses."
In response, FA technical director Dan Ashworth told SSNHQ on Friday morning that they had discussed the situation with Liverpool. 


Ashworth said: "We have taken on board Liverpool's comments and been in direct contact with the club. We take seriously our club engagement and working relationships but prefer to deal with them in private."
Sky Sports understands the FA has offered to meet with Klopp for further discussions, and to argue that England had no choice but to play Rossiter because UEFA limits each squad to 18 players during qualification rounds.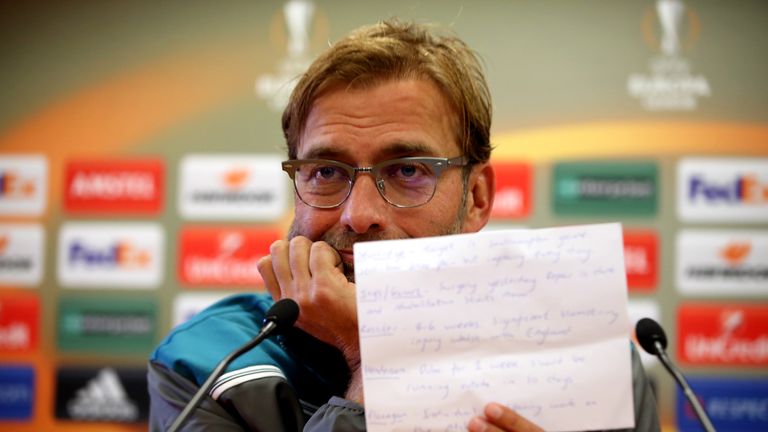 It is also understood that Italy selected four players to play all three matches, while Germany and France selected three players to play their three matches.
After the England games, U19 manager Aidy Boothroyd is also understood to have spoken to Liverpool's academy director Alex Inglethorpe several times about Rossiter and that he maintains a regular dialogue with all clubs about their players.
Liverpool and the FA had a similar run-in last season when former boss Brendan Rodgers clashed with Roy Hodgson after striker Daniel Sturridge sustained a thigh injury during an England training session the day after a match.