Jurgen Klopp says Liverpool are still trying to fill the void left by Steven Gerrard's exit, and has not ruled out a return for the midfielder.
Gerrard, 35, left Anfield at the end of last season to join LA Galaxy, but has been training with the Reds in the MLS off-season.
He made more than 700 appearances for Liverpool and Klopp regards him as the "dominant player" at the club for the last 20 years.
"The players have to fill the gap," the Reds boss told Sky Sports News HQ. "It's a big task. They try but they're young. That's not an excuse, I'm just describing the situation. That's what we're working on."
The German declined to say whether Gerrard left too soon, but added: "We spoke about many things but it's not for the public.
"I'm an optimistic guy, but he has a contract. Definitely not a loan spell now, but we will do it if we can."
After a run of seven wins from eight matches, Liverpool have come back down to earth in recent weeks with defeats to Newcastle and Watford.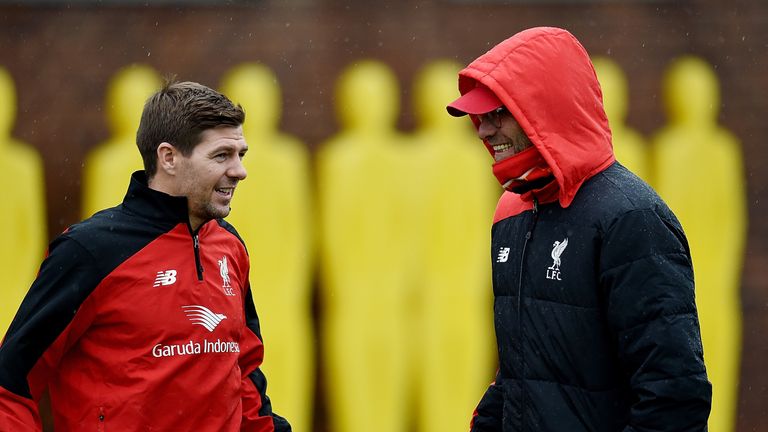 They are ninth in the Premier League ahead of their Boxing Day clash with leaders Leicester but Klopp is optimistic they can still finish in the top four.
"Of course it's possible," he said. "We have to work for each little victory pretty hard. We all know that it is hard work and we are prepared for this.
"You always need a little bit of luck in life, and in football especially, to get the right results. We've had luck in a few of the games but not all of them, the luck allowed us to show we started in a good way.
"Now we need results again to stay in the race and so that everyone can keep believing in us."
While the 3-0 defeat to Watford left some pundits calling for signings, Klopp is prepared to give the players already at the club a chance.
"We stay cool, if you want to feel faith, trust and respect you have to give it too," he said. " If I feel there is one player in the world that can solve all our problems then let's collect all the money we have and buy him, easy.
"But just because everyone is asking me for transfers, it's not a reason to do them. We know the prices and we have injuries. If we don't get anyone, we stick with the players we have."
The Reds will be looking to return to winning ways on Boxing Day against Leicester, who possess two of the league's in-form players in Jamie Vardy and Riyad Mahrez.
"The individual quality of the players in higher in the Premier League because of the money, you can buy," said Klopp. "The way Leicester are going shows it is unbelievably strong.
"You always find teams like this with this positive runs, but the development of Vardy and Mahrez is great.
"It's not just these two guys, the midfielders they work so hard and are so skilled so maybe it looks like a coincidence but it isn't because there is quality and they showing it now."
Watch the full extended interview with Jurgen Klopp throughout Christmas Day on Sky Sports News HQ.