Football Commentator & Columnist
Martin Tyler's stats: Liverpool v Machester United special
Last Updated: 10/10/17 2:06pm
How many Premier League players have featured in a Liverpool v Manchester United game? And what nationalities?
Martin Tyler answers those questions and more in his latest stats and facts column, plus hit the video at the top of the page to answer his tricky teaser.
Got a question for Martin? Tweet @SkySportsPL with #TylersTeasers.
Martin's Starting Stats
Before we talk about Liverpool v Manchester United, here's a quick stat which has come from personal research and commentator's curiosity.
Having covered England's final World Cup Qualifier against Lithuania, I was intrigued to see three Harrys (Kane, Winks and Maguire) start for Gareth Southgate's side - all as far as I can see were christened Harry, not Harold or Henry.
After scouring the records books, I found a trio of Harrys played for England more than a century ago. Harry Swepstone, Harry Goodhart and Harry Cursham (who was christened Henry) all played in a 5-0 win over Wales, back in 1883.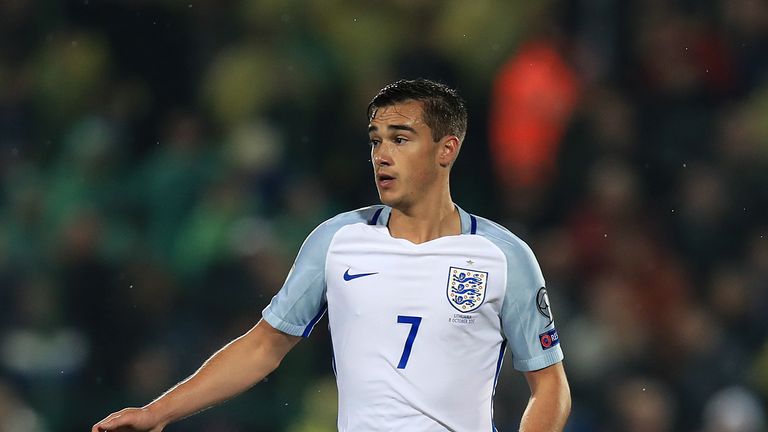 That same three also featured in a 3-2 defeat to Scotland that year, while Henry Moore - who could well have been called Harry in the dressing room - playing alongside them in a 7-0 victory over Ireland.
There were plenty of Harrys before WWI but hardly any after - two that spring to mind are Harry Johnston (whose last cap was in the infamous 3-6 home defeat to Hungary in 1953), and Harold Hassall who played for Bolton in the Matthews Cup Final of the same year and won five caps, though he was never referred to as Harry.
Harry Clarke also played once in 1954, but is another who was christened Henry.
So I believe Sunday in Vilnius was the first time England fielded three players in one game who have Harry as their Christian or given name on their birth certificates.
As Shakespeare wrote in Henry V: "Cry God for Harry, England, and St George!" Worth noting here that one of the current Harrys plays for another modern-day Shakespeare!
Reds aplenty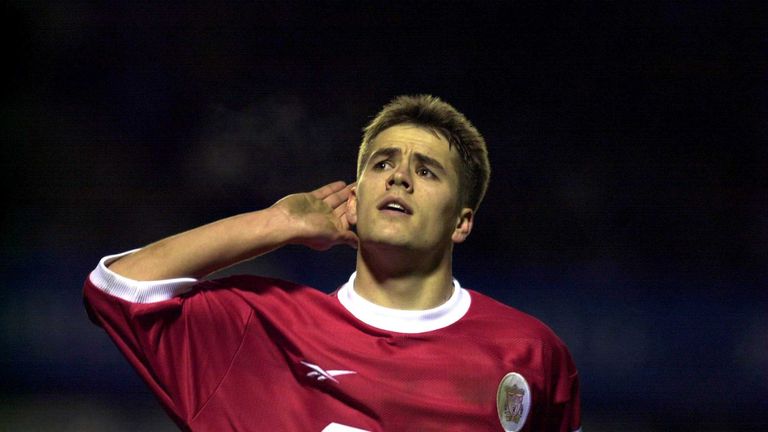 How many players have each club used in this fixture over the years? I bet Liverpool have used more? Billy
MARTIN SAYS: Since the Premier League era began, Liverpool have used 43 more players than Manchester United in this fixture - 153 to 110.
That makes for a total of 261 players, and while you may think the maths does not add up there, it is because Michael Owen and Paul Ince have played for both sides in this fixture.
Some familiar names unsurprisingly lead the way in terms of games played. Ryan Giggs featured in 38 league games against Liverpool, with Steven Gerrard's total of 30 just two above both Jamie Carragher and Paul Scholes.
15+ Premier League appearances in Liverpool v Man Utd
| Player | Games Played |
| --- | --- |
| Ryan Giggs | 38 |
| Steven Gerrard | 30 |
| Jamie Carragher, Paul Scholes | 28 |
| Wayne Rooney, Gary Neville | 21 |
| Rio Ferdinand | 19 |
| Michael Carrick, Sami Hyypia | 18 |
| Patrice Evra, Roy Keane | 17 |
| Pepe Reina | 16 |
| David Beckham, Martin Skrtel, Denis Irwin | 15 |
Michael Carrick (18) is the only current player to have made more than 15 appearances in this fixture.
Country folk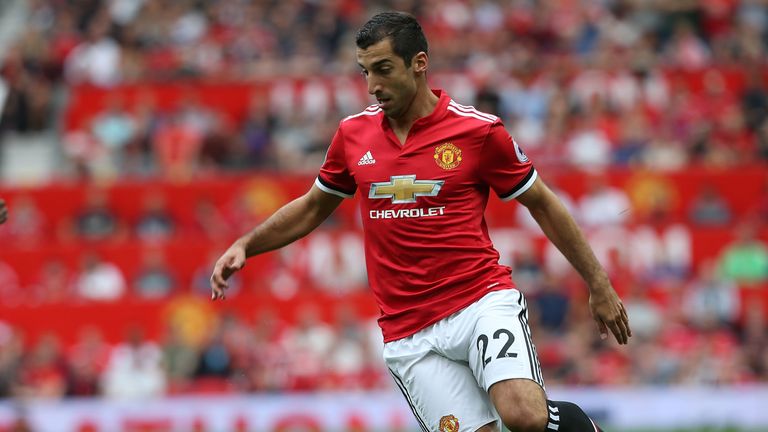 Which nationality have played in Liverpool v Man Utd games the most? Jack
MARTIN SAYS: From Argentina to Zimbabwe, there have been a total of 48 nationalities taking part in this fixture since the Premier League began.
Unsurprisingly, English players lead the way on 87, while second is shared by France and Spain on 17. The Netherlands are just behind with 14.
From the remaining Home Nations, there have been nine Scottish players, six Welsh and three from Northern Ireland. The Republic of Ireland meanwhile is on 10. Romelu Lukaku will become the sixth Belgian to play in this fixture.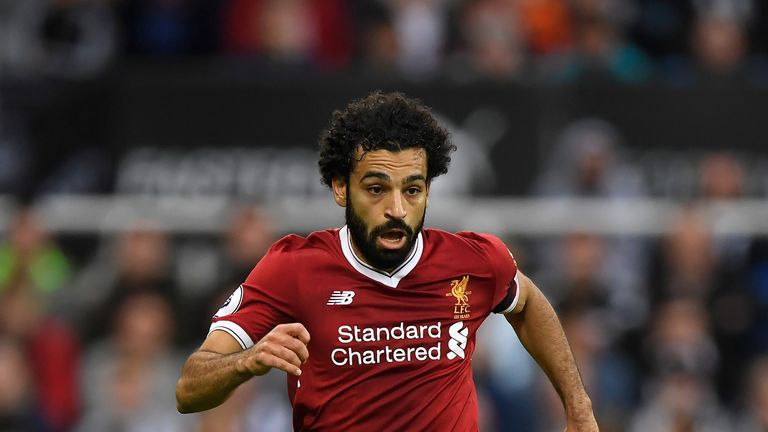 There are 20 countries who have had just one player feature in this great rivalry, while Mohamed Salah is set to make that 21 - should the Egyptian feature this weekend.
One-player nations in Liverpool v Man Utd
Armenia - Henrikh Mkhitaryan
Bulgaria - Dimitar Berbatov
Chile - Mark Gonzalez
Colombia - Radamel Falcao
Ecuador - Antonio Valencia
Estonia - Ragnar Klavan
Finland - Sami Hyypia
Greece - Sotiris Kyrgiakos
Guinea - Titi Camara
Japan - Shinji Kagawa
Korea Republic - Park Ji-sung
Mexico - Javier Hernandez
Morocco - Nabil El Zhar
Poland - Jerzy Dudek
Russia - Andrei Kanchelskis
Slovakia - Martin Skrtel
South Africa - Quinton Fortune
Switzerland - Stephane Henchoz
Trinidad and Tobago - Dwight Yorke
Zimbabwe - Bruce Grobbelaar
Seeing red in red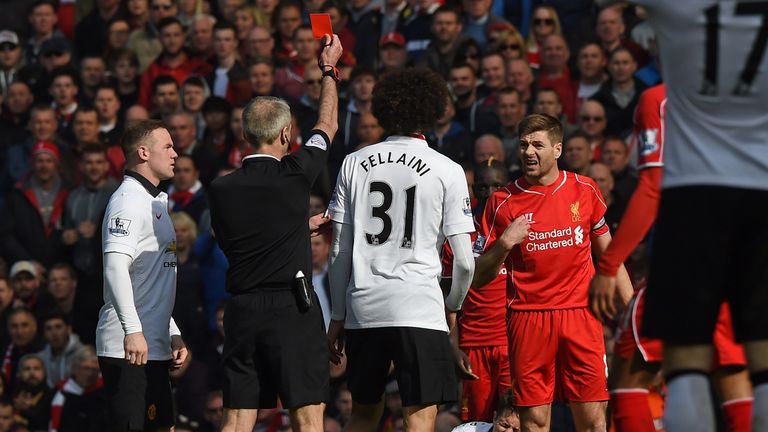 Has any game had more red cards than this one in the PL era? Sarah
MARTIN SAYS: Steven Gerrard's 38-second red card. Paul Scholes' swing at Xabi Alonso. Any one of Nemanja Vidic's FOUR dismissals. Memorable moments in this fixture have often come thanks to some poor discipline from both sides.
The fixture has thrown up 16 red cards and is second in terms of the Premier League's dirtiest fixture, five behind the Merseyside derby between Everton and Liverpool.
Gerrard's first career sending off came as a 19-year-old against Everton in 1999, while his last of eight dismissals was against United in 2015, when he was shown a straight red card for stamping on Ander Herrera - 38 seconds after coming on as a half-time substitute.
Premier League fixtures with the most red cards
| Fixture | Red cards |
| --- | --- |
| Everton v Liverpool | 21 |
| Liverpool v Man Utd | 16 |
| Everton vs Newcastle | 15 |
| Liverpool vs Newcastle | 14 |
| Arsenal vs Chelsea | 13 |
| Aston Villa vs Newcastle | 13 |
| Everton vs Man City | 13 |
| Chelsea vs Everton | 13 |
| Arsenal vs Liverpool | 12 |
| Arsenal vs Everton | 12 |
Longest run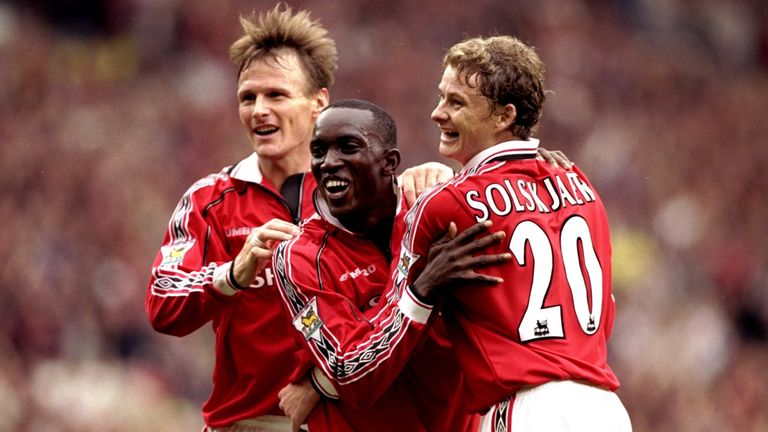 When was Man Utd's best ever run against Liverpool? Liam
MARTIN SAYS: Scouring the record books, I can tell you that Manchester United went 10 games against Liverpool without losing between 1912 and 1921.
However, United matched that record at the turn of the millennium - while it came to an end when Danny Murphy scored the winning goal at Old Trafford in 2000. The former Liverpool midfielder had a habit of scoring winners against United, doing so in two more 1-0 victories at Old Trafford in 2002 and 2004.
Meanwhile, Liverpool's greatest unbeaten run against Man Utd (13 games) came almost a century ago.
The longest unbeaten runs in this fixture are as follows:
Man Utd: 10 games (March 1912-January 1921 and May 1996-March 2000)
Liverpool: 13 games (December 1919-December 1927)
If you are using skysports.com you can comment below to ask Martin a question, but please adhere to our House Rules. If you wish to report any comment, simply click on the down arrow next to the offending comment and click 'Report'.