Football Expert & Columnist
Liverpool v Everton: Jamie Carragher's Merseyside derby memories
Last Updated: 04/12/17 8:19am
Ahead of Liverpool's clash with Everton on Super Sunday, former Reds defender Jamie Carragher opens up about his Merseyside derby memories.
Carragher made 737 appearances for Liverpool and played in 30 derby clashes over a 17-year career with the Reds.
As the two fierce rivals prepare for their latest meeting, he spoke to The Fantasy Football Club about some of his most memorable moments against Everton...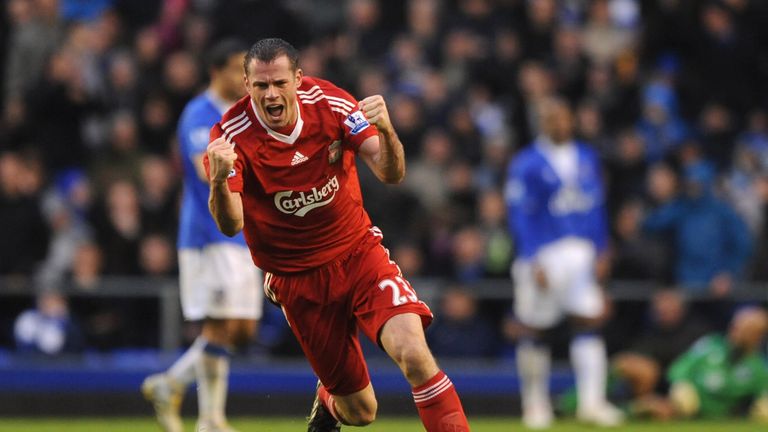 September 1999 - Liverpool 0-1 Everton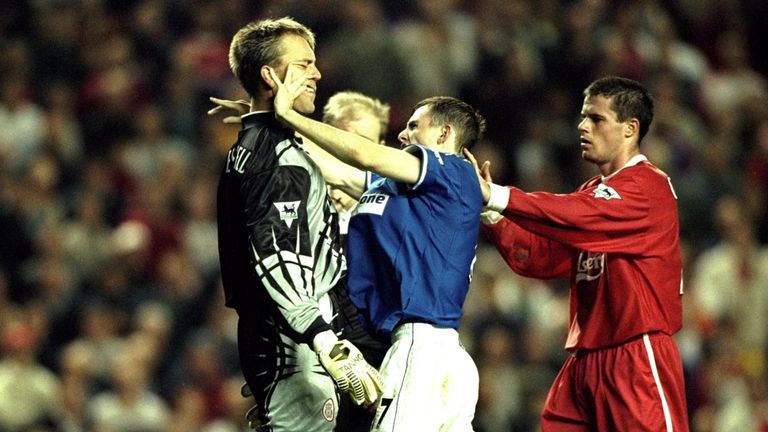 We got beat at Anfield and I was actually involved in the goal and probably should have done better, so was maybe at fault for the game. And one of Gerard Houllier's earliest derby games as well, but we have not let them win since, so it was not that bad!
The build-up to a derby was huge, they are always the same and everyone feels bigger. I always remember the game, as I said I was at fault for the goal and had a really poor game and will never forget it. My boots, I remember coming in at half-time and you would have six or seven studs in a boot and I had two left on my right boot. And I was slipping all over the place and was like a lunatic at half-time changing boots. I will always remember everywhere I went I was always slipping over, it was to do with the boots and the studs had not been done properly. I never wore Reebok boots again!
April 2001 - Everton 2-3 Liverpool
I think it's possibly my favourite derby win. It's known as the 'Gary Mac derby' because he got the winning goal with the last kick of the game from 40 yards with a free-kick.
We were going for Champions League places and had never qualified for it before and Everton were desperate to stop us in our tracks. I think they were fighting relegation - as they were every year at that time - and Emile Heskey made it 1-0, then Duncan Ferguson scored and [Markus] Babbel made it 2-1.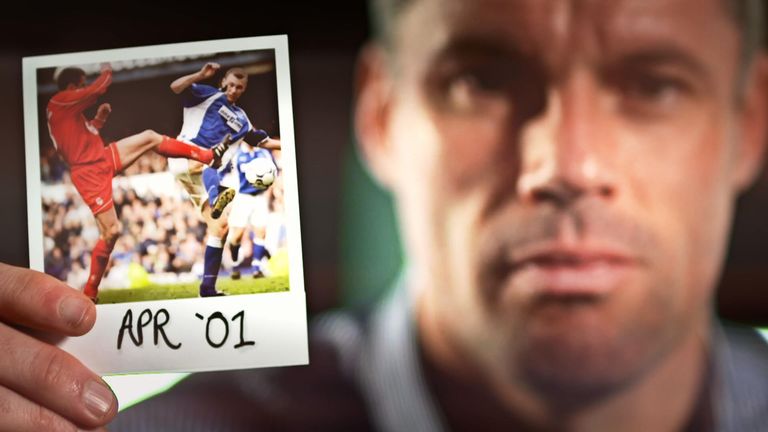 They then got a penalty that was never a penalty. Jeff Winter, who always liked to be the centre of attention, gave a penalty for absolutely nothing off a long throw and David Unsworth scored.
You think the dream of Champions League football is over and Gary McAllister puts a free-kick in from 40 yards and we go berserk. The celebrations after the game were big because we'd just lost to Leeds, who were Champions League rivals, and we had 10 men.
We might have been thinking a draw at Goodison would have been a good result, but to get the winner like that, there's nothing better.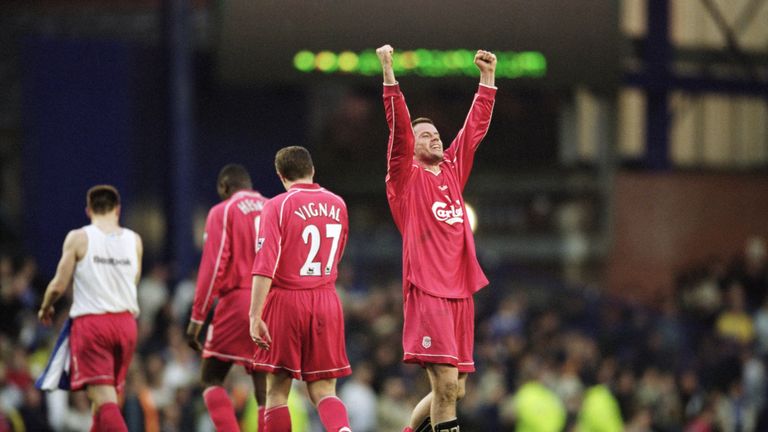 Also in that game....me against Duncan Ferguson, with studs showing. He was a major part of team talks in derby games. I remember when I first got in the Liverpool team, Liverpool had a horrendous record against Everton and a lot of it was to do with Duncan Ferguson because he would raise his game.
It was also the fear factor he put in the Liverpool squad at the time. He caused us problems and me problems at certain times, but you've got to stand up and fight against him even when he was 6ft 4in and unstoppable at his best. You had to fight fire with fire!
January 2004 - Liverpool 0-0 Everton
I'd just come back from a broken leg and I had a decent game, nearly scored, but Nigel Martyn produced a great save in front of the Kop. I was playing left-back and Wayne Rooney was playing against me on the right. Everton would never go two strikers at Anfield, they were too terrified.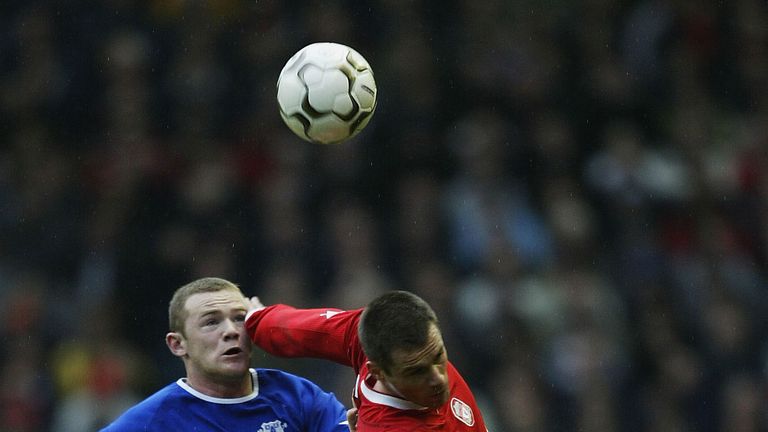 They went Rooney on the right and all day we battled. He wasn't really there long enough to stamp his mark on derby games and I think that's one big regret for Everton fans, that he never got the winner in a derby. Who knows, he might come back one day!
September 2006 - Everton 3-0 Liverpool
I will never forget this derby game - the 'Andy Johnson derby' the Everton fans call it. It was 3-0 and I had a nightmare, the worst derby game I ever played in.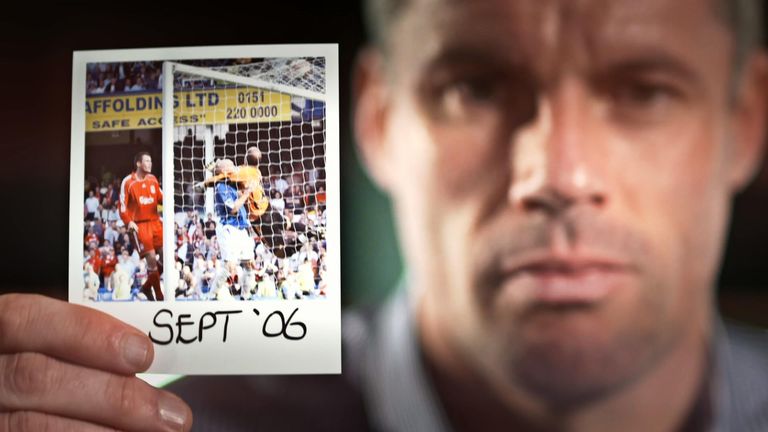 I was injured and was so desperate to get back for the game but I wasn't right. It taught me a big lesson for the rest of my career. Games, when they are that big and intense, you have to be ready, physically and mentally, and I was all over the place in the first half especially.
That game stayed with me for a very long time as an Everton fan as a kid. My family are mostly Evertonians, and giving Liverpool a good beating is like a trophy for Everton fans. It's not a criticism, it just is, and it lasts a long time.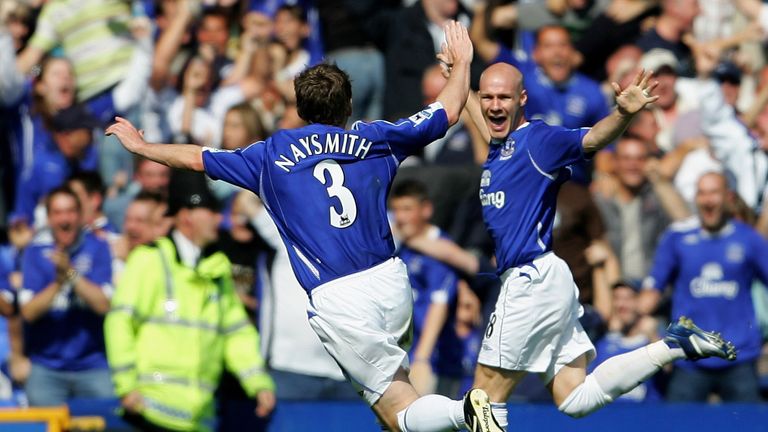 October 2007 - Everton 1-2 Liverpool
I gave a penalty away in the last minute that wasn't given and I celebrated like we'd won a cup! I'm a bit embarrassed looking back at the celebrations really because it's the way you celebrate after a cup final.
The game the year before had stayed with me that long I was just so desperate to beat them, put in a good performance and ram it down their throats - and I think that came out in the celebrations.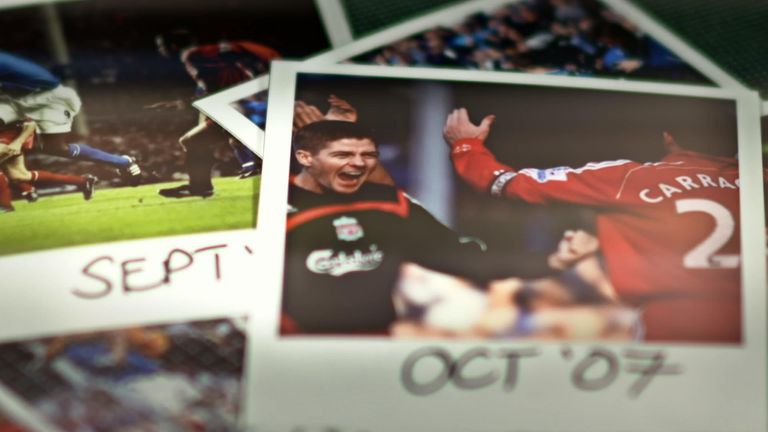 Rafa Benitez actually brought Stevie [Gerrard] off in the game. People say he made a brave decision, I thought it was a stupid decision at the time but we went on to win so what do I know!
Phil Neville saved one on the line with his hand, got sent off and Dirk Kuyt scored the penalty. They then took a long throw and I got hold of [Joleon] Lescott. He's too big and strong for me, and we were in the six-yard box.
He was going to chest it and volley it in and I thought, 'I can't have that'. So as he chests it, I pulled him back with me and we've all gone back.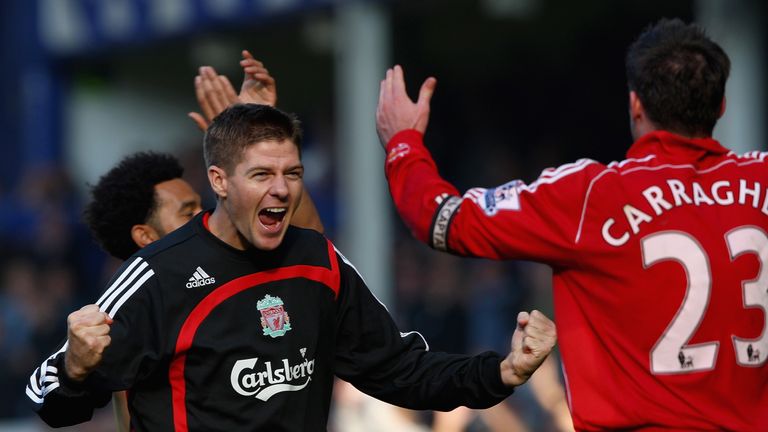 As a defender when you know you've given a penalty away, you close your eyes and wait for a whistle; if it doesn't come in one or two seconds you think you're OK.
I was lying on the floor waiting for the whistle - one, two - and then bang, I was up and away. He hadn't given it, the final whistle came after and I was away down to the Liverpool fans. Loved it!
May 2013 - Liverpool 0-0 Everton
My last derby game. I was absolutely terrified going into this game. I was coming to the end of my career and we'd only ever lost to Everton once at Anfield while I was playing. I didn't want to go out losing to Everton.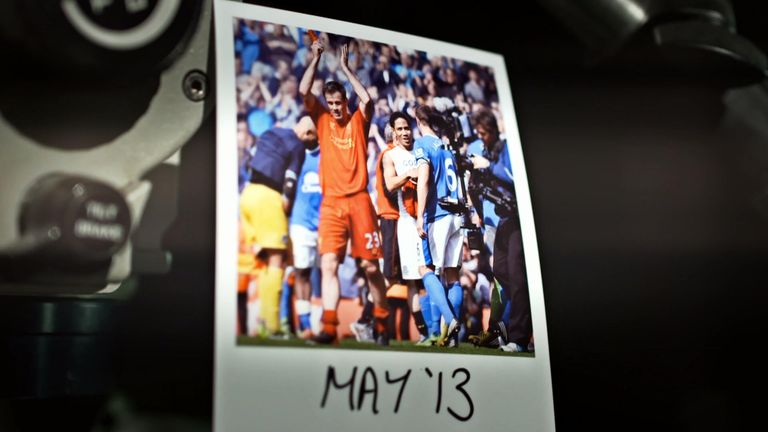 We didn't win the game and didn't play particularly well, but I came off pleased I hadn't lost my final derby. Everton were a really good team for a lot of my career and I had a great record against them so I'm proud of that.
You're pleased about winning trophies of course, that's the most important thing, but having a good record over your rivals, especially as a local lad, is almost as important.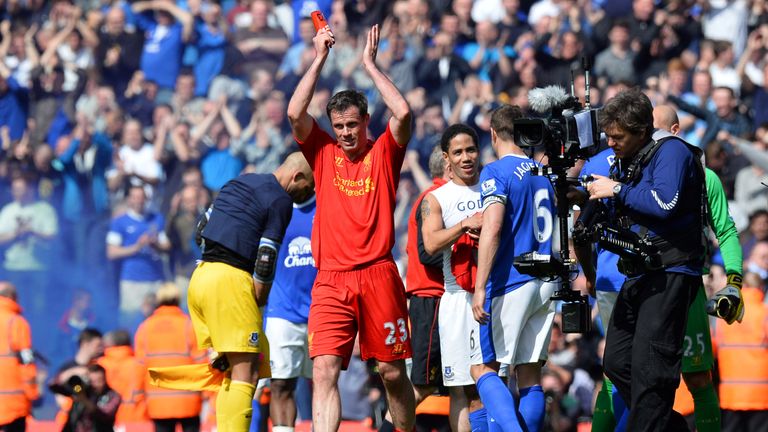 What the Merseyside derby means...
Derby games for Everton are bigger. They are still huge for Liverpool but it's such a big thing to beat Liverpool - I remember that as an Everton fan as a kid. For Liverpool the derby game at Goodison always felt bigger, perhaps it made it more of a leveller.
Liverpool spend more money and are a bigger club than Everton so they should have a better team - it doesn't always work out that way and doesn't mean you're going to win - but you always fancy Liverpool strongly at Anfield to beat Everton.
Goodison makes it more of a leveller; the crowd is fantastic - really close to the pitch - and while Liverpool fans get criticised for hounding referees for penalties, I can tell you they go for the referee at Goodison!
As a Liverpool player, I always think you've got to try to control the referee at Goodison and I'm sure Everton fans won't be happy with me saying that, but I think that was your job at Goodison.
It's a very hostile crowd that gets behind its players but we had a great record there. If there's one place I could go back to as a Liverpool player and win, out of all the grounds up and down the country, I'd take one more win at Goodison.
Watch Liverpool v Everton on Super Sunday from 1pm on Sky Sports Premier League & Main Event