Jurgen Klopp says no signs of Philippe Coutinho Liverpool exit
By Calum Wilson
Last Updated: 08/12/17 1:03pm
Jurgen Klopp insists he has no reason to think about the future of Philippe Coutinho and says nobody at Liverpool has told him the Brazil international will be leaving in January.
The German's comments come after Liverpool CEO Peter Moore said he cannot guarantee that Coutinho will stay at Anfield.
Barcelona had looked close to signing Coutinho in the summer after submitting a £113m bid for the 25-year-old and they are expected to renew their interest in January, but Klopp is adamant the midfielder will still be at Liverpool when the transfer window shuts.
"I have no reasons to think about it," said Klopp. "We never spoke about transfers in this moment.
"There's really nothing to say. I am completely in the situation. Nobody has come to me to say Phil will be away in January.
"Whatever I could say would not stop your questions so I thought it makes sense not to answer it.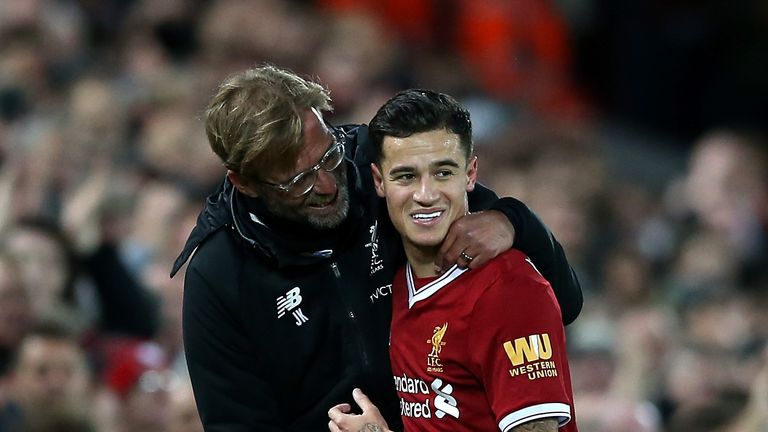 "I'm completely fine with the situation, how it is.
"We had this big story in the summer. I have no desire to have it again from now until January. I will say nothing about that."
"On January 31 we can shake hands and say: 'what a wonderful time we had together', the journalists and me, not Phil and me."
Despite Klopp's comments, Coutinho recently admitted that he is unsure where his future lies.
"I am at Liverpool and I always do my best when I have the opportunity to play, respecting the jersey and the supporters," said Coutinho.
"I do not know how the future is going to be. What will happen in January, we will know it in January. I do not know if there will be an offer."