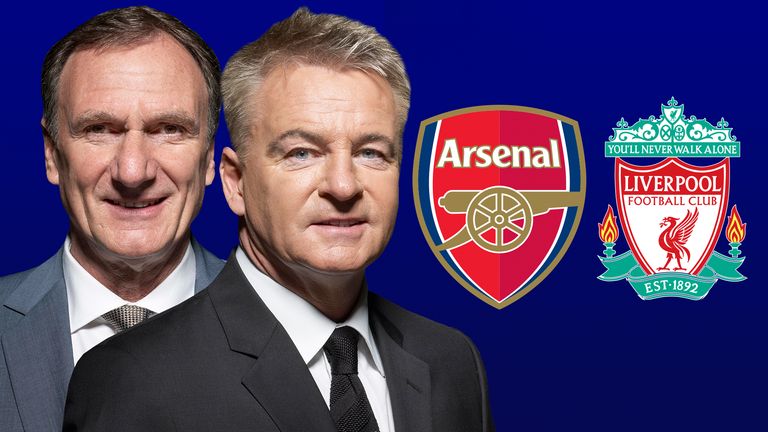 Charlie Nicholas and Phil Thompson pick their best combined XI from Arsenal and Liverpool ahead of the Friday Night Football clash.
The two sides meet live on Sky Sports with just a point separating them in the Premier League, as fifth-placed Arsenal look to leapfrog their visitors with a victory at the Emirates.
Arsenal legend Nicholas has gone for a slight majority from his former club, but Thommo is clearly confident Jurgen Klopp boasts the best crop of players.
Here is who they have gone for and their justifications...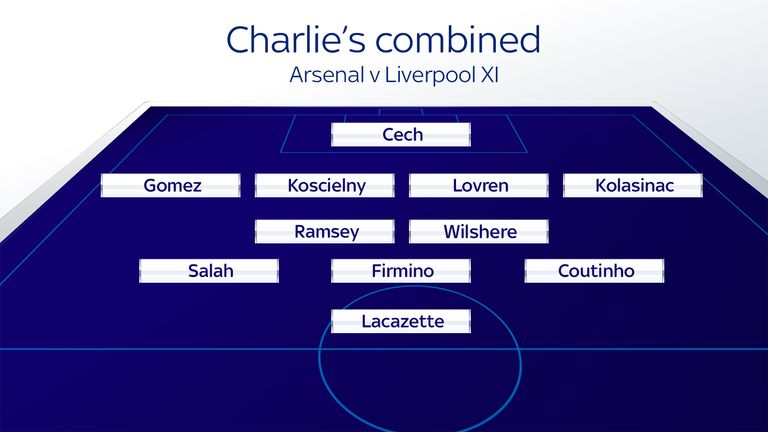 Nicholas: Obviously Petr Cech is the goalkeeper as Liverpool struggle to even decide which of theirs is best. Then it is probably the hardest combined back four I've ever had to pick.
If Nathaniel Clyne was available then I would say him, but seeing as he's not I'd go with Joe Gomez over Hector Bellerin, who hasn't improved as a defender since joining Arsenal.
I would want to pick more than two centre-backs because I don't trust any of them. Laurent Koscielny is a decent individual but he has never improved as part of the defensive set-up at Arsenal. Such is the lack of options he in gets alongside the best of Liverpool's bad bunch, Dejan Lovren, although I'd rather have defenders from any of the other top-six side, including Burnley.
At left-back, I'm biased, but I'm a big fan of Andy Robertson. He's the best in the position for whipping early balls in from wide areas. He's not the best defensively but neither are all the other options. Sead Kolasinac is a bull going forward, he has scored a few goals so he only just gets the nod.
In the middle I would go for Aaron Ramsey, who doesn't get enough praise - it's a shame it's turned out that his hamstring injury will keep him out. Then I'm going for Jack Wilshere, who will go to the World Cup if he continues to get games under his belt because he's got more talent than any other options in the England squad. I wasn't surprised Thommo said he would take him at Liverpool because he would walk into their team.
Mohamed Salah, Roberto Firmino and Philippe Coutinho make up my attacking midfield trident. Sadio Mane has great pace but Salah and Coutinho are superstars and I've always been a great fan of Firmino, who has fantastic movement and vision.
Then up top would be Alexandre Lacazette, who I think would score 30-40 goals a season with those three behind him.
Alexis Sanchez on top form still wouldn't get in ahead of Coutinho and I hope Danny Welbeck starts ahead of him on Friday because the Chilean doesn't show up for big games. Mesut Ozil would be in ahead of Mohamed Salah if he was on top form, though, and I'm still hopeful he will sign a new deal, but Salah is having an outstanding season.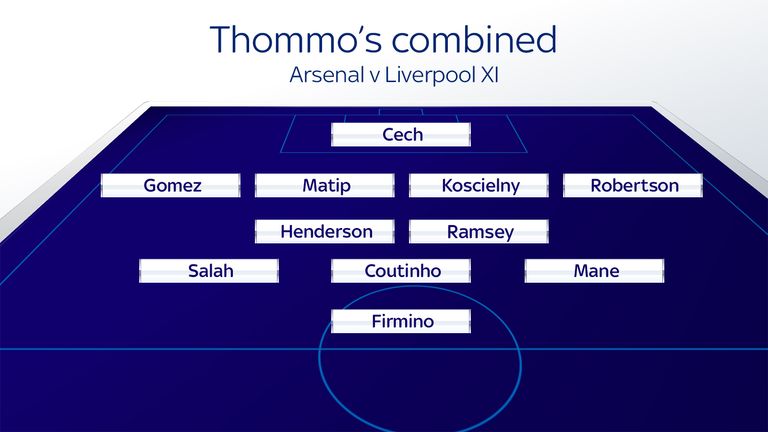 Thommo: There has not been a great deal between Petr Cech and Simon Mignolet this season, but you have to go with Cech because of his experience.
Then at right-back I'm going for Joe Gomez, who has been fantastic and far superior to Hector Bellerin. On the left I've gone for Andy Robertson, who has not put a foot wrong when he's had his chances, whereas the other options haven't been consistent enough.
Picking centre-backs was difficult because none of them having been convincing. Neither side has covered themselves in glory in that department. Joel Matip is probably our best centre-back and Laurent Koscielny has the most ability from their defenders.
I think Jordan Henderson and Aaron Ramsey, who gives us that transition from defences to attack, make for a good blend in central midfield. There was not a great amount of options and I just think Henderson, who has his critics - even from Liverpool fans - when the team lose because he's our leader rather than because he's played badly.
The attack of Sadio Mane, Philippe Coutinho, Mohamed Salah and Roberto Firmino is comparable on most days to the best attacks out there and are just a joy to watch when they are in full flow.
It says everything about our forward line that Alexis Sanchez, Mesut Ozil and Alexandre Lacazette wouldn't get into my team.