Football Commentator & Columnist
Martin Tyler's stats and facts: Mo Salah quick off the mark and is Alexis Sanchez a target?
Last Updated: 08/02/18 10:30am
Is Alexis Sanchez a target for fouls? Has a player ever registered four assists in a game? And how many different Arsenal players have scored hat-tricks?
Sky Sports commentator Martin Tyler has the answers to those questions and more.
Got a question for Martin? Tweet @SkySportsPL with #TylersTeasers and don't forget to have a go at his latest teaser...
Martin's starting stats
What a game at Anfield! It was the 150th league meeting between Liverpool and Tottenham, all in the top division, and the 39th draw. Liverpool have won 69 and Spurs have won 42.
Harry Kane scored his 100th Premier League goal - the 27th player to reach that landmark and the second fastest after Alan Shearer. He did it in 141 games to Shearer's 124.
In seven Premier League appearances against Liverpool, Kane has been involved in seven goals, scoring five with a further two assists. He has now scored 19 goals in his last 14 Premier League away games.
Mo Salah has now scored 16 in his last 15 Premier League games and has 16 goals plus five assists in 18 appearances at Anfield. That leads us on to our first question…
Speedy Salah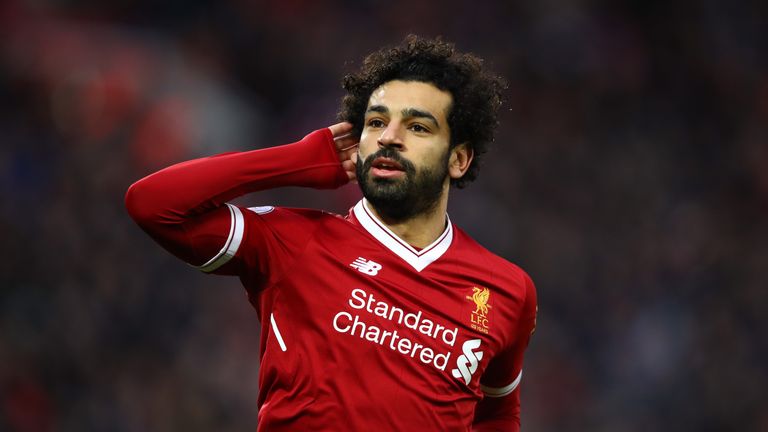 Did Mo Salah reach 20 goals quicker than any Liverpool player in history? Dan, Merseyside
MARTIN SAYS: Mo Salah scored his 20th goal (and his 21st) in just his 25th Premier League appearance on Super Sunday.
That makes him the second fastest player in Liverpool's top-flight club history to 20 league goals. Fred Pagnam did it in 23 games in the old First Division in 1914/15.
The quickest Liverpool player in all of league football was George Allan, who did it in 18 games in 1895/96.
Salah reached the 20-goal milestone faster than any Liverpool player in Premier League history. Daniel Sturridge and Fernando Torres took 27 games to reach 20 goals, while Robbie Fowler took 37, and Michael Owen 39.
Salah has also been involved in 27 goals in his 25 games this season (21 goals and six assists), which equals a Premier League record for a players' first 25 games for a new club.
Andrew Cole, Alan Shearer (both Newcastle) and Dwight Yorke (Man Utd) also registered 27 goal involvements in their first 25 games after signing.
Arsenal trebles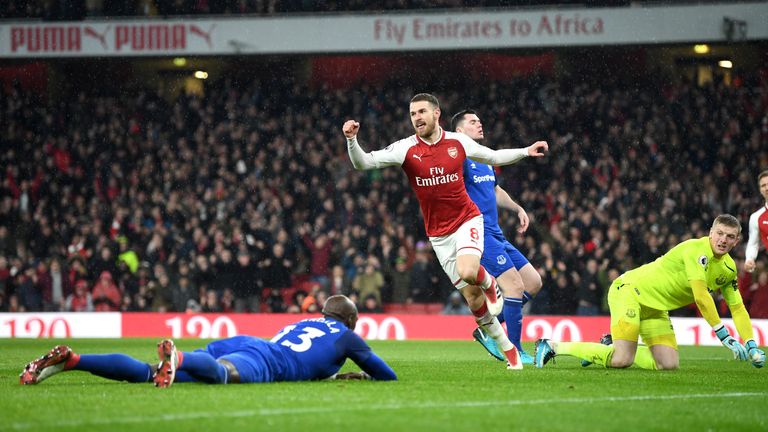 Have Arsenal had more hat-trick scorers in the Premier League than any other club? Liam, Islington
MARTIN SAYS: Aaron Ramsey's treble in the 5-1 win over Everton saw him become the 20th different Arsenal player to score a Premier League hat-trick.
The others are Thierry Henry, Ian Wright, Nwankwo Kanu, Fredrik Ljungberg, Emmanuel Adebayor, Andrei Arshavin, Robin van Persie, Santi Cazorla, Alexis Sanchez, Kevin Campbell, Dennis Bergkamp, Nicolas Anelka, Marc Overmars, Ray Parlour, Sylvain Wiltord, Jermaine Pennant, Robert Pires, Theo Walcott and Olivier Giroud.
Henry has scored the most (eight), followed by Ian Wright (five), Robin van Persie, Theo Walcott and Emmanuel Adebayor (all three).
And that means Arsenal do top the list of Premier League clubs with the highest number of different hat-trick scorers, ahead of Chelsea (17), Liverpool (14), Everton (13), Man Utd (12), Newcastle and Tottenham (10).
It was the club's 39th Premier League hat-trick overall, which is also a record ahead of Liverpool (36) and Man Utd (32). Chelsea and Tottenham have both scored 23.
More Arsenal trebles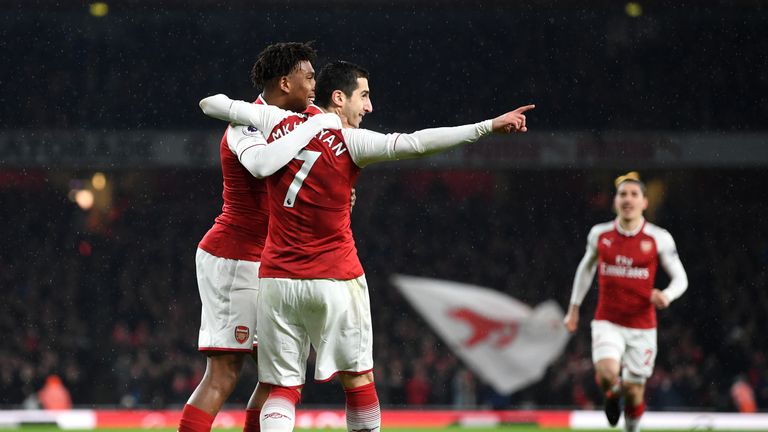 Henrikh Mkhitaryan registered three assists in Arsenal's win over Everton. How many times has a player set up three goals in a Premier League match? Kelly
MARTIN SAYS: Along with Ramsey's hat-trick, we had another type of hat-trick on Saturday.
Mkhitaryan is the first player to get three assists in a game this season, but registering three assists in one Premier League game is not so rare - it has been done 56 times previously.
He was the first Arsenal player to achieve the feat since Santi Cazorla's four assists against Wigan in May 2013, and the 10th Gunners player in Premier League history to grab three or more.
Cazorla himself is one of only five players to make four assists in a single Premier League game, and four of those players did so while in an Arsenal shirt.
Cesc Fabregas (October 2009 v Blackburn), Jose Antonio Reyes (January 2006 v Middlesbrough) and Dennis Bergkamp (February 1999 v Leicester) all made four in a single game.
The only other player to get four assists in one Premier League game is a former Arsenal player - Emmanuel Adebayor - who did it for Spurs (February 2012 v Newcastle).
No player has ever made five assists in one Premier League game.
Doing the dirty on Sanchez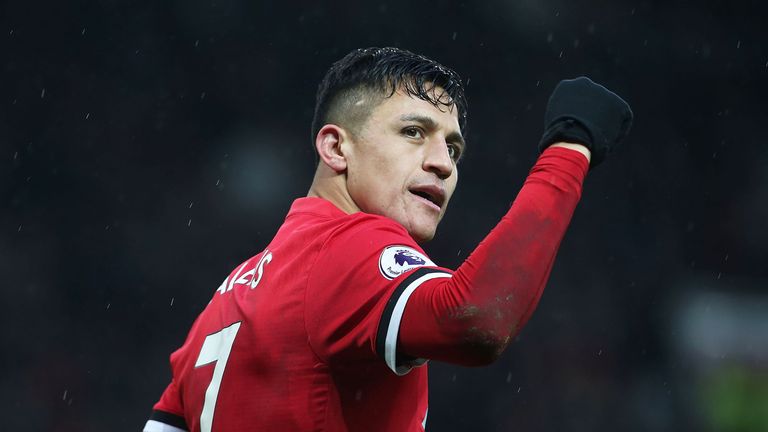 Is Alexis Sanchez the most-fouled player in the Premier League? Paul, Oldham
MARTIN SAYS: Alexis Sanchez won seven fouls for Man Utd against Huddersfield on Saturday - his home debut for the club - no player has been fouled more in a single Premier League match this season.
But the Chilean is not the most-fouled player in the Premier League overall this term; that title goes to a fellow South American.
Watford's Richarlison has been fouled 77 times, followed by Spurs' Dele Alli (66), Swansea's Jordan Ayew (62) and then Sanchez (56).
Since Sanchez moved to the Premier League in the summer of 2014, he has been fouled 263 times, the third-highest of any player in that spell. Eden Hazard tops the chart (339), followed by Wilfried Zaha (314) and Sanchez.