Is Fernando Torres done at Atletico Madrid and where next for El Niño?
By James Walker-Roberts
Last Updated: 28/02/18 3:56pm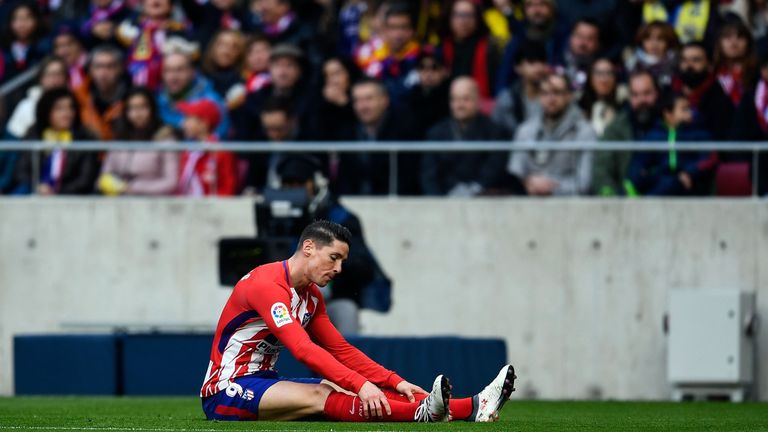 Fernando Torres has said he wants to retire at Atletico Madrid, but is his time at his boyhood club coming to an end at the age of 33? James Walker-Roberts looks at why it might be, and what happens next...
One Segunda Division title. Is that all Fernando Torres will have to show for his time at Atletico Madrid?
One of the club's greatest-ever players, Torres ranks joint-sixth for all-time appearances and is also their sixth highest goalscorer with 123 goals. He is a product of the Atletico academy, signed his first professional contract at the club aged 15, made his first-team debut aged 17 in May 2001 and scored his first goal a week later.
He does, of course, speak the Atletico language - the language of the underdog. "Nobody is inferior to anybody if you give it everything you have," he said last summer, when he also declared his desire to retire at the club where he feels "genuinely happy". But will there be a happy ending?
As much as Torres, 33, is loved at Atletico for his history with the club and his past achievements, there is no hiding the fact that he is past his prime. He has scored five goals in 28 appearances in all competitions this season and even loyal Atletico supporters have been unable to hide their frustration at some of his performances.
Even Atletico head coach Diego Simeone, as much of a club legend as Torres, now appears to be losing patience. He gave a blunt "no" when asked last week if he would try to keep Torres as hard as he was trying to keep Antoine Griezmann.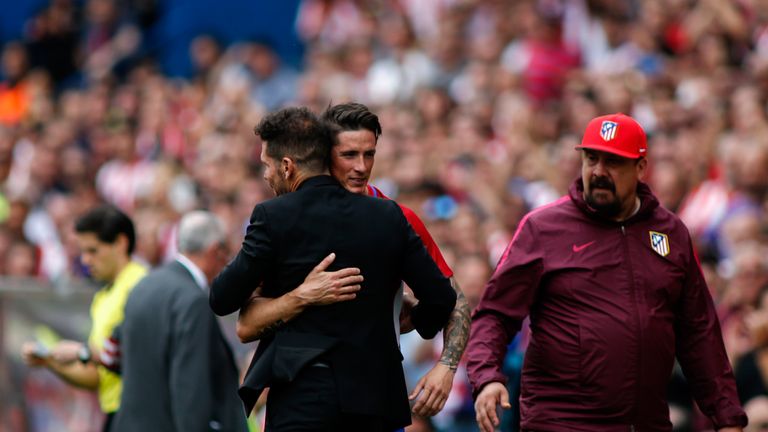 "Being fair to myself, I obviously said 'no,'" said Simeone. "I say 'obviously' because I think about the team. The question made to me clearly wasn't about the team, and the difference is that I think about the team and about the club."
Torres, who is under contract until the end of the season, has been mainly a back-up for Atletico since his return on a permanent basis from Chelsea in 2015, starting just twice in La Liga this season as Griezmann, Kevin Gameiro and now Diego Costa have been preferred by Simeone. In terms of playing time it is the least amount of minutes he has had in 10 seasons with the club, excluding his debut campaign in 2000/01 when he played only four games.
But despite his lack of impact, columnist Alfredo Relano wrote in Spanish newspaper AS that he does not think Simeone's comments about Torres were merited. "It's unfair of Simeone to treat him like this; he does nothing to deserve it. But 'El Cholo' saw the question as a provocation, and did the worst thing possible: he rose to it.
Fernando Torres at Atletico Madrid in La Liga
| Season | Minutes played | Goals |
| --- | --- | --- |
| 2002/03 | 2363 | 13 |
| 2003/04 | 2981 | 20 |
| 2004/05 | 3349 | 16 |
| 2005/06 | 3193 | 13 |
| 2006/07 | 3084 | 14 |
| 2014/15 (half a season) | 882 | 3 |
| 2015/16 | 1688 | 11 |
| 2016/17 | 1417 | 8 |
| 2017/18 | 451 | 2 |
"All he needed to do was say that now isn't the moment to be thinking about that, that the season isn't over, that there's still time to make plans for next term and first let's see how this one turns out, etc, etc, etc. It's somewhat trite, yes; but it's the headache-free way to respond. He didn't want to do that, though. Faced with what he clearly felt was a banana skin deliberately placed in front of him, his irritation got the better of him and he stepped right on it."
Relano also mentions that there have been suggestions that Simeone is jealous of the affection the fans show towards Torres, and Sky Sports' Spanish football expert Guillem Balague says the pair have a "careful relationship".
"They are two symbols of the club, and when that happens it is almost impossible to find a synergy there," said Balague. "They almost have a very careful relationship, careful not to step on each other's toes. There is a thought that Simeone was jealous of the fact that when Torres came back he had 50,000 people in the stands welcoming him, which is much more than the amount that welcomed Simeone back."
Balague adds that Torres "accepts his situation", but it is a situation that is unlikely to improve if he does stay beyond the end of the season, especially with Atletico able to sign players in the summer window, unlike last year when they were under a transfer ban.
Everbody knows Simeone doesn't want Torres to stay. Torres wanted to retire at Atletico and it probably won't happen
Sky Sports Spanish football expert Guillem Balague
Torres has certainly been through more challenging times with Atletico. He was there when managers would be lucky to last a season, when the club signed 13, 11, and then 12 players over three successive summers, and when Atletico won nothing. Perhaps fittingly, at a club that has only recently shed its nickname of El Pupas (the jinxed one), Torres has also had the unfortunate timing to largely miss out on all the successes in recent years.
When he started out in the senior team, Atletico were playing in the Spanish second division for the first time since 1934. In the 2001/02 season Torres was involved in 36 of 42 games as Atletico finished top of the Segunda Division to win promotion back to the top flight.
Did he think back then that would be the only title he would win with his boyhood club?
"I felt that when I was very young, I had achieved everything I had ever dreamed of in life, and I did not believe it," he told Marca about his debut against Leganes as a 17-year-old. "When I was a kid I thought that when I got there [to the first team] that I had accomplished everything, but I was wrong: that morning I just took the first step."
After that first step, Torres took a few giant leaps as he finished as Atletico's top scorer for the first five seasons in a row back in La Liga. But Atletico did not finish any higher than seventh in the league in any of those seasons, and by the time that Simeone arrived and Atletico had started winning silverware again, Torres was not around.
He returned in 2015 after spells with Liverpool, Chelsea (where he did win silverware) and AC Milan, but is his time at the club now coming to an end again? And where would he go?
A reunion with Rafa Benitez was mooted last summer when Newcastle were interested, while Spanish third-tier side Fuenlabrada have offered him a proper homecoming.
Torres was born in Fuenlabrada and their stadium is even named after him - Estadio Fernando Torres - even though he never played for the club. "After seeing these declarations, we have something to say, which is that we love you Torres," they tweeted this week, along with the hashtag of #TorresVenteAlTorres - which translates as #TorresComeToTheTorres.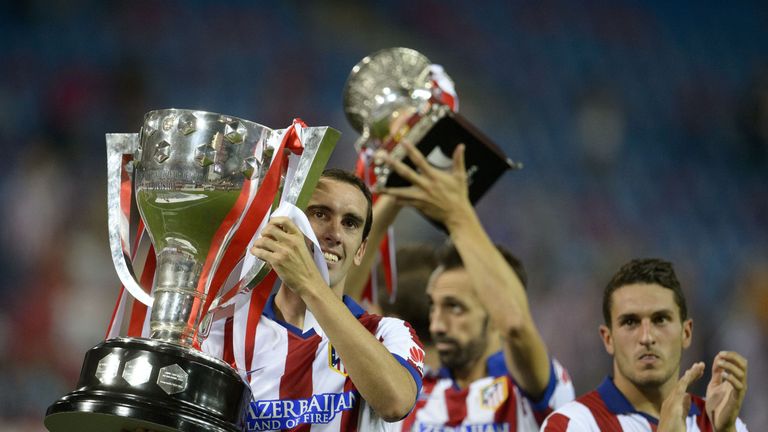 There has also been talk about a potential move to China.
"Everbody knows Simeone doesn't want Torres to stay," says Balague. "Torres wanted to retire at Atletico and it probably won't happen.
"In the middle of all that, Yannick Carrasco gets an offer from China which he's thinking about, and Torres has an offer from China, via the club which has come into him, and he is thinking about it.
"It doesn't make a lot of sense for Torres to go to China now. They've got until February 28 when the market closes, but they are fighting in the league and the Europa League. It would be a let down to the fans, but I see him going at the end of the season certainly."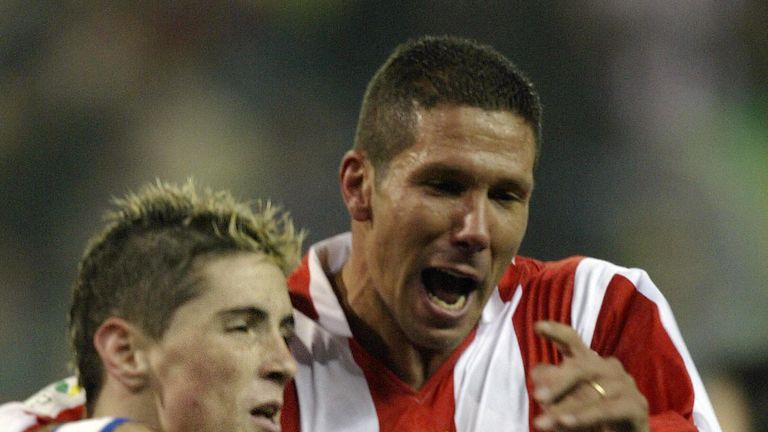 Speaking in December, Torres said: "I know that each game can be my last with Atletico or maybe not. I play as if it was my last because that's how I feel, but considering how much I've had to fight to get playing time, I'm not going to throw in the towel."
Simeone and Torres played together for Atletico over 10 years ago and Jose Antonio Martin Peton, CEO of the agency which represents Torres, says they are "two Atleti idols and are perfectly compatible".
However, in the same interview with Cadena Cope, he added: "'Cholo' Simeone's methods are not the best. There are much better ways to advance the plans you have. This does not help, and things that do not help the club nor the players, you have to eliminate. If 'Cholo' has any complaint about Fernando Torres he has to tell him and not say it publicly."
But it is the fact that Simeone has gone public that suggests Torres' latest chapter at Atletico might soon be coming to an end. The story, though, is surely likely to continue another day.