Football Commentator & Columnist
Martin Tyler's stats and facts: Rooney's penalty woe, Swansea's bizarre point, Ozil's assists
Last Updated: 14/03/18 7:55am
Has anyone missed three penalties in a season? What records did Swansea break at Huddersfield? Is Mesut Ozil the fastest to 50 assists?
Sky Sports commentator Martin Tyler has the answers to those questions and more.
Got a question for Martin? Tweet @SkySportsPL with #TylersTeasers and do not forget to have a go at his latest teaser.
Tyler's starting stats
Manchester United are now unbeaten in the last eight league meetings with Liverpool, winning five and drawing three. Liverpool have only won one of the last 12 visits to Old Trafford in all competitions, which was 3-0 in March 2014.
Saturday's match was the 200th meeting in all competitions and Manchester United's 80th win, with Liverpool on 65 and 55 draws.
Marcus Rashford, in his fifth game against Liverpool, scored his first two goals against them and registered his first win having previously drawn three and lost one. It was his first Premier League start since Boxing Day and his first Premier League goals since December 10 against Manchester City.
Eric Bailly's own goal was the second by United in their last six Premier League games, the other was by Phil Jones against Spurs at Wembley in January.
You could argue it was the first meaningful win for Jose Mourinho over Jurgen Klopp. His only previous win was a hollow one in the second leg of Real Madrid's Champions League semi-final against Borussia Dortmund in 2013 - but the German side went through on aggregate.
In the past, Manchester United have been runners-up 15 times in the top division, most recently to Manchester City six years ago. Liverpool have been runners-up 13 times, most recently to Manchester City four years ago. It looks like they are battling for second place behind City once again.
Rooney's penalty pain
Wayne Rooney has missed three penalties already this season, has that ever happened before? Paul, London
MARTIN SAYS: Rooney's failure to score from the spot in Everton's 2-0 win over Brighton on Saturday added to his failed attempts against Swansea and West Ham this season, although he did net on the rebound in the win against the latter.
But he's by no means the first Premier League player to have failed with three penalties in a season; seven others have achieved that unfortunate feat.
Alan Shearer (2003/04), Darren Bent (2009/10) and Ruud van Nistelrooy (2003/04) all failed to convert three in a season, but managed to score on other occasions that term - just as Rooney has this season at Brighton, at Liverpool and at home to Swansea.
However, there are three unfortunate men who have not scored all three penalties they have taken in a given Premier League season. They are Mike Newell for Blackburn in 1992/93, Juan Pablo Angel for Aston Villa in 2004/05, and Teddy Sheringham TWICE, for Spurs in 1994/95 and Man Utd in 1997/98.
If Rooney fails from the spot again in the remaining handful of Premier League games, he will break a record. No player has missed four in a Premier League season. However, Sam Allardyce said after Saturday's game that Rooney is off penalties now!
Lots of shots or not
Huddersfield's 0-0 draw with Swansea on Saturday was bizarre. How many times has a team had 30 shots and yet not scored? Liam, Cardiff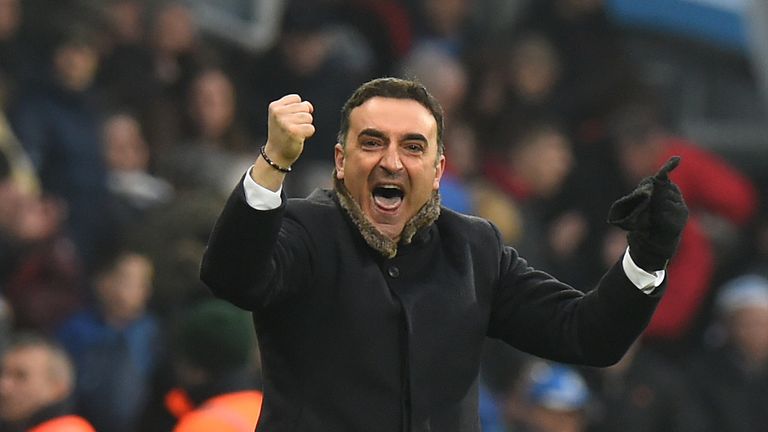 MARTIN SAYS: You're right: Huddersfield had 30 shots to Swansea's none, 81 per cent possession and an additional man for 79 minutes, but couldn't get past Carlos Carvalhal's men.
There have been three occasions of a team having more than 25 shots in a Premier League match but failing to score this season - and ALL of them have been against Swansea City - Southampton: 29 in August, Tottenham: 26 in September and Huddersfield: 30 on Saturday.
But Chelsea had 39 without scoring against West Ham in January 2014, a 0-0 draw at Stamford Bridge, the most shots without scoring in the top flight since Opta began registering shooting stats in 2003/04.
Meanwhile, Swansea became only the third side to fail to have a single shot in a Premier League match since Opta have the data available, after West Brom against Manchester City in December 2004 (drew 1-1) and Blackburn against Tottenham in April 2012 (lost 0-2).
Huddersfield have also failed to score in a league-high 16 Premier League games this season, and their possession figure of 80.84 per cent is the second highest ever in a Premier League game (since 2003/04), after Manchester City's 82.28 per cent against QPR in May 2012, a game you will remember!
Home away from home
Apart from Jamie Vardy, has anyone scored in all of their games at a single away ground? Joe, Birmingham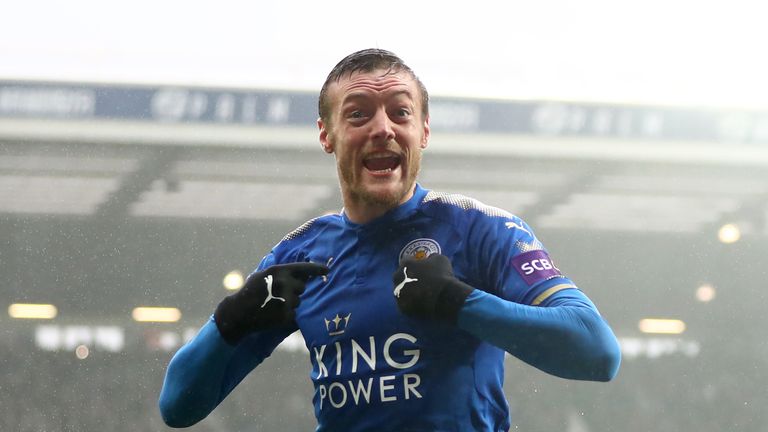 MARTIN SAYS: Vardy's goal in Leicester's 4-1 win over West Brom means he has scored in all four Premier League games at the Hawthorns.
The only other player to have scored in 100 per cent of their away Premier League appearances against a specific opponent, with a minimum of four games, is Van Nistelrooy at Newcastle between 2001 and 2006.
The Dutchman, who hit 95 Premier League goals in total, scored in all five meetings at St James' Park between 2001 and 2006.
Vardy's goals at West Brom have all come in Leicester wins, but Van Nistelrooy's first away goal in the Premier League came in a 4-3 defeat at St James' Park in 2001/02, while the rest were victories.
Ozil's half century
Mesut Ozil reached 50 assists on Sunday, but did he do it faster than Cesc Fabregas? Steve Morris, London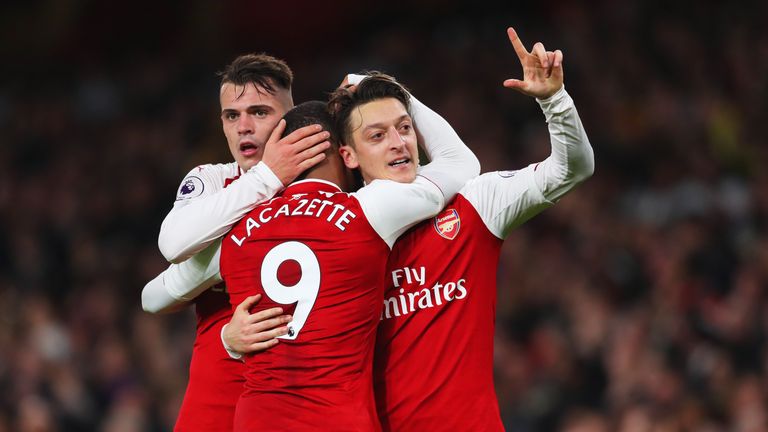 MARTIN SAYS: Ozil's assist for Shkodran Mustafi's opener in Arsenal's 3-0 win over Watford on Super Sunday was his 50th Premier League assist, coming in just 141 appearances.
That is the fastest to 50 in Premier League history, pipping Eric Cantona (143 apps) and Dennis Bergkamp (146). Cesc Fabregas (165) is now fourth on the list, just ahead of David Silva (166).
So to answer your question, Ozil did it in 24 fewer games than Fabregas.
In total, 35 players have reached 50 Premier League assists, with Emile Heskey reaching it in the most number of games (434).
Next, surprising to some perhaps, is Paul Scholes (424), then Gareth Barry (416), Kevin Davies (386) and Leighton Baines (379).
As a footnote for those of you who watched Monday Night Football, in 339 appearances in all competitions for Man City, David Silva is on 99 assists - but he can't improve that because he keeps scoring them instead!