What lessons will Liverpool have learnt from Real Madrid's draw at Barcelona?
Last Updated: 08/05/18 9:24am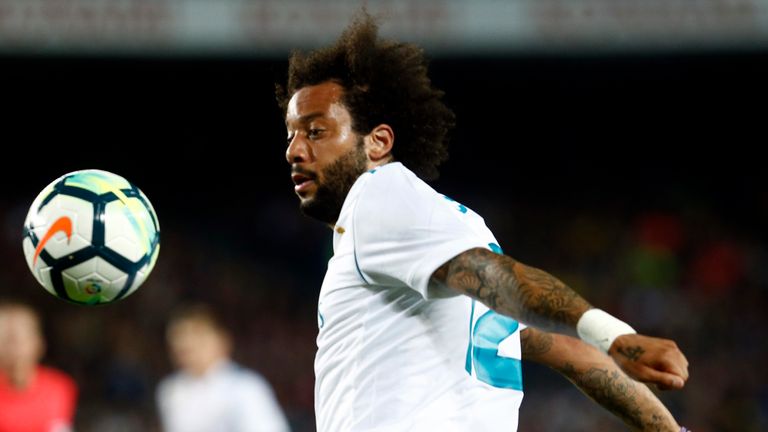 What positives could Liverpool take from Real Madrid's 2-2 draw with Barcelona?
Real twice came from behind to claim a share of the spoils at the Camp Nou, but could not take advantage of Barca being reduced to 10 men late in the first half.
With the Champions League final between Real Madrid and Liverpool taking place on May 26, Sky Sports Spanish football expert Terry Gibson said on La Liga Weekly Podcast that the Reds might have seen some encouraging signs during El Clasico.
"Marcelo is a strength going forward, but he does go missing and that means Sergio Ramos on the left of the centre of defence gets dragged out and he doesn't want to and we see lots of goals. I am sure Jurgen Klopp is aware of that.
"You have to deal with the threat of Marcelo but on the break that's where you want your strikers, spinning into that right-sided channel because Ramos, when he gets dragged out, is a disaster waiting to happen, because against quicker players he has to make that initial early challenge which sometimes ends up getting him booked. There are issues."
Gibson also thinks Real need to settle on a formation, having rotated in the last few months as they have focused largely on the Champions League rather than La Liga.
"It has got really untidy at Real Madrid in the last few months because of rotation and the concentration on the Champions League.
"We have seen 4-3-3, an orthodox 4-4-2, a diamond in midfield with 4-4-2, and nothing seems to be working. Playing Lucas Vazquez at right-back against Bayern Munich in the Champions League semi-final was a disaster and what happened was Luka Modric covered him because he is an intelligent player and he knew Vazquez was struggling, but then you end up wasting him.
"Modric and Toni Kroos playing closer together makes Real Madrid a far better team. Against Bayern Munich Modric was wide on the right of a midfield four and ended up almost at right-back, then Mateo Kovacic in between and Kroos and Marco Asensio on the left. The relationship between Modric and Kroos is crucial to anything good that Real Madrid do."
Guillem Balague also thinks Liverpool, who are the top scorers in the Champions League this season, have the potential to hurt Real on the counter-attack.
"When they faced a team that defended deeper, like Barcelona did in the second half, Real couldn't damage them," he said.
"That's probably what Liverpool will do, and then counter-attack Real Madrid, and then when they are tracking back they suffer, they are like headless chickens going back. Marcelo especially, he forgets he has to do it."