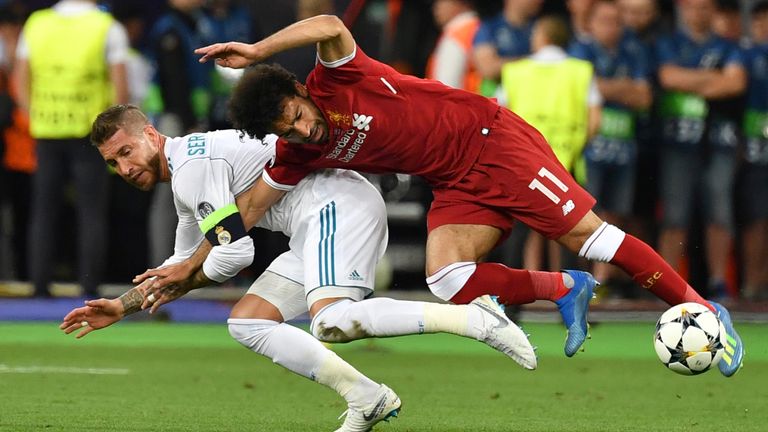 Sergio Ramos says Mohamed Salah could have played on in Liverpool's Champions League final defeat if he'd had an injection in his injured arm.
Real Madrid defender Ramos said Salah instigated the tussle between the players which led to the Egyptian forward leaving the game in tears during the first-half.
Liverpool goalkeeper Loris Karius also collided with Ramos and has subsequently been adjudged to have suffered concussion in the 3-1 defeat.
Egyptian lawyer Bassem Wahba launched a €1bn (£873m) lawsuit against Ramos, amid fears Salah may be unable to represent his national side in the 2018 World Cup.
"Bloody hell, they have given this Salah thing a lot of attention. I didn't want to speak because everything is magnified," Ramos told AS.
"I remember the play well: he grabs my arm first and I fell to the other side, the injury happened to the other arm and they said that I gave him a judo hold. After that the goalkeeper said I dazed him with a clash.
"I spoke with Salah through messages, he was quite good. He could have played on if he got an injection for the second-half, I have done it sometimes but when Ramos does something like this, it sticks a little bit more.
"I don't know if it is because you are at Madrid for so long and win for so long that people look at it a different way.
"I am only missing Roberto Firmino saying he got a cold because a drop of my sweat landed on him.".
Ramos, who met up with the Spain squad on Tuesday ahead of their World Cup campaign, went unpunished for his tangle with Salah during the match but more than 400,000 people signed a petition calling for UEFA action against him.