Lucas Digne says he rejected Liverpool twice and dismisses tattoo talk
Digne hopes Man Utd target Yerry Mina will join him at Everton
By Zinny Boswell
Last Updated: 03/08/18 9:57pm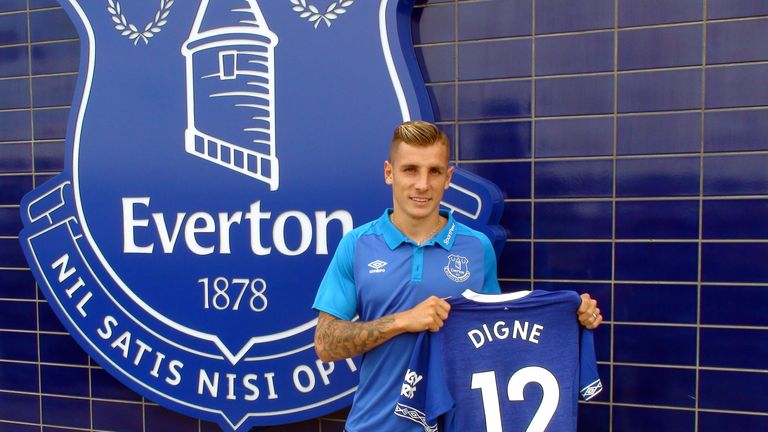 Everton's Lucas Digne insists his "never walk alone" tattoo has nothing to do with football, adding that he has rejected two offers from Liverpool.
Digne signed for the Merseyside club from Barcelona earlier this week for a fee worth £18m rising to £20m on a five-year-deal but, once Liverpool fans saw his tattoo, they thought he was a closet Reds fan.
However, the French international has rubbished these claims, and revealed in an interview with the Liverpool Echo that he refused offers from Liverpool while he was at Lille and after his loan spell with Roma.
"It's not about football, when I was 3 or 4 years old on my first day of school my parents gave me a necklace with these words and after I got them tattooed," said the former Barcelona full-back.
"But maybe it's because the Liverpool fans are angry that I said two times 'no' to Liverpool. I'm blue."
Digne's former Barcelona team-mate Yerry Mina is a target for Everton, Manchester United and Wolves.
When asked about Mina's future: Digne added: "I hope to see him here, but I don't know [what will happen]. He'll choose the best for his career and we'll see."
Digne left Barcelona for improved first-team opportunities after being omitted from France's World Cup winning squad, however, he faces competition from Leighton Baines for a starting spot at left-back.
"I know him and everybody I think knows him," said Digne. "We speak together, he's a very good guy, he said to me 'welcome' and he's so friendly. I think the competition is very good for the team.
"If in every position you have very good players it's hard for the coach. I want to play every game. I'm young and I need to progress."