Liverpool manager Jurgen Klopp says he knew new £67m goalkeeper Alisson would make a mistake at some point after the Brazilian's error almost cost his side victory at Leicester City on Saturday.
The visitors won 2-1 at the King Power to maintain their 100 per cent start to the new Premier League season, but they were made to sweat after a terrible gaffe by the 'keeper.
Alisson tried to dribble his way past Kelechi Iheanacho in the box, only to be dispossessed, with the Leicester striker then setting up Rachid Ghezzal for his first goal for his new club.
However, Liverpool held on to claim all three points, with Klopp later claiming he was expecting a blunder from Alisson after the shot-stopper's risk-taking display at home to Brighton last week.
"We all have to learn from that, not only himself," Klopp said. "It was clear last week that it would happen one day - I didn't think it would happen the next week immediately.
"But we could have cleared the situation twice before, then they gave the ball back to him and yes, he could have shot it away as well.
"It was a bit that mood in the whole team, play it back, play it back, play it back and in the end, it's the goalie. He knows it was his mistake, of course, he's man enough to get that.
"I told him that the best game to do it was this one because we won it, so it's all fine now. We know that now we have ticked that box as well.
"Do not play all the balls to Alisson, but how cool was he after that when the crowd tried to make him a bit nervous, which is of course normal. It was his goal, that is how it is, but no problem with that."

As for Liverpool's at times off-colour display at Leicester, Klopp said he was happy with how his players performed in a tough examination on the road.
"I think it was a deserved win, we had a brilliant start to the game," he said. "We played really good football and attacked them in the right way - we were there in half-spaces and were flexible. We created chances, big chances.
"It got a bit more difficult as the pitch got drier - we should not be influenced by that, but we were today to be honest - and then we scored the second before the half-time whistle, which is of course good.
"But it was clear this game was not decided and we had to do better in the second half, and we did not. We controlled the game a bit deeper, we had the counter-attacks and did not finish them off.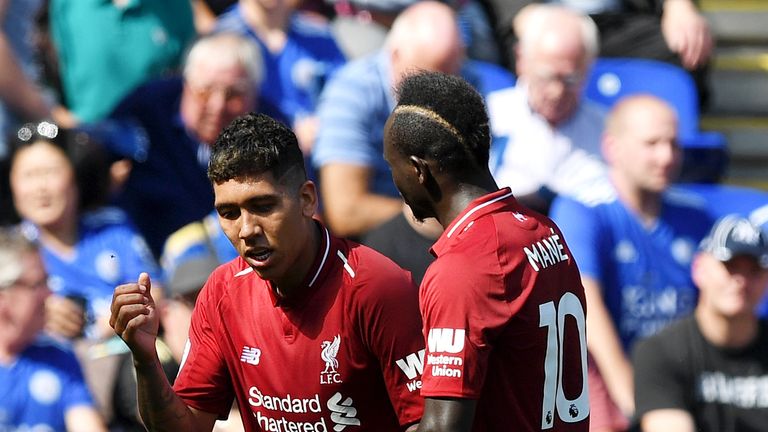 "We gave a goal away and that keeps the game exciting till the end. But I am completely happy - if winning away games in the Premier League would be easy, everybody would be doing it constantly."
Despite Liverpool heading into the international break with their best start to a top-flight season since 1990, Klopp knows there is still room for improvement when his side return to action at Tottenham in a fortnight's time.
"If somebody had told me four weeks ago that you will have 12 points from four games, then I would buy it," he said.
"Having 12 points and knowing you can and must improve, is good."