Tottenham boss Mauricio Pochettino concedes Liverpool were the better team
Spurs slip to second successive defeat as Liverpool remain perfect
Last Updated: 15/09/18 5:26pm
Mauricio Pochettino conceded Liverpool were the better team after they condemned Tottenham a second successive defeat on Saturday.
The Reds maintained their relentless start to the season with a 2-1 victory at Wembley, sealed by goals in either half by Georginio Wijnaldum and Roberto Firmino.
Erik Lamela grabbed a stoppage-time consolation for Spurs, who had tentative appeals for a penalty waved away in the last play of the game after Sadio Mane challenged Heung-Min Son.
Pochettino believes things may have panned out differently, but was gracious in defeat against a superior Liverpool side.
"They were better, we competed, and we were close," he told Sky Sports. "The last action was crazy because it was a penalty, Mane on Son. We could be talking after the match in a different way.
"But they were better, there is nothing to say. Of course I am disappointed with the result but we need to keep working and improving. It's only early in the season but we've improved a lot.
Spurs-Liverpool talking points
"It was difficult and today was a competitive game, you can win, you can lose. But we need to keep working, we are disappointed with the result but there are a lot of games ahead."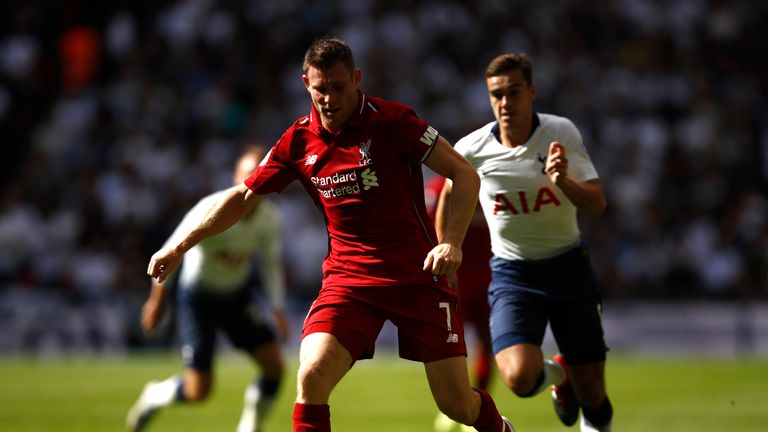 Spurs won their first three games to stake their claim as one of the Premier League's early pacesetters but defeats to Watford and now Liverpool have brought them down to earth.
It's a reality check that reinforces the narrative Pochettino pushed after the 3-0 victory over Manchester United that there was plenty of improving for his side still to do.
"It's easy to criticise the performance after losing the game and conceding many chances but, from the beginning since we beat Manchester United the reality has been different," the Spurs boss said.
"There are a lot of things to analyse and access, we are a long away, not in terms of results but performance."
Pochettino insisted he was not on the verge of panic, though, adding: "I am relaxed, I'm not worried. My confidence in these players is 200 per cent, not 100 per cent, 200 per cent."