Liverpool's Andy Robertson criticises Neymar and PSG over 'gamesmanship'
Robertson and Neymar exchanged words during defeat in Paris
Last Updated: 29/11/18 11:38am
Andy Robertson says Liverpool were left frustrated by PSG's "gamesmanship" and criticised Neymar for over-acting as their hopes of reaching the Champions League knock out stages were dented.
Liverpool sit third in Group C after the 2-1 defeat at the Parc des Princes on Wednesday, in a match which saw the Reds commit 20 fouls.
The result for Liverpool created some unwanted Champions League history as the club have now suffered defeat in all three away group games for the first time but Robertson was left irked by the French opponents.
It's all part and parcel of [Neymar's] game and we needed to deal with that. We didn't quite control our aggression.
Andy Robertson
"I suppose they were in the lead and they were looking to waste time. You can use gamesmanship, play-acting, you can use it all really," Robertson, who had words with Neymar, told Sky Sports News.
"I would like to know how much time they wasted tonight. It's frustrating when [Neymar] is falling like he is.
"It's all part and parcel of his game and we needed to deal with that. We didn't quite control our aggression.
"Of course it was frustrating. But when you play against PSG you know it is something you are going to come up against especially with him. It wasn't something we quite dealt with tonight."
Liverpool need to beat Napoli 1-0 or by two clear goals in two weeks' time if they are to reach the knockout rounds and Robertson says lessons need to be learned from their defeat against the Serie A side earlier in the campaign.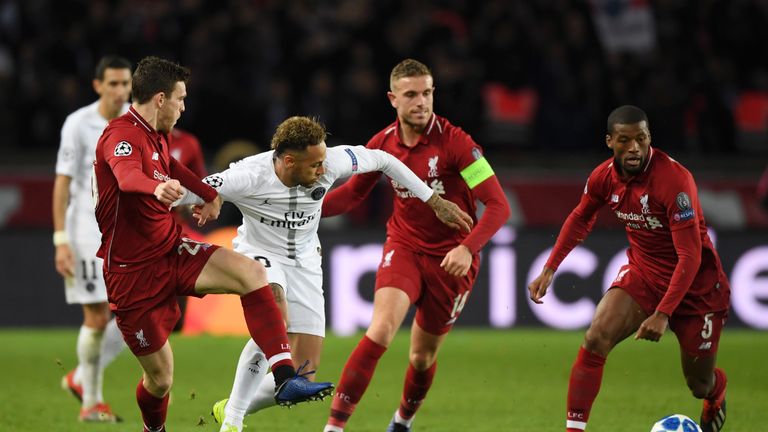 "We know we just go and try to win the game. I am sure everyone else will clear it up for us - I am sure the gaffer will know exactly what we need to do," he added.
"It is at Anfield. I am sure we will have another special night, the fans can create a special atmosphere and hopefully get the result that we need.
"We have been good at home and we need to continue that. Napoli got the better of us over there. It was a good performance by them.
"But I am sure we will watch the match back and see what we did wrong because it wasn't a good performance. We will look to put it right and we look forward to the challenge."