Jurgen Klopp says Liverpool are 'not the Harlem Globetrotters' after Brighton win
Klopp also discusses Trent Alexander-Arnold incident in warm-up
Last Updated: 12/01/19 7:04pm
Jurgen Klopp delighted in Liverpool's "most mature" performance of the season after they beat Brighton 1-0 at the Amex Stadium on Saturday.
Mohamed Salah scored the winner from the penalty spot in the 50th minute as the Reds responded after back-to-back defeats.
Victory sends Liverpool seven points clear at the top of the Premier League, and Klopp told Sky Sports: "It was very hard earned.
Brighton 0-1 Liverpool
As it happened
"I thought it was an unbelievably mature performance from my side. I really like that because it's a new skill and we have to keep that. It's not opera football but it's still a really nice song."
Speaking in his post-match press conference, the Liverpool boss added: "We are not the Harlem Globetrotters, we have to deliver results. For that, we need to perform. The performance was good. It was not the best performance of the season in a few departments but I would say it was the most mature performance of the season.
"It's so important. On the good days everybody can win; on average days not a lot of teams can win football games and, on a bad day, only a few can win. Today was not a bad day but it was a difficult day because Brighton is doing really well."
Liverpool were frustrated in the first half at the Amex Stadium as Brighton held firm.
But Salah's goal proved to be enough for the Reds, who will now see if title rivals Manchester City and Tottenham can close the gap when they play on Monday and Sunday respectively, both live on Sky Sports.
It's not opera football but it's still a really nice song.
Jurgen Klopp
Asked about the pressure on Liverpool ahead of the game, Klopp said: "We are Liverpool and we have to win games, that's not new for us, so we should be used to it.
"You don't want to draw or lose here so you need these moments, but you have to work and take each step of the game. Keep them busy, play around, try to create and, if you find a way, then use it the second and third time maybe.
"It's really difficult, Chris [Hughton, Brighton manager] is a smart fox and they close the spaces perfectly. It's difficult to stay 100 per cent concentrated in a game where you always have the ball.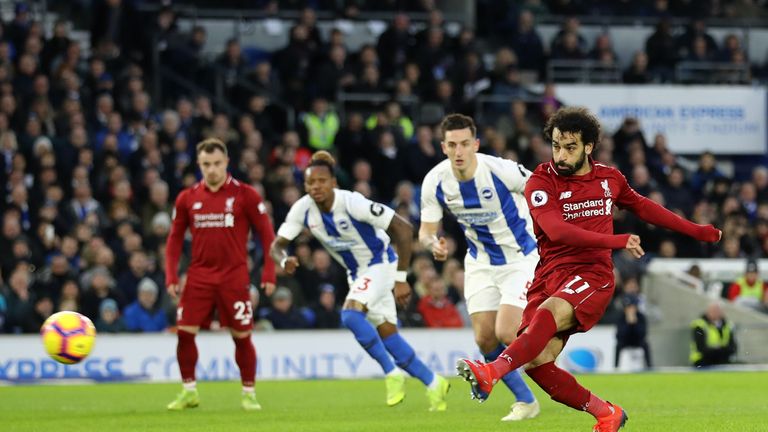 "Then you try something at the wrong moment, they win the ball and we all have to run. It's a challenge, but this is a proper football game and we won it."
Liverpool looked like they might have to make a late change for the match after Trent Alexander-Arnold appeared to suffer an injury when he stretched for a ball in the warm-ups.
But, after consultation with the team doctor, the full-back played the entire match.
"It was a shock in that moment," said Klopp." It was the last situation of the warm-up apart from the sprints. He wanted to play 100 per cent so he didn't say immediately if it was good or not good; because he didn't speak immediately that means it's not good.
"On the way in we thought he couldn't play but the test from the doctor was good. We have to wait to see what it is. It was a brilliant decision from the doc and Trent. He played well."