Dermot Gallagher
Former Premier League referee
Ref Watch: Jon Moss 'snookered' over Kepa Arrizabalaga substitution
Sergio Aguero's offside and Mauricio Pochettino's anger at Mike Dean also feature
Last Updated: 25/02/19 1:37pm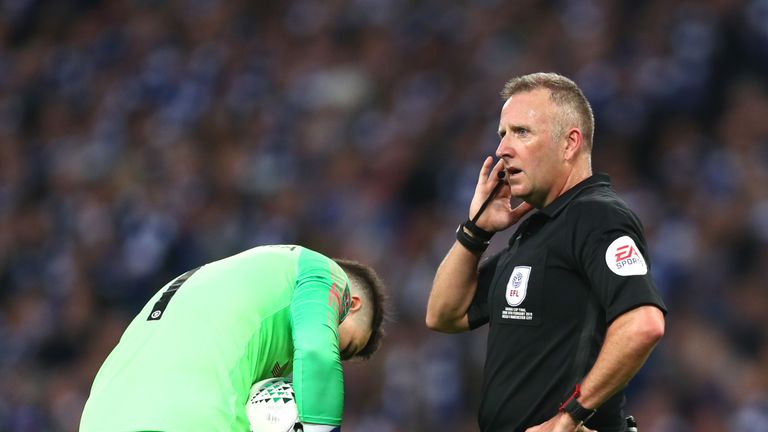 Jon Moss was "snookered" over Chelsea and Kepa Arrizabalaga's substitution that wasn't, Dermot Gallagher said on the latest Ref Watch.
It was another busy weekend for referees in various competitions, with Mike Dean being confronted by Tottenham manager Mauricio Pochettino and Moss handling a confusing substitution situation.
Read on to see what Dermot had to say...
INCIDENT: In added time, it looked like Chelsea goalkeeper Kepa Arrizabalaga was injured. Substitute goalkeeper Willy Caballero was ready to come on, but Kepa indicated that he did not want to come off. There were heated discussions between Maurizio Sarri, Gianfranco Zola and the player with Jon Moss intervening to find out what was going on. Kepa eventually stayed on the field with Chelsea beaten on penalties.
DERMOT'S VERDICT: Not the referee's responsibilities.
DERMOT SAYS: Ideally, as a referee, you want to get the game restarted because it didn't look very good. Regarding the laws of the game, he's snookered because law three says a manager has to inform the player he is going to be substituted, the player comes off, but if he refuses, it is the manager's problem and not the referee. The referee can't really get involved or force him off.
The fourth official [Paul Tierney on Sunday] would be explaining to the manager that he's the guy who has to take him off, the referee can't force him off. He's got to prompt Sarri to say 'are you going to force him to come off or are you going to stick as you are?'. As it was, all he could do was play on.
INCIDENT: In the 55th minute, Sergio Aguero had the ball in the back of the net, but he was initially ruled out for offside. Referee Moss went to VAR, and the decision stood.
DERMOT'S VERDICT: Correct decision.
DERMOT SAYS: The officials will say yes because the pitch is calibrated at Stockley Park and they have a system which goes across the field with different lines based on where the cameras are. For whatever reason, Aguero is just on the line and Rudiger isn't, so he's offside. At the moment, we have a tolerance level in that you accept certain things, but a VAR for offside is completely intolerant. It's either on or off.
INCIDENT: After a goal kick, Hazard is played through on goal but as he races towards the box, the linesman's flag is raised for offside. However, there have been some instances where linesmen have kept their flags down when unsure to see how play develops and using VAR where possible.
DERMOT'S VERDICT: Correct decision.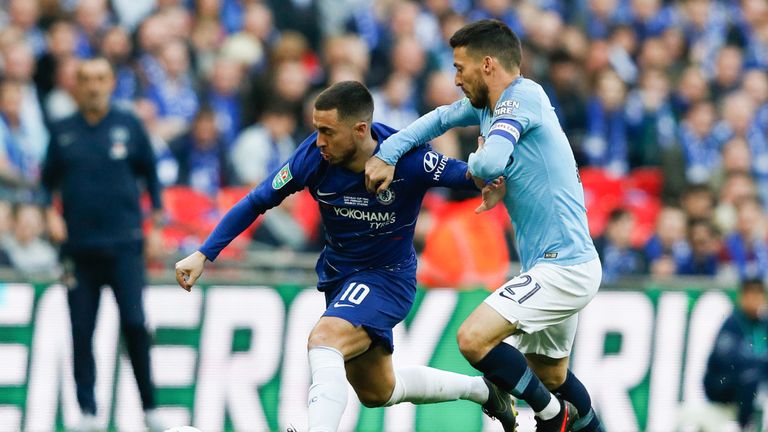 DERMOT SAYS: It is so tight. He will say he is leaning forward, just ahead of play. But it's all about what the assistant is thinking, which is that Hazard's head is just ahead of play and he can score with his head. At that point, he thinks Hazard is in an offside position and he flags.
If the linesman is in doubt, he allows play to continue but he will say he had no doubt whatsoever in that situation. With VAR, you have to remember that there will always be incidents which we will argue about, but there is too much at stake. Whether you like it or not and whether it has this fault or that fault, it will correct big, match-changing decisions.
INCIDENT: After a late winner for Burnley, Mauricio Pochettino went to talk to referee Mike Dean but something was said that made the Tottenham manager and his staff react angrily. It is unknown what was said.
DERMOT'S VERDICT: Time should have been given between the end of the games and the chat.
DERMOT SAYS: I know emotions run high, but in this situation, it's better for the manager to steer clear of the referee for the 30 minutes after the game that we say and then go and visit him in his changing room. They would both be in a better place and they can discuss things far more amicably than it was there and it doesn't look good for the product either. You see that being beamed out, it was live on Saturday and it's not good.
INCIDENT: Towards the end of the first half, Watford defender Daryl Janmaat brought Cardiff winger Josh Murphy down in the area but a penalty was not awarded by referee Simon Hooper.
Cardiff manager Neil Warnock was not happy with the decision at full-time, saying: "The referee is in a great position so I just can't understand it. If you can't give decisions like that at this level, you shouldn't be refereeing.
DERMOT'S VERDICT: Incorrect decision.
DERMOT SAYS: It wasn't given because the referee hasn't seen what we've seen, that's all I can think, or he's seen it but hasn't recognised it. It has got to be a penalty, there's nothing I can say in his defence. It is just one he hasn't picked up. When he goes to training camp, he will sit down with his coach and go through it. They will work out what caused him not to see that and make sure it doesn't happen again.