Ron Walker
Digital Football Journalist @ronnabe
Jurgen Klopp reveals Liverpool players plotted Gini Wijnaldum's opener
Reds back on top of the Premier League table after 2-0 win at Cardiff
Last Updated: 22/04/19 12:33pm
Jurgen Klopp revealed a half-time plot was behind the training-ground move which led to Liverpool's first goal against Cardiff.
Liverpool's players spent the half-time break working out how to make the most of the space Gini Wijnaldum had been given from corners before the interval, Klopp told Sky Sports, and 12 minutes into the second half he duly finished off a low, swept delivery from a Trent Alexander-Arnold corner.
Klopp said: "When you have the ball so much and you lose it from time to time, you have to be careful, and especially with their set-pieces, we defended really well, created a lot of chances.
"For my favourite goal, number one, we had different routines, but the boys decided at half-time to do it - I loved that - because the space was open for Gini and we scored it from a fantastic cross.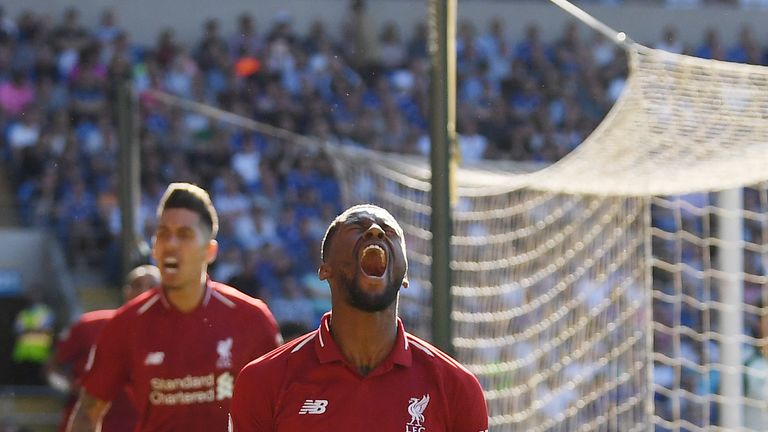 "The boys obviously found out that if you make all of these runs and you're on the pitch, no camera angle is as good as your own view. They decided to play that flat ball, and Gini could make the run with all the blocks and man-marking.
"If three players are man-marked and then you bring a fourth or a fifth one, then he is free, and, obviously, Gini was free during that moment. But still you have to hit that ball like this. A brilliant goal, I loved it."
Goalscorer Wijnaldum, speaking to Sky Sports moments after full-time, added: "We trained for it, but the ball was coming high in the first half.
"I was so free in the first half I told Henderson to tell Trent to put a low ball in, I got onto it and it was a good finish."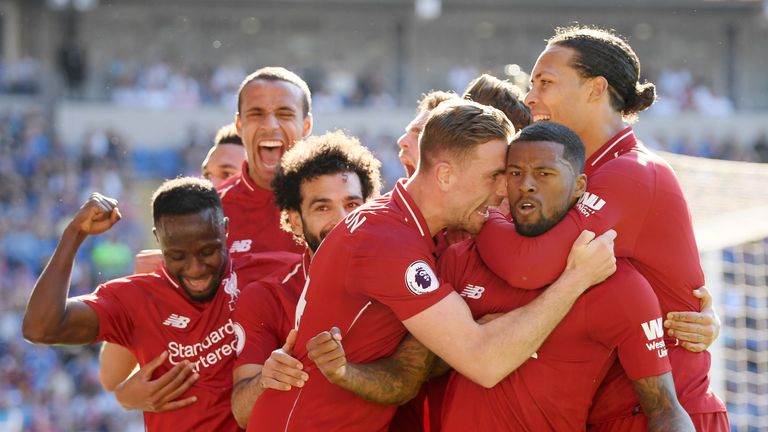 After a nervy start, Liverpool gradually ground down Cardiff to return to the top of the Premier League table with just three games remaining.
"It was very difficult. I'm happy we have some experienced footballers here, because on a very dry pitch, against some very deep defenders, it's not a joy," said Klopp.
"In the first half, we created three of the best chances in the whole season, we didn't finish it but we had to stay patient."
Despite Cardiff's position inside the relegation zone, some 54 points behind Liverpool ahead of kick-off, Klopp stressed the importance of preparing to face a physical approach in south Wales, and was delighted with his players' attitude to a chalk-and-cheese opponent compared to that which they faced in Porto in midweek.
"Today we played with a proper diamond, because we can't avoid the long balls they play, and the big strength of theirs is winning the second balls," continued Klopp.
"Bobby is usually our chaser, getting on the goalkeeper, but that would leave us a little problem in that pocket around their number six. We wanted him deep in that position, so offensively he had all the freedom he wants, and we pushed Jordan Henderson higher to have two 10s as well as two higher wingers.
"Coming after the Porto game, it was so different, what you have to talk about, that's why I'm so happy the boys delivered so much of that."
Klopp's preparations were not limited to just their opponents; having correctly predicted Cardiff's ground staff would not water the pitch during the warm-up, he demanded Liverpool's Melwood training ground be left dry on Saturday for their final training session ahead of the game.
"Yesterday we didn't cut the grass at Melwood, and didn't water it. That was clear it would happen here. It's just how people do it," Klopp explained.
"It helped, because it's so difficult, if we were surprised by it when we came here that wouldn't have helped. So yesterday we trained one hour and 10 minutes after the pitch had been watered."