Players will take a knee before the men's and women's Community Shield games at Wembley on August 29, in support of the Black Lives Matter movement, the Football Association has confirmed.
FA Cup victors Manchester City Women and Women's Super League winners Chelsea Women play each other first on Saturday (kick-off, 12:30pm) before FA Cup winners Arsenal take on Premier League holders Liverpool (kick-off, 4:30pm).
An FA spokesperson said: "Players in both the Women's and Men's FA Community Shield matches this weekend will take a knee before kick-off in order to show solidarity to the black community and to highlight inequality and injustice experienced by this community.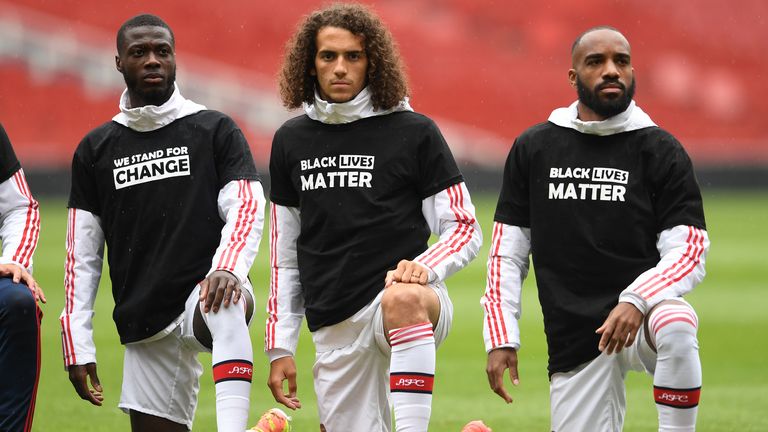 "The FA will continue to support any player who wishes to take a stand against discrimination in a respectful manner, which includes taking a knee.
"We will also use the digital LED screens at Wembley Stadium for select periods during both matches to display our continued stance against all types of discrimination."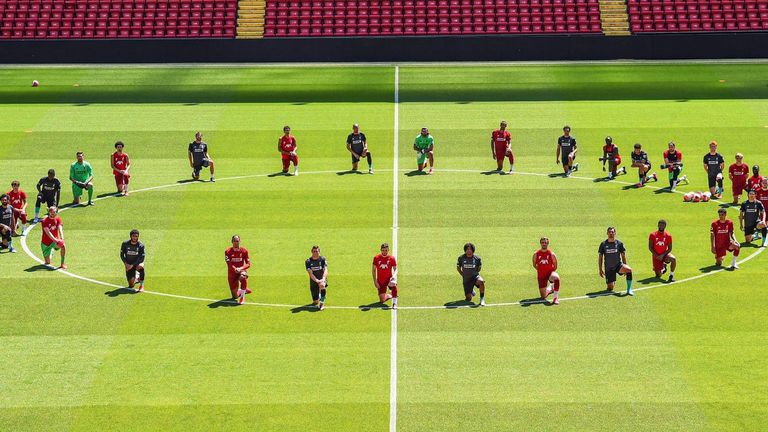 In support of the Black Lives Matter movement, the decision was taken for Premier League players to take a knee before kick-off in a protest against racial discrimination in the remainder of games, after the resumption of the season in June.
All 22 players and match officials took a knee for the first 10 seconds of Aston Villa's encounter with Sheffield United in the opening game after the 2019-20 season returned two months ago.
Premier League players also had their names replaced by 'Black Lives Matter' on their shirts for the first 12 games of the resumed campaign.
Manchester City and England international Demi Stokes has told Sky Sports News that women's football can do much more to increase the number of black players playing professionally, while former Juventus and Chelsea forward Eni Aluko has addressed MPs on the level of BAME representation in sport leadership roles.
Crystal Palace's Wilfried Zaha and Patrick Van Aanholt, Borussia Dortmund signing Jude Bellingham, Sheffield United's David McGoldrick as well as former Arsenal forward Ian Wright were all subjected to racist abuse online towards the end of the 2019/20 English football season.
Raheem Sterling, Andre Gray, Sol Campbell and Danny Rose are among many former and current professional footballers and coaches in the UK who have spoken out against racism in sport and society over the summer in the wake of the Movement and worldwide protests.
The kneeling gesture, first made by San Francisco 49ers quarter-back Colin Kaepernick in the NFL in 2016, has been used as a symbol of defiance in sport towards racism over the last few months, sparked by the killing of unarmed black man George Floyd in Minneapolis on May 25.
Thierry Henry knelt for eight minutes and 46 seconds before Montreal Impact's MLS game with New England Revolution in July, the same amount of time that a Minneapolis police officer knelt on the neck of Floyd.
Meanwhile, the NBA season is in jeopardy over player protests against the shooting of Jacob Blake, with matches in the MLB, WNBA and MLS also postponed following player-led actions in response to the incident.