Premier League: Liverpool calm and focused for Super Sunday, says Brendan Rodgers
Brendan Rodgers insists there are no nerves in the Liverpool camp ahead of Sunday's massive clash with Manchester City.
Last Updated: 14/04/14 10:06am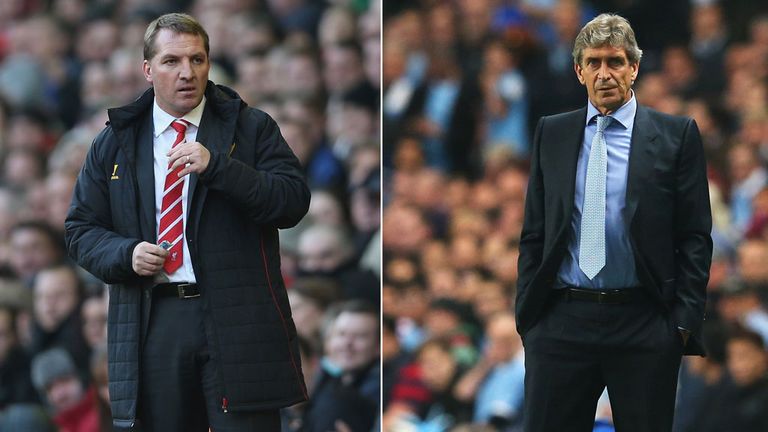 Leaders Liverpool are currently four points clear of the third-placed visitors, who have a pair of games in hand, meaning Sunday's result will have a huge impact on the title race.
But the Reds boss says that, far from being nervous, his side are looking forward to the occasion.
"It's a significant game, there is no doubt about that," he said.
"It's two teams who have done extremely well this season in their own different ways and it should be a fantastic game of football.
"We are really looking forward to it. The team is confident and it should be fantastic.
"We are enjoying it and the players are very focused. We are calm and the training this week has been outstanding, so there have certainly been no nerves.
"There is talk about pressure and different types of words to describe it but, for us, it is exciting. We are really enjoying where we are.
"It is not by accident. Over the last 20 months we have been building to arrive at what we have and we are looking to try and sustain that over a longer period."
Sunday not decisive
However, while acknowledging the fixture's significance, Rodgers does not think the winners will have all-but clinched the Premier League.
"There is still a lot of work to do after this game," he said. "The finish line is still a way to go.
"For us, our focus is on the three points as, at the end of the day, that is all that comes out of the game.
"You will gain confidence, gain belief, but the three points is all we are after.
"There are five games to go and, even after this one, there are still 12 points to play for."
Composure all-important
Rodgers stressed that his side must keep their composure during what is likely to be a raucous occasion.
"It is vitally important," he said. "And I think we showed that last weekend during the game against West Ham.
"We knew that was going to be a tough game for us and we went 1-0 up, then had the disappointment of the goal that was given against us.
"But, in the second half, we showed great composure and control in our game, had good dominance and went on to win."
This weekend will mark the 25th anniversary of the Hillsborough disaster, in which 96 Liverpool fans were tragically killed at an FA Cup tie against Nottingham Forest.
Rodgers said: "It gives us great commitment and motivation of course.
"Obviously, we'll get a chance to commemorate Hillsborough next week. It's going to be a great atmosphere at the weekend and, of course, the significance of Hillsborough for the world is to be marked.
"For us, we carry it every day of our lives here, as a manager, as players, as the supporters.
"Ninety-six people died and the victims of that and the families are with us every day of our lives."