Liverpool manager Brendan Rodgers has denied that the club put pressure on England boss Roy Hodgson to rest Raheem Sterling for the European Qualifier against Estonia on Sunday.
Sterling, 19, started in England's 5-0 victory over San Marino at Wembley the previous Thursday but was left out of the starting line-up in Tallinn after telling Hodgson he felt tired, although he came off the bench to win the free-kick from which Wayne Rooney scored the only goal.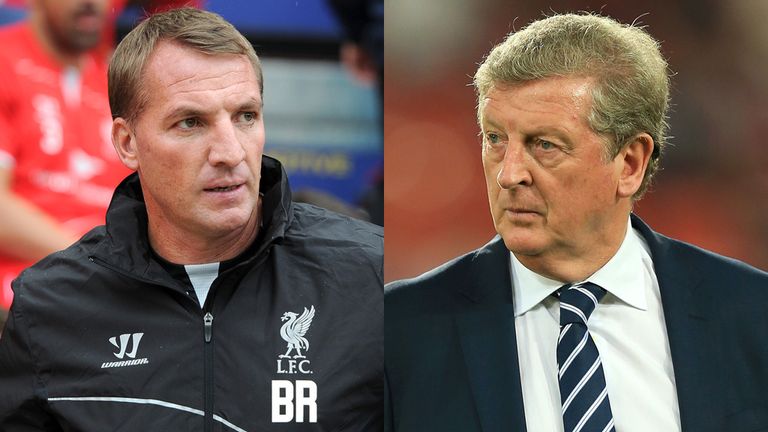 I'm fed up reading about this club v country, claims we intervened and put pressure on Roy Hodgson.
Rodgers insists that Sterling never said he did not want to play and that it was Hodgson's decision to leave the forward out of the starting XI.
"I'm fed up reading about this club v country, claims we intervened and put pressure on Roy Hodgson," Rodgers told The Independent.
"I've read we sent dossiers to the FA on Raheem Sterling and Daniel Sturridge and I'm having showdown talks with Roy Hodgson on Sunday and all sorts of rubbish.
"The decision not to play him was a managerial decision. I haven't said a single word but have to say I have never seen such rubbish written over the past few days."
Rodgers feels Sterling is being unfairly treated and does not believe the criticism will end in the near future.
"At no point did Raheem Sterling say he didn't want to play for England," he added.
"The boy is being hung out to dry and I dare say the criticism will continue for a few more weeks to come because of this."


Sterling has made 10 appearances for Liverpool in all competitions so far this season - scoring three goals - whilst also making four outings for England.
Rodgers admitted that Sterling had previously expressed concerns about fatigue, but insisted the club always made the final call on whether he would start a particular match.
"Let me tell you, there have been at least five occasions in the past when Raheem has said he felt tired before games but he's never refused to play," Rodgers continued.
"We have taken on board what he has said and taken a decision accordingly. I rested him against Aston Villa (13 September) and we lost the game. But it was our decision to do so - and our decision alone.
"Last season, he said he felt tired before the Manchester City game (13 April). We won 3-2 and he put in a man-of-the-match performance.
"The point I'm making is you have to take on board advice from your own people and make your own decision, right or wrong."
Patrick Vieira was among nine players inducted into the National Football Museum's Hall of Fame on Thursday night and speaking to Sky Sports News HQ in Manchester, the former France star expressed surprise that Sterling's conversations with Hodgson on the issue had been made public. 
Manchester City elite development squad manager Vieira said: "There are so many discussions going on between players and managers and I strongly believe that kind of discussion should stay behind closed doors."
Former England striker Trevor Francis, who was also honoured at the ceremony, said: "I can't believe for one moment that Raheem Sterling asked to be left out because he was tired.
"The greatest honour for me was playing for my country, and the saddest day was when I wasn't selected.
"Maybe he was a little bit tired, but I don't think for one moment he actually requested not to play. A boy of 19 years of age?! No, that can't possibly happen."
Watch Liverpool's Premier League clash at QPR live on Sky Sports 1 HD on Super Sunday, with coverage from Loftus Road underway from 12.30pm.