Jordan Henderson has urged Liverpool to make sure captain Steven Gerrard's future lies only at Anfield.
The 34-year-old, whose current deal runs out at the end of the season, scored his first goal from open play since January in the 3-1 win at Leicester, having also been involved in the other two goals at the King Power Stadium.
Gerrard is considering a new contract offer from the club, believed to be a 12-month playing deal with an offer to go into coaching, and, while manager Brendan Rodgers said he would be given time to do so, Henderson is keen to play alongside his inspirational skipper for a few more years.
"He's a massive player for us and a great leader," said the club's vice-captain. "We need to keep him for as long as we can. I hope he stays for many years to come.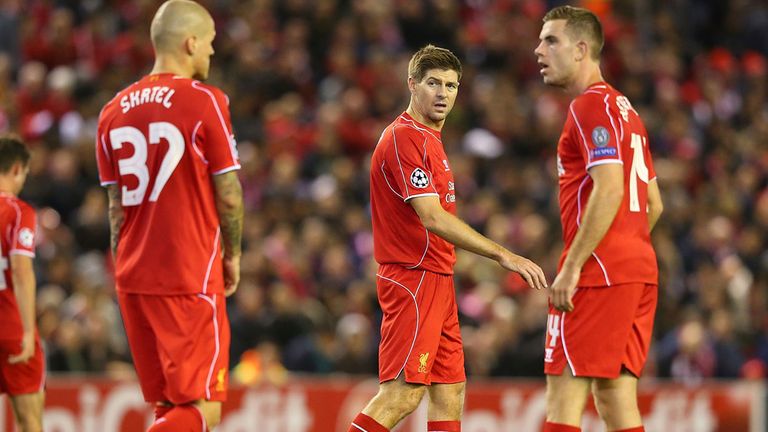 We need to keep him for as long as we can. I hope he stays for many years to come
"I thought Steven was outstanding for us. It was a real captain's performance from him. He worked so hard for the team and he got his rewards with his goal."
Rodgers insists sentiment plays no part in his decision-making - highlighted by resting the former England captian for the Champions League match against Real Madrid in the Bernabeu and at the 16th anniversary of his debut against Hull on Saturday.
Stature
"People talk about being fair with everyone," said Rodgers. "As a manager, managing certain players it is unfair to treat everyone the same, especially someone of Steven Gerrard's stature.
"I had a great respect for Steven from the outside and an even greater one working with him on the inside.
"When I came in 18 months ago people were talking about whether he was going to be able to play in how I work and last year he was absolutely magnificent, scoring 14 goals in all competitions. Irrespective of the player, the status, for me it is what is best for the team.
"I pick Steven Gerrard because I still think he can influence a game for us. When I set the team up last year he was a playmaker playing behind the midfield as we had three super quick players up front in Daniel Sturridge, Luis Suarez and Raheem Sterling.
"We looked at it again this year and we don't have that similar type of game so we have to change the structure of that.
"That meant he can still have a greater influence but maybe I need to pick him in a different role."