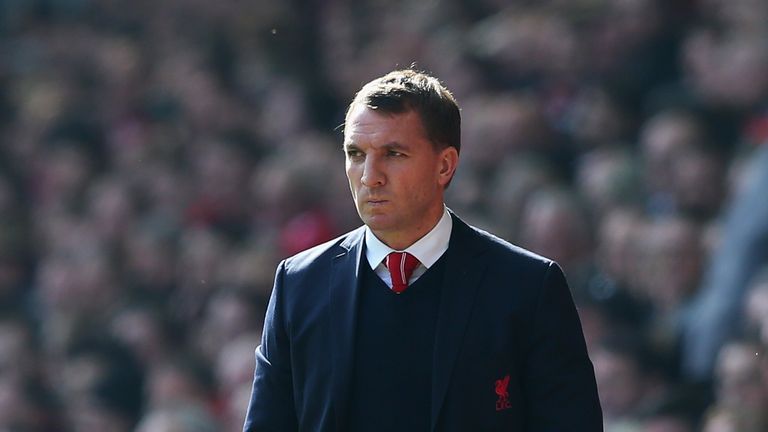 Liverpool manager Brendan Rodgers has admitted the club will find it "difficult" to attract top players this summer without Champions League football.
The Reds' hopes of qualifying for next year's competition have dissipated after back-to-back defeats to top-four rivals Manchester United and Arsenal, leaving them seven points short of the top-four with seven games left.
Rodgers hopes Liverpool's stature will be enough to limit the damage done to their recruitment plans after maintaining the club will not sell Raheem Sterling at the end of the season.
"Liverpool is a phenomenal club that players want to play for but, of course, players want to play at the top level of the game and if you are not in the Champions League it makes it difficult for you," Rodgers said.
"We know that but we just have to continue to fight in order to be a stable club. We want to be in the Champions League – that is important and key for us – but it is highly unlikely this year.
"I wouldn't expect the others to slip up and then add to that the growing number of players we have got unavailable and I think it will make it very difficult."
Liverpool embarked on a significant recruitment drive last summer having qualified for the Champions League, spending almost £120m on eight players, but they have been playing catch-up for the majority of an indifferent season.
Despite bringing in the likes of Mario Balotelli, Adam Lallana and Emre Can, Rodgers has admitted to looking in envy at the squads of his rivals – but he backed his young recruits to improve in the coming seasons.
"We always felt this year was going to be difficult – that was the reality of it," he said.
"Our run last year nearly brought us the title but we lost a world-class player in Luis Suarez and lots of other developments happened within the club.
"I look at Arsenal; the world-class players on the field, with big talent, and their bench, and it shows the continual work we have to do. It is going to be a little like this, until we become more stable. We have got young players who are growing, getting more experience and then hopefully there will be a period where we qualify again."