Roy Hodgson wants Steven Gerrard and Frank Lampard on England coaching staff
Last Updated: 22/05/15 11:05pm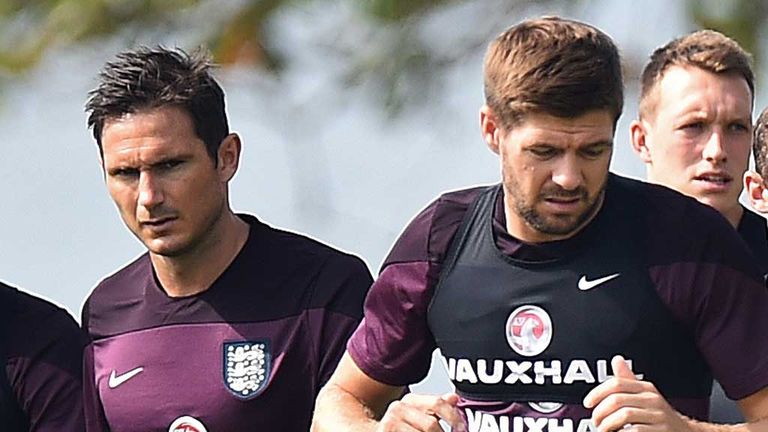 Roy Hodgson wants Steven Gerrard and Frank Lampard to be part of the England coaching staff when they retire from playing.
Lampard and Gerrard play their final Premier League games this weekend before going to play in the United States.
Seventeen years after making his debut, Gerrard will turn out for Liverpool for the final time at Stoke City and Lampard's two decades in the top-flight end with Manchester City's home game against Southampton.
Hodgson admits the Reds and Lampard's former club Chelsea will be in pole position for the pair's coaching services but hopes they could be involved with England in the same way Gary Neville has been.
"Probably, yes," Hodgson said when asked if they could form part of the England backroom staff in the future.
"Before that, I'm sure the first people who will try to get hold of them when they return will be Liverpool and Chelsea. I'm pretty sure of that.
"But who's to say they can't be members in an English set-up as well? They certainly know England. They've both had 100 caps. But it's not only their playing ability. It's their leadership qualities. They're both leaders."
Gerrard and Lampard are both doing their coaching badges and Hodgson believes the pair have real potential to be successful managers.
"Both of them have the same ability to do that," he said. "I wouldn't want to put a cigarette paper between them in that respect.
"Their effect on English football has been quite incredible. But I'd rather speak personally.
"What they've done for me during my time as England manager has been quite fantastic not only on the field as players and in training as players, but also as leaders and characters, they've both been outstanding and I want to thank them from the bottom of my heart.
"They've been real role models for the rest of the players, they've had a natural authority due to the fact they are such good players but they have used their authority in the right way to encourage the younger players to make certain that their strong ethos, which as a coaching staff we share, is spread out amongst all the players.
"I can't thank them enough for what they've done. I really hope they enjoy their American adventures and they will come back even stronger individuals and leaders than they already are.
"We will see an awful lot of benefits going forward with those two players. I can't imagine a long-term future in English football without major contributions from Gerrard and Lampard."