The attitude of Arsenal's players was questioned by Soccer Special pundit Tony Gale following their shock 2-1 defeat to Everton.
Arsene Wenger's side lost a Premier League match for the first time since the opening weekend of the season and missed the chance to go top of the table as Seamus Coleman cancelled out Alexis Sanchez's opener before Ashley Williams' headed in a late winner.
Wenger said after the game he could not fault the attitude of his players, but Gale begged to differ after watching them concede a winning goal from a corner four minutes from full-time.
"The attitude of Arsenal hasn't been right this evening apart from the first 10 minutes," he told Soccer Special.
"For the winning goal, there was nobody on either post and Petr Cech had no chance. Ashley Williams got to the ball totally unmarked. He had a free, unimpeded run.
"Arsenal were cruising in this game and attitude has cost them."
Arsenal have not won the Premier League since 2004 and Gale argued before the match that, despite their strong start to the season, there was nothing different about the current squad.
And he said Tuesday night's performance showed they lack the mentality of champions.
"They were cruising and it gave them a false sense of security," he added.
"This is the reason why I don't think Arsenal have got that killer instinct to win the league this season.
"Everyone is going on about the mentality being difference and the defence being better, but there were no signs of that in this game.
"Everton, just by sheer determination because they weren't playing well, got themselves back into it."
And he pointed at Mesut Ozil as an example of a player whose attitude did not match his talent.
"We've seen it so many times that they've got to do something for us not to believe it," Gale continued.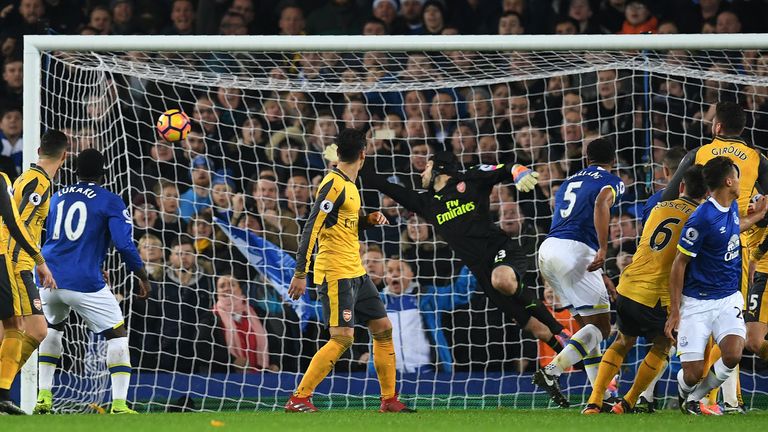 "That's the question that needs to be answered. Are they different or are the same old Arsenal from previous years?
"Ozil wasn't in the game tonight. Sanchez wasn't at his best, but is always a trier. When Ozil isn't in the game, does he get about and make it happen for Arsenal? No he doesn't?
"I know he is a quality player, but sometimes I think that attitude reflects on the other players and they just stroll through a game.
"They thought it was going to be a game they were going to cruise tonight, but Everton got among them, made it difficult and in the end they deserved the victory."
Next up for Arsenal is a trip to the Etihad Stadium to face Manchester City on Nissan Super Sunday.