Danny Welbeck should start ahead of Alexis Sanchez for Arsenal, says Charlie Nicholas
Last Updated: 21/09/17 3:09pm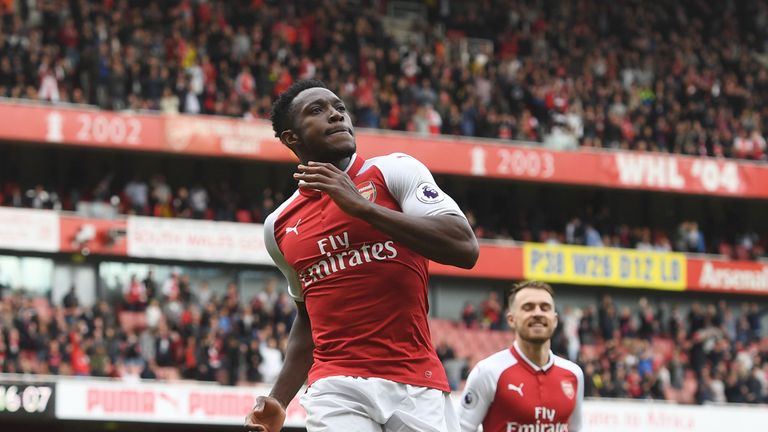 Danny Welbeck should start ahead of Alexis Sanchez for Arsenal if both players are fit, says Soccer Saturday pundit Charlie Nicholas.
Welbeck has enjoyed an excellent start to the season, starting all five of the Gunners Premier League matches and scoring three goals.
Meanwhile, Sanchez, who saw a proposed Deadline-Day move to Manchester City collapse, is yet to complete 90 minutes in the Premier League after starting pre-season late, but played the full match against Cologne in the Europa League and again saw the final whistle against League One Rovers on Wednesday night.
Nicholas is not surprised to see Welbeck, who faces a short spell on the sidelines after picking up a groin injury against Chelsea, starting ahead of the Chile international.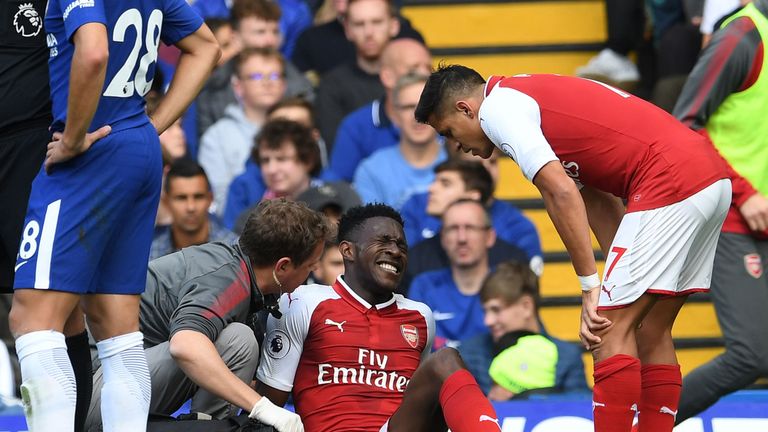 "Playing against Chelsea last weekend, you knew Welbeck had to start in front of Sanchez," Nicholas told Sky Sports News.
"At the moment Alexis Sanchez doesn't fit in. Sanchez is the best player on his day but at the moment if Welbeck was fit, he starts."
When asked if Welbeck was a guaranteed starter, he added: "Yes he is because of his pace and his movement. He's not the most natural finisher, and he will frustrate the life out of a lot of people but he stretches defences with his pace and movement every day of the week.
"That's why he played him at Chelsea. There was a reason behind it. He scored two goals the previous weekend and his pace and movement helped Alexandre Lacazette, who is a proven No 9. We just don't know how committed Sanchez is since his move to Manchester City collapsed.
"The options Arsenal require up front are pace and movement and Welbeck gives you that. If it's Welbeck up closer to Lacazette and then Welbeck on the left then so be it."
In the absence of Sanchez and Mesut Ozil, Arsenal put in a battling performance to secure a 0-0 draw against Chelsea at Stamford Bridge last Sunday.
Welbeck and Alex Iwobi received plenty of praise for their disciplined performances against the Premier League champions, and Nicholas thinks their displays were a real eye opener for Wenger.
The former Arsenal striker said: "If Arsenal were to let Sanchez and Ozil go, of course they would lose a lot of talent, but is it replaceable? Of course it is. Alex Iwobi, Reiss Nelson and the other youngster have got the potential to come in.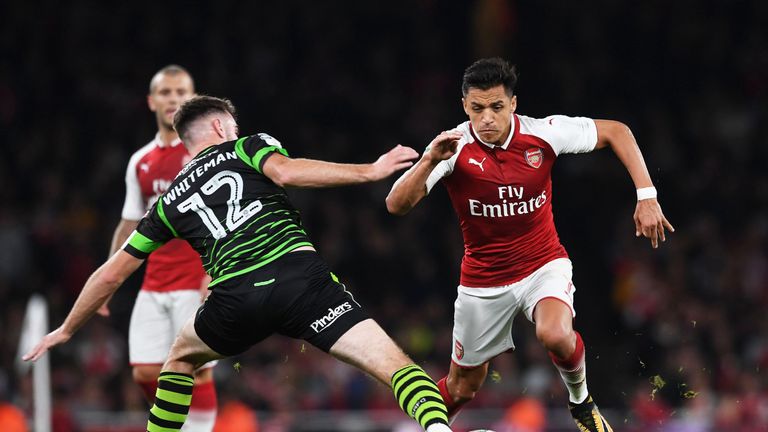 "It's not as good as the two superstars but there are no guarantees for any footballer. If you are not doing the business in the big games, then you can be put on the bench.
"The Chelsea game was an eye opener," he added. "It was the best most balanced performance Arsenal have had in a long time. We've been waiting for a long time to see a performance like that and it was without Sanchez and Ozil starting.
"It's about playing with a bit of discipline. Iwobi didn't play the game he usually likes to play but he was disciplined. He had to do the hard yards and that's what Arsenal haven't been doing with the superstars in the team. Players have to adjust to what the demands are in certain big games."
Meanwhile, Nicholas thinks Jack Wilshere has a real opportunity of forcing his way back into the Arsenal first team and wants the club to offer the England midfielder a new deal to stay at the Emirates Stadium.
Wilshere made his first start for Arsenal in over a year and he put in an encouraging display as the Gunners beat League One Doncaster 1-0 in the Carabao Cup, completing 90 minutes for the club for the first time since September 2014.
"I'm hopeful for Jack," Nicholas said. "The most important thing for him is to get himself fit and be a part of the Arsenal first team. I thought it was a pretty good performance last night and he got the full 90 minutes which was great for him. That's the main concentration.
"People will try and tell him right now to leave Arsenal and think about a contract somewhere else in January. That's fine, and people have the right to that opinion, but my opinion as an Arsenal fan, and a fan of Jack Wilshere, is get yourself back in the first team. Then let's see where that takes him.
"I'd love for him to stay at Arsenal and for the club to give him a contract. For me, it's starting to sway that way but he needs game time and I understand that, but he could get it at Arsenal with the Europa League and the League Cup. There's an opportunity for Jack and let's be honest the midfield players at Arsenal are not exactly shaking the place up."