Arsene Wenger fumes at 'soft' Raheem Sterling penalty in Arsenal defeat to Man City
By Gerard Brand
Last Updated: 06/11/17 1:52pm
Arsene Wenger was incensed by a "soft penalty" awarded for a challenge by Nacho Monreal on Raheem Sterling in Arsenal's 3-1 Premier League defeat away to Manchester City on Sunday.
Wenger was unhappy with referee Michael Oliver's decision when Sterling went down in the box following a shove from Monreal, while the linesman failed to spot an offside David Silva, who set up City's third for Gabriel Jesus.
Speaking after the match to Sky Sports, Wenger criticised both decisions, and says that although the physical levels of referees are good, their decisions are getting worse.
He also referred to Arsenal's trip to Man City last season, where two controversial goals handed City a 2-1 victory.
Wenger said: "I would say overall the referee made the decision today, with the soft penalty and the offside goal. But we are used to it when coming here, last year they had two offside goals, and once again, I feel they don't work enough, because the level drops every season at the moment. Overall it's unacceptable what happens.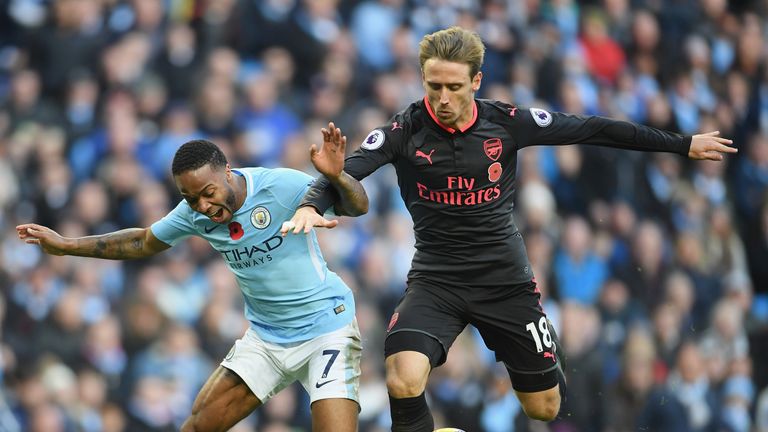 "The physical level is very good, the decisions [are not]. At 2-1 we are in the game, and he gives a clear offside goal, and of course that kills the game for us.
"And if you see last year we conceded two offside goals as well, but of course they are a top team, but on top of that it makes things very difficult for you."
Wenger later described the key refereeing decisions in the game as "just wrong" before focusing his ire squarely at City forward Sterling.
"I believe it was no penalty," he told the BBC.
"We know that Sterling dives well, and he does that [win the penalty] very well."
In his own post-match press conference, Man City boss Pep Guardiola said: "The penalty was a penalty, the offside was offside but we won because we were better."
Wenger insists his side battled well against leaders City, and caused dangerous situations themselves at the Etihad.
"I think it was an intense game of quality from both sides. Of course, Man City are on a high, but I felt we had plenty of dangerous situations and chances.
"I think we played quite well against a team that played at a very high pace and looked dangerous on the counter-attack. But we created many dangerous situations, and we did fight for the 90 minutes.
"I think in the first half we played a bit too deep, in the second we were much more in the game. And at 2-1 it looked like we could come back to 2-2. Of course, at 3-1 it was the killer."
Wenger handed Francis Coquelin his first start of the season, and played the Frenchman in central defence in a back five, before substituting him and going to a back four in the second half.
Wenger, however, insists Coquelin's inclusion, and the system itself, was not their main problem on Sunday.
"We were 1-0 down at half-time and I believe that you can speak all night, we're used to playing that system for a long time, and he gave us the defensive guarantees, and overall I believe that was our basic problem."
Asked to describe the gap between City and his Arsenal side, 12 points behind, Wenger said: "I think they are a good side, and for the rest, I leave that to specialists.
"You have enough on television, super people who can analyse that better than I do."