A Little Less Conversation, the song by Elvis Presley, was the tune that played the players off the pitch. The lyric urging for "a little more spark" was a fair assessment of the game but it is the line about the need for "a little less conversation, a little more action" that best sums up Jack Wilshere's situation at Arsenal.
The much-discussed midfielder was making his first Premier League start for the Gunners since May 2016. In fact, this was his first full 90 minutes in the competition for Arsenal since scoring in a 2-2 draw against Manchester City in September 2014. It has been a long wait but even on a frustrating evening for Arsenal, Wilshere justified his inclusion.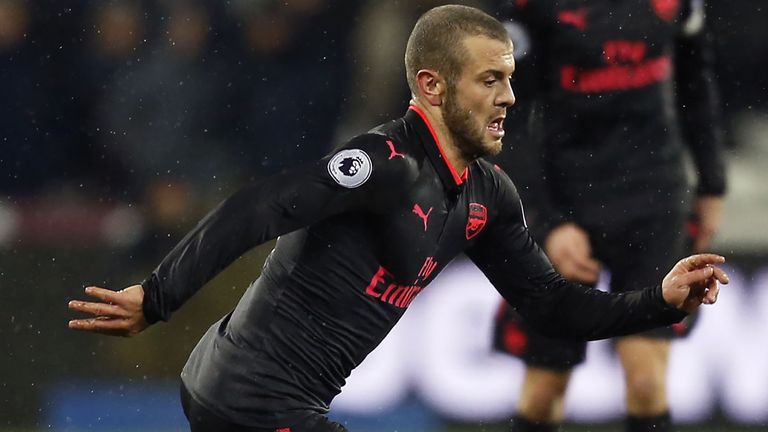 "Jack did well overall for his first game," said Arsene Wenger in his post-match press conference. "Especially in the first half where he had some sharpness. But he defended well overall. For the first game it is satisfying." On this evidence, particularly with others in an Arsenal shirt struggling to find their best form, there will be further opportunities as well.
While Granit Xhaka played two alarmingly sloppy passes in the opening minutes, Wilshere took care of the ball - boasting the best pass completion rate of the 22 starters. He did not misplace a single pass until well into the second half and even then it was an attempted through ball to Olivier Giroud in an attack that he had instigated by running at the defence.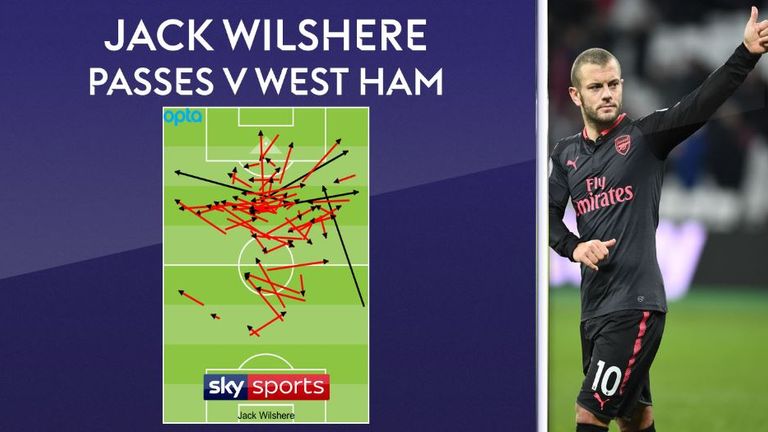 There were the usual shimmies. The drops of the shoulder to escape his marker. There are few as comfortable passing and receiving the ball in tight areas and that appetite to look forwards is a welcome quality in a team whose dominance can sometimes seem a little too passive. Wilshere was perhaps Arsenal's best player on the night.
In part, as Wenger pointed out, that was because he embraced his defensive duties too. Nacho Monreal was the only player on either team to make more combined tackles and interceptions than Wilshere. A couple of them were crunching challenges too. He can add a bit of bite to this midfield. All that was missing for Wilshere and Arsenal was a goal.

West Ham could not find one either and they are among the clubs linked with a move for him in January but the prospect is surely dwindling. With Arsenal still in four competitions, why would they let him leave? Wilshere still has a part to play and for the first time in a long time, there are signs that it could well include a regular starting role in the Premier League.
WILSHERE WATCH
8 – TOUCH… Collects the ball into his feet 30 yards out with four men converging but delicately extricates himself from the situation and picks a pass out wide to the left.

22 – SKILL... Gorgeous first touch takes him away from trouble before playing a smart one-two with Olivier Giroud that sets up Alexis Sanchez for a shot on goal.

30 – TACKLE… Strong tackle wins the ball back to allow Alex Iwobi to get a shot in on goal and then he intercepts a pass from Mark Arnautovic inside the Arsenal box at the other moments later.

41 – FOULED... Tripped when attempting to run at the West Ham defence. Manuel Lanzini is booked for his cynical clip from behind.

47 – PASS... Takes two opponents out of the game with a simple threaded pass through to Iwobi and Arsenal go on to win a corner from the attack.

55 – ANOTHER TACKLE… Very strong tackle on Michail Antonio draws the ire of the home supporters.

58 – MORE SKILL.. Slips away from Mark Noble and runs at the West Ham defence but Olivier Giroud does not read his intentions with the intended through-ball.

70 – CHANCE… The ball drops nicely to him inside the penalty box but he fires over the crossbar with his weaker right foot.

72 – FOULED AGAIN... Brought down on the edge of the West Ham penalty box with Alexis Sanchez's subsequent free-kick well saved by Adrian. Wilshere ends up being the game's most fouled player.