Arsene Wenger 'confident' Mesut Ozil will sign new Arsenal contract
By PA Sport & Jack Wilkinson
Last Updated: 17/12/17 9:11am
Arsene Wenger praised Mesut Ozil following his match-winning volley against Newcastle and said he is "confident" the Germany international will sign a new deal at Arsenal.
The 29-year-old struck a perfectly-hit effort to seal an uncomfortable 1-0 victory for the Gunners, who laboured to a first Premier League win in their last four outings.
Wenger, whose side had drawn with Southampton and West Ham following their home defeat to Manchester United, said on Friday his players were still suffering from the after effects of that United loss.
That showed against the Magpies but they would end the day with three points courtesy of a piece of magic from Ozil at the midway point of the first half.
"It's superb, he can deliver that," Wenger said. "It's important for him that he takes the risk to do what he did.
"Usually he is a guy who, 99 per cent of the time, in this position, he controls the ball and gives it to somebody else.
"So I'm pleased he took the gamble to finish and I'm happy as well that he scored a very important goal."
Ozil is out of contract at the end of the season and can talk to foreign clubs from the start of next month with a view to walking away from Arsenal for free in the summer.
Wenger has insisted the club will not cash in on the playmaker in the January transfer window and reiterated he remains hopeful Ozil can be tied down to a new deal.
"I'm confident, yes, but what does that mean? I don't know," he answered somewhat cryptically when asked whether Ozil will stay.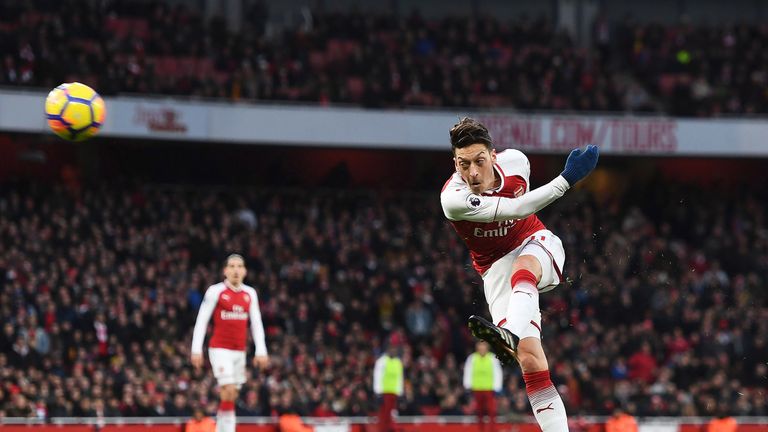 Speaking to Sky Sports after the game, Wenger claimed a busy fixture schedule was to blame for an "uncomfortable" end to Saturday's game.
"It was more uncomfortable than we would have liked," he added. "We created the chances for it to be comfortable and, in the last five minutes, we became a bit edgy, but we didn't make a mistake at the back.
"Overall, you could see that necessity to win was playing a little bit on the minds of our players. The fact we couldn't take our chances meant we wanted to force it too much and not play with the freedom to finish what we created, which was a lot.
"Having played three games in six days - Sunday, Wednesday, and Saturday - you know you could suffer in the last one, especially because Newcastle produced a very high, physical performance."
In addition to the three points, Jack Wilshere's continued run in the first team was another positive for the Gunners.
The midfielder started consecutive Premier League games for Arsenal for the first time since May 2015, and Wenger was pleased he came through unscathed.
"It's good that Wilshere has survived two games physically," he said. "He was good stamina-wise and that's very positive."