Football Expert & Columnist
Jamie Carragher laments Arsenal fan apathy after Manchester City defeat
Last Updated: 01/03/18 11:39pm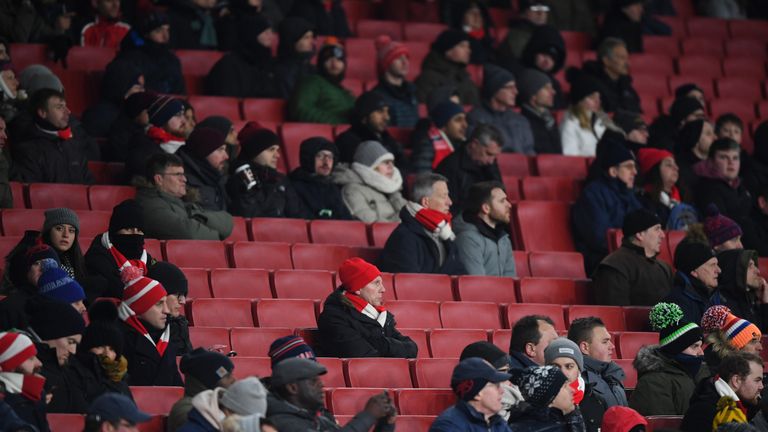 Arsenal fans have been left apathetic by the club's recent form and have gone beyond the "anger" they held in previous seasons, says Jamie Carragher.
Arsene Wenger's side were met by jeers after their 3-0 home defeat to Manchester City, a result which put them as close to seventh-placed Burnley as Chelsea in fifth in what was the Gunners' seventh defeat in all competitions of 2018.
On a day of snow and freezing temperatures in London, the home stands were sparsely populated but those in attendance were left disinterested by Arsenal's performance, according to Carragher, as the Gunners found themselves 2-0 down inside 28 minutes to Pep Guardiola's rampant City.
"I think last season, there were scenes at this club and anger and marches against Arsene Wenger which I thought was a disgrace," said Carragher. "But tonight I think was worse. They're not actually interested, they didn't turn up. I'm not having a go at them for not coming.
"There were a few boos at the end, but that's not like what it was last season when there was anger. That was like resignation, as if just waiting for the manager to go. You think how sad is that.
"There's very few Arsenal fans who want Arsene Wenger as manager next season, and that is very sad because when I was playing it was him and Alex Ferguson battling it out as the top manager and you think: 'Wow, he's a legendary figure'.
"Not just for Arsenal but in the English game. But they have to change it. If they'd won 3-0, it wouldn't make any difference."
Wenger had come out in defence of his position in the build-up to the game by claiming he had turned down various offers from other clubs down the years to stay loyal to Arsenal.
The Frenchman had been fending off questions over his future following Sunday's Carabao Cup final defeat.
Carragher said: "In his press conference yesterday when he was talking about turning down job offers to stay here and be loyal, that doesn't mean you should have a job for life, and they would've been coming 10 years ago, not now.
"He moved Henry on, Vieira on, moved Pires on, moved Bergkamp on, legendary Arsenal players and some of the best players in their history.
"I bet some of these players could've joined different clubs at different times. They didn't stay because of their loyalty though, they went because they weren't good enough to go on. At this moment, what we're seeing is not good enough for Arsenal and it has to change."