Arsene Wenger's reign at Arsenal is 'exhausted', says Sunday Supplement panellist Oliver Holt
Last Updated: 04/03/18 4:43pm
Arsene Wenger's reign at Arsenal is "exhausted", says Sunday Supplement panellist Oliver Holt, who believes the manager has overachieved in recent seasons.
The scrutiny of the Frenchman's tenure has intensified in recent weeks with successive losses to Manchester City in the Carabao Cup final and the Premier League, plus a less than convincing performance against Ostersunds in the Europa League at the Emirates.
The Mail on Sunday's chief sports writer Holt thinks the Gunners boss is nearing the end of his 21-year stay in north London.
"There was something about this week that seemed to strike a lot of people, and the second defeat to Man City felt like a line in the sand," he told the Sunday Supplement.
"Part of it I think is because Man City were what Arsenal used to be and Arsenal looked like the past. I think it showed how far off the pace Arsenal have gone, everything just seems tired and stale.
"I think Wenger's reign at Arsenal is exhausted and as many people have said this week, it feels like it is at a point where someone has to tell him that it's over, and it would almost be a kindness I think now.
"Most people in football accept that he has been a great thing for English football. In many ways, he revolutionised what English football is when he arrived in his country and he has always conducted himself with great elegance and grace and his teams have been fantastic to watch but you can't really say that anymore."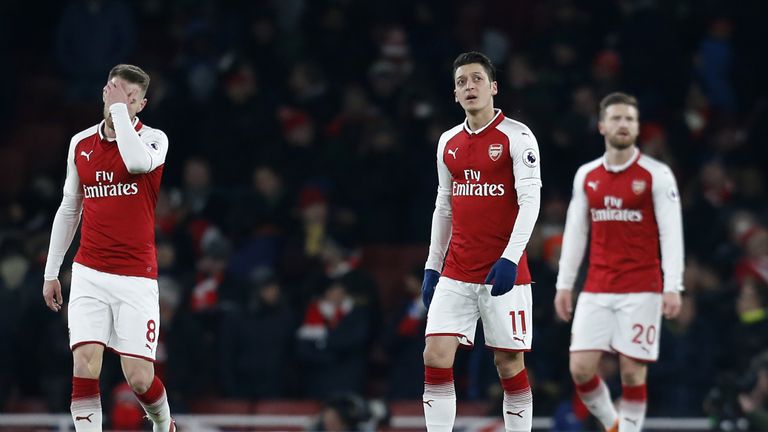 Arsenal are heading for another finish outside the top four places in the Premier League this season, although Holt added the Gunners have been overachieving in recent campaigns.
"I think over the last four or five years when there has been a lot of unrest at Arsenal, I've kind of felt that while Wenger has been getting Arsenal into the top four, then he has been doing a good job, providing some excellent football as he always has but I think that in many ways, Wenger has overachieved," he said.
"He has been up against the money of Sheikh Mansour and Roman Abramovich and I think realistically, in some ways, the best they could hope for was third or fourth.
"They finished second a couple of seasons ago, they won the FA Cup two years on the spin so I think some of the resentment against Wenger has been misplaced but they finished outside of the Champions League places last season and will do this season.
"They are 13 points behind Tottenham at the moment and 30 points behind the leaders, Man City. I think at the moment, sadly, Arsenal look like a team who are going backwards.
"Other teams are going forwards, like Liverpool and Spurs, and even Manchester United are recovering some of the ground they lost and Arsenal aren't.
"I think the two games against Man City showed how far Arsenal have slipped from the team they once were and how far off Wenger has become in terms of cutting edge."