Arsenal manager Arsene Wenger says Europa League is a chance to save season
By Mark Crellin
Last Updated: 08/03/18 6:04am
Manager Arsene Wenger says the Europa League presents Arsenal with a chance to salvage a very disappointing campaign.
Wenger agrees this adds to the pressure ahead of Thursday's last-16 first leg tie against in-form AC Milan, who are on a 13-game unbeaten run, in the San Siro.
However, the under-pressure Gunners manager says his players now have an opportunity to show their quality in tough circumstances.
Arsenal managed to end last term on a high with FA Cup final glory and a disastrous 2018 so far has left the Europa League as their only realistic chance of having something to show for this season.
Wenger said: "It makes me think a little think about last year, but last year we made 75 points and missed the Champions League by one point only.
"75 points is still a very good score, which we will not reach this season. This is an opportunity we have to take, yes of course. It increases the pressure even more on the competition.
"At the moment it is difficult, when you go through a patch like that, but I believe as well it is a good opportunity.
"What you want is to to show that you have the quality and the strengths, and you can only show that when it is difficult.
"That is a good opportunity and, in the longer term, it can make the team even stronger."
Wenger agreed his squad are reeling after four straight defeats in all competitions, including two 3-0 losses to Manchester City and Sunday's 2-1 setback at Brighton.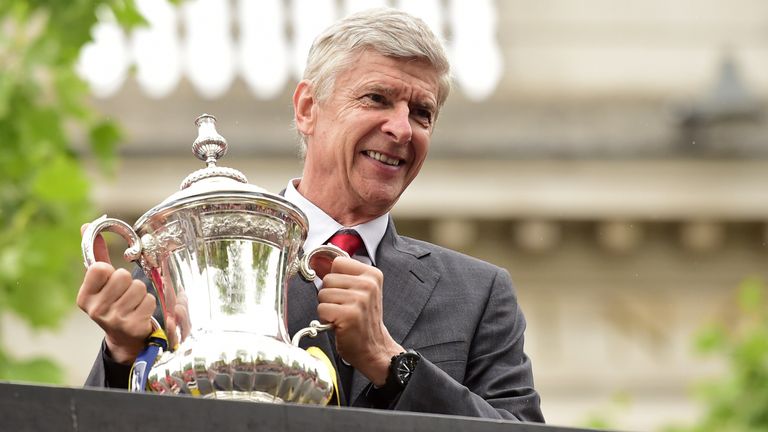 "The players are a bit affected," said Wenger. "These players want to win, in life you forget quickly how good you are.
"[We need] to set reachable targets, focus on what you can do better and not be scared too much about the consequences of a bad result.
"In my opinion it will be a tight tie, because Milan is doing well at the moment."