Arsene Wenger says "hatred" from Arsenal fans is nothing personal and he has had sleepless nights trying to address their form.
Arsenal lost six games in a row in all competitions prior to Thursday's Europa League victory over AC Milan in the first leg of their last-16 tie, including their Carabao Cup final defeat to Manchester City.
Wenger admits he has been in "disastrous shape" during the run, which has seen Arsenal fall 13 points behind rivals Tottenham in fourth place heading into Sunday's game against Watford, live on Sky Sports Premier League.


Fans and pundits have called for Wenger - whose contract is not due to expire until June 2019 - to step down from his role as manager, and while the Frenchman is hurt by criticism, he insists he is able to treat supporters' emotions on a purely professional level.
"It's not the person they hate, they hate the manager who doesn't deliver the performance," Wenger told Sky Sports News. "I can make that difference.
Arsenal team news
Hector Bellerin, Nacho Monreal, Alexandre Lacazette all out of Watford trip. Sead Kolasinac is doubtful while Calum Chambers should be OK.
"But I'm just unhappy that we lose the games. I want to win, win with style even, so it's very ambitious. When we don't do it of course I'm suffering like everyone else.
"Arsenal is 30 million people, it's not the suffering of one person, you want to make 30 million people happy and that's what you care about."
Asked about a lack of sleep, Wenger added: "It's part of the job. It is surviving disappointments and finding solutions, it can make you a better manager to face crisis."
Wenger said he has dedicated his whole life to winning football matches and defended his record of winning three trophies in the last five years.
But he believes criticism over their immediate form has overshadowed his overall impact.
"Football is first about values, if I can leave that behind me and that maybe somewhere people respect that Arsenal is [not only] about winning or losing, but as well about what is important in the game," he said.
"My regret personally is that has gone completely underwater. You don't speak about that anymore, it's only about the side of the game that is important but is not essential."
The timing of the Carabao Cup final defeat to Manchester City has created a "difficult psychological situation" for Arsenal's players for the rest of the season, according to Wenger.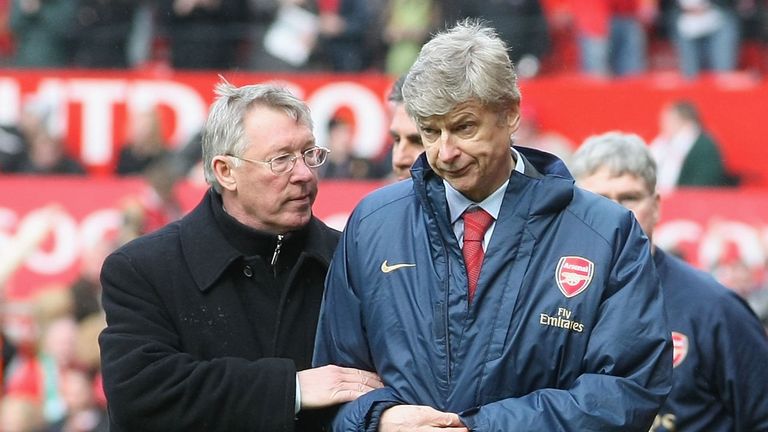 I have a good relationship with Sir Alex Ferguson at the moment. Sometimes he sends me a message when things don't go well.
He has received messages of support from managers past and present, and said Sir Alex Ferguson has been in touch "when things don't go well".
"There is a solidarity," he said. "I always support other managers where I can. There is no possibility not to suffer. You have to suffer.
"The difficulty in this job is to be capable to go periods where it very difficult."