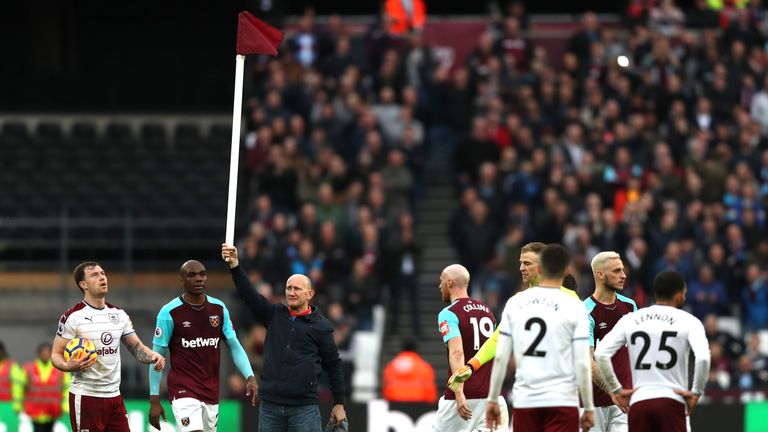 Who were the top performers and who let themselves down in the Premier League this weekend?
We asked Sky Sports News guest Mike Phelan to offer his verdict on the weekend's top-flight action, with the former Manchester United assistant manager grading each club on their display.
So, how did YOUR club fare - did they top the class with an A+, does an F show there's room for improvement, or are they somewhere in between? Read on to find out...
Weekend's Premier League results
Man Utd 2-1 Liverpool
Everton 2-0 Brighton
Huddersfield 0-0 Swansea
Newcastle 3-0 Southampton
West Brom 1-4 Liverpool
West Ham 0-3 Burnley
Chelsea 2-1 Crystal Palace
Arsenal 3-0 Watford
Bournemouth 1-4 Tottenham
Stoke v Man City (Mon, 8pm)
Arsenal - A
Three goals against Watford is comprehensive enough. The victory was made all the more sweeter after Troy Deeney's comments earlier in the season, which look to have got a response from the Arsenal players.
Burnley - A
It was a great result away from home with some good goals. Ashley Barnes and Chris Wood coming back in have really made an impact and ensured Burnley end a great season strongly. They deserve to be where they are this season. Burnley for Europe!
Leicester - A
A great result at West Brom. They didn't dominate as the scoreline suggests but their finishing was some of the best you will see. They have done well on their travels and this was another example.
Newcastle - A
Their emphatic victory over Southampton was as good as it gets. Perfect result and performance against a relegation rival.
Tottenham - A
Spurs produced a great response after going a goal down and losing Harry Kane to injury. They reacted well to the disappointing defeat to Juventus, with the likes of Heung-Min Son stepping up to the plate.
Chelsea - B
They went two in front and faded a little bit in the end but they probably had an eye on the big game against Barcelona.
Everton - B
It was a much-needed victory for Everton against Brighton. It eases some of the pressure on Sam Allardyce.
Liverpool - B
They played second fiddle in the first half against United but made it a good game in the second, levelling out the contest.
Man Utd - B
United dominated in the first half and raced into an early lead but in the second half Liverpool had a lot of the play and levelled things out.
Swansea - B
To play 79 minutes with 10 men and avoid defeat was impressive from Carlos Carvalhal's men. Another crucial point in their bid for survival.
Watford - B
Despite the defeat at Arsenal, Watford haven't dipped under Javi Gracia. It's the first poor result he's had since taking charge and his side look to be improving.
Bournemouth - C
Bournemouth have been like this for a while, they flattered a bit and then fallen away. To take the lead and then concede four will be disappointing. That being said, they were not as bad as the scoreline suggests.
Brighton - C
It wasn't Brighton's afternoon. I think they will get a couple of wins they need to stay up at home, so all is not lost.
Crystal Palace - C
Palace are fading a bit and not getting the goals they once had. After going two down at Chelsea, though, they saved face with a solid second-half display.
Huddersfield - C
Not the greatest of spectacles against Swansea. They failed to utilise their man advantage but did manage to get something from the game.
Southampton - D
Southampton simply cannot get it together. They are not running out of time because the league is so compact, three wins on the spin gets you out of it. But they need to do better.
West Brom - D
They are in big trouble and their defeat at home to Leicester leaves the bottom of the table.
West Ham - D
Where do you start with these? It's not even about the game anymore! I've not seen anything like the scenes we saw at the London Stadium before. It was a poor performance on and off the pitch.