Talking points: How did Alisson and Lucas Torreira do in their pre-season outings?
Last Updated: 05/08/18 5:36pm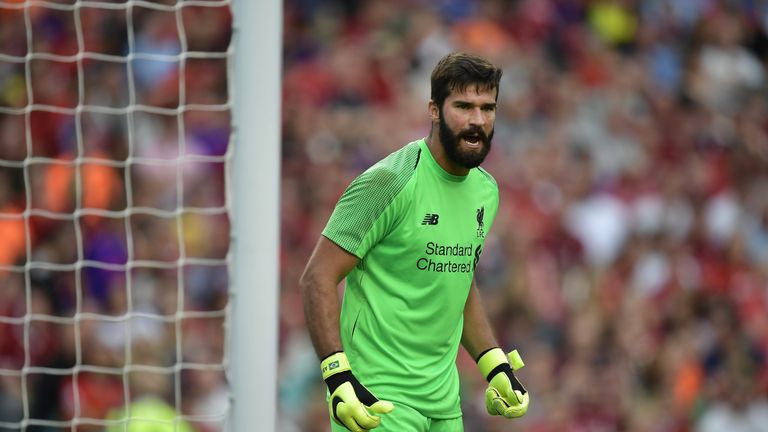 Liverpool and Arsenal fans got the first sightings of their high-profile summer signings as Alisson and Lucas Torreira made their pre-season bows on Saturday.
Liverpool's new goalkeeper Alisson registered a clean sheet on his first appearance as the Reds hammered Napoli 5-0 in a friendly in Dublin.
Liverpool paid £67m for the 25-year-old, who signed a long-term contract at Anfield.
Meanwhile, Torreira, who joined from Sampdoria for £26m, played 62 minutes for Arsenal in their 2-0 victory over Lazio in Stockholm.
How did Alisson do?
Since Jurgen Klopp has taken over at Anfield, no other top-six team has conceded more goals than Liverpool. The signing of Virgil van Dijk has helped but there is a feeling their new goalkeeper could be a real game-changer in terms of ending their Premier League title drought.
Alisson is undoubtedly good with his hands, but it is his feet that are likely to do the talking in the way Klopp sets up. The Brazil international made three times as many dribbles as any other keeper in Italy last season - all successful - and completed more passes than anyone else too. It took just four minutes for him to make a significant impact at his new club in Dublin.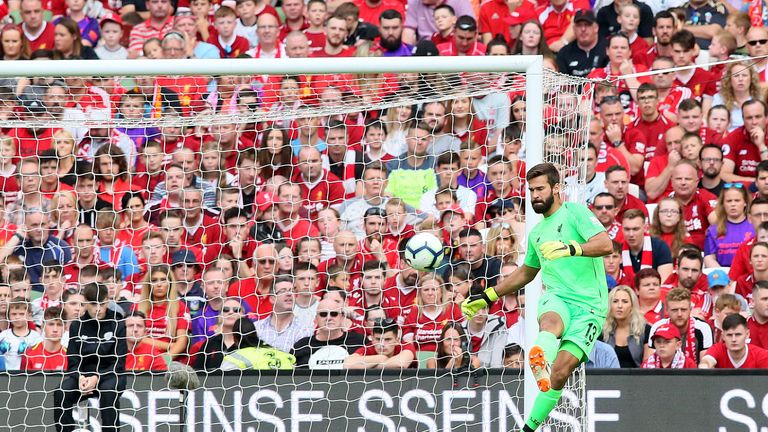 He played a 70-yard ball over the top for Mohamed Salah which turned the Napoli defence. The attack broke down but Liverpool recycled the play, which ended with James Milner smashing home the opener. It all started from Alisson's pin-point pass to Salah.
It was not quite as spectacular as Xherdan Shaqiri's bicycle-kick introduction against Manchester United but it produced equally as much buzz among Liverpool fans on social media.
Unlike his goalkeeping predecessors, Simon Mignolet and Loris Karius, Alisson seems to look a complete natural with the ball at his feet. Defenders Van Dijk and Joe Gomez were more than happy to use their goalkeeper when under pressure.
When receiving the ball, he never looked at all flustered and his go-to ball was to look for his full-backs or midfielders with a chipped 30-yard pass, over the advancing press.
However, there were some scares. A lazy chip aimed at Milner put his skipper in trouble and only a poor finish from Arkadiusz Milik saved Alisson from a first-day blot on his copybook. Lorenzo Insigne also troubled him with a mediocre strike from 20-yards that the goalkeeper rather clumsily juggled around the post. On his first start since Brazil's defeat to Belgium 30 days, a little lack of match-sharpness can be excused.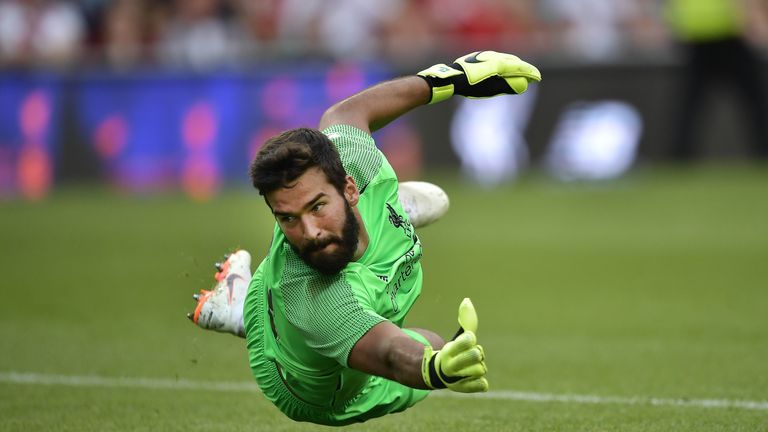 On the whole, Alisson's performance was similar to the way Ederson goes about his business at Manchester City.
It may be an obvious comparison to make but it's a relevant one.
Klopp will be hoping for the same upsurge in results - starting with West Ham United at Anfield next weekend.
Alisson's key moments
3mins: Plays a 70-yard ball straight into Salah's path, which eventually leads to opening goal
10mins: Tries to play out but pass is deflected out for goal kick
23mins: A nervous pass to Milner leaves his teammate in in trouble - Milik fires subsequent chance wide
26mins: Insigne strikes from 20 yards, Allison looks to have it easily covered but makes a bit of a hash of it and spills it around the post
53mins: Starts move with a disguised pass, which ended with Mane firing wide
82mins: Makes a solid save at near post from Simone Verdi and then keeps out a corner that was creeping in
How did Torreira do?
Despite his small frame - Torreira stands at only 5ft 6in - he showed in the summer in Russia for Uruguay that he possesses the ability to have a big influence from central midfield. His aggression and tenacious nature is likely to bring something different to an Arsenal engine room that has been accused of lacking bite for many, many years.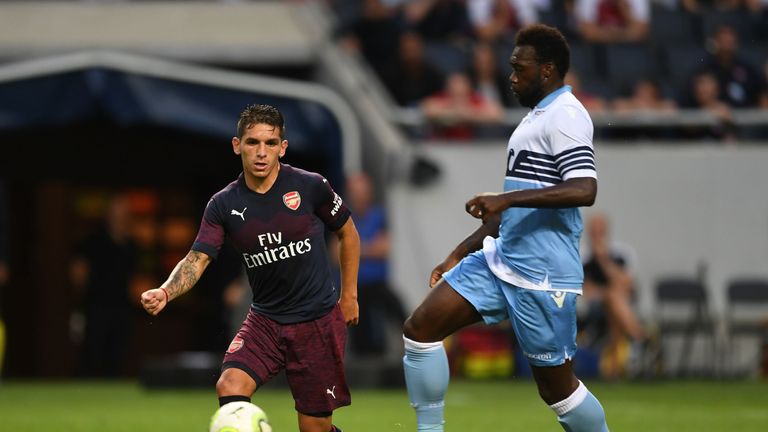 Here, against familiar opposition from his Sampdoria days, Torreira was asked to play the first half in a midfield two of a 4-4-2, alongside Granit Xhaka. On paper, it looked a duo with a potential nice balance to it - one left footer, one right footer - but it never really hit the creative levels probably expected by their manager.
Torreira picked up a lot of possession very deep and moved the ball quickly but without really troubling the opposition. His game looked to be more in the style of a N'Golo Kante than Andrea Pirlo with his most important work coming off the ball when Arsenal are chasing possession back. They dominated the ball against Lazio, which meant Torreira's workload was minimal.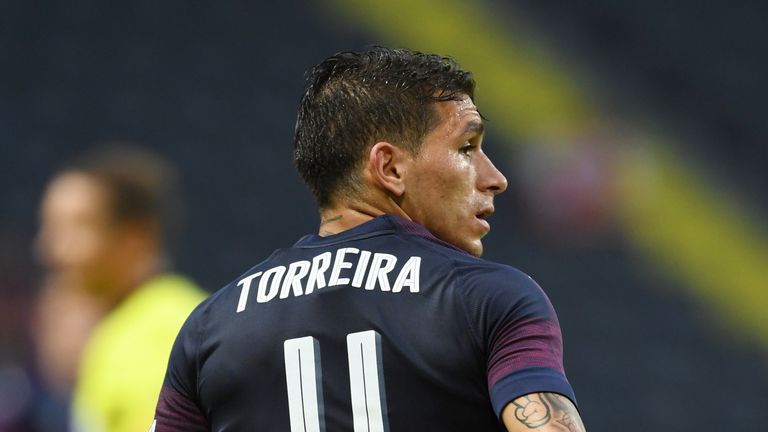 Unai Emery switched to a three-man midfield after the break when bringing on the exciting Matteo Guendouzi, who played in front of the back four while Torreira moved more to the right of the midfield three. In truth, Guendouzi looked like a man keen to impress with some driving runs from deep while Torreira seemed to be playing with the handbrake on.
However, he did fly into a few brave aerial challenges which would have pleased those who have been craving some beef in the Arsenal midfield.
If Emery starts him against Manchester City next Sunday, then he should be seen to better effect.
Torreira's key moments
14mins: Takes a right-wing corner that gets cleared but sprinted back 80 yards to help his defenders out with the Lazio counter
43mins: Charges into a brave header in with the much taller Senad Lulić but wins the challenge despite taking a bang on the nose
50mins: Plays a rusty pass in midfield to Lacazette but shows tenacity to chase a lost cause which led to a break which Aubameyang missed controlled