Arsenal "don't have enough quality players" to freeze out Mesut Ozil, according to the Sunday Supplement.
Ozil missed Saturday's 3-1 win over West Ham with a cold, in the words of head coach Unai Emery, but was subbed off during their loss to Chelsea last week and is the subject of rumours over an alleged bust-up at the Gunners' training ground earlier this week.
Listen back - Sunday Supplement podcast
Live Renault Super Sunday


That has fuelled further speculation the German midfielder could end up out of favour under the new Arsenal boss, but Dunn believes the squad lacks the quality to be able to leave him out of his starting line-up - and questioned whether Ozil had been ill at all.
"You can't get around the fact there are hierarchies in dressing rooms, and he's Arsenal's marquee player," The Mirror's Andy Dunn said on Sunday Supplement. "If you've got a player of that talent, sometimes your job within the club is to get the best out of that talent, so you can cover for Mesut Ozil.
"That's what being a team is all about, it's what other players in that team recognise. They are there not just to facilitate him, but to get the best out of him. I think Arsenal have not got anywhere near enough quality players to afford to have their highest-quality player frozen out.
"The Arsenal week has rotated around whether he'll drop Ozil, can he fit into the intense style of play, that's dominated things. Then he gets sick on Friday - you can look at that as a coincidence. But then Emery says he's come to the game, left training ill on Friday but was at the game and in the dressing room on Saturday. If a player's ill, why would you be invited to the game?"
The Times sports writer Alyson Rudd said some of the onus was on Ozil himself to buy into Emery's new pressing style of play, and to support his new head coach in helping the squad adapt, as one of the most senior figures inside the dressing room.
She said: "You can't just let a creative midfielder like him drift by, but equally Ozil has some responsibility. He has a new manager, who needs to learn how to make that team tick.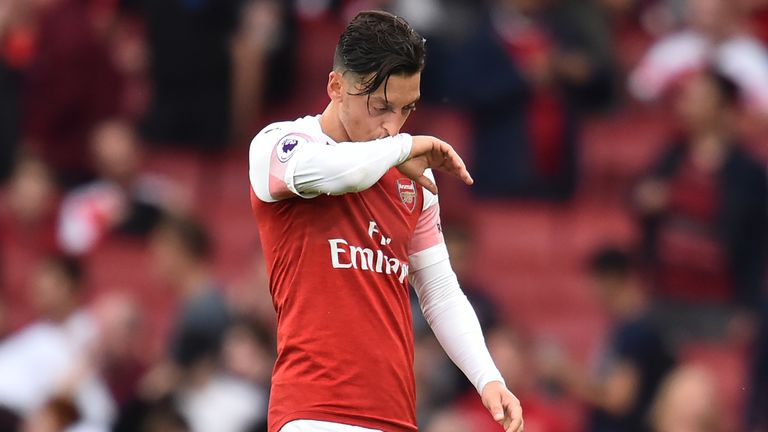 "It's a relationship; Emery is trying to work out a system, and how he changes Arsenal to make them successful. Ozil's job isn't just to be a creative footballer, his job is to help the new manager do that and be open to suggestions about how he might play differently.
"At some point, the manager has to say 'I'm in charge, and creative though you may be you're not being receptive to the fact I need you to help me,' and maybe he wasn't planning to play him against West Ham.
"Ozil is in a difficult place at the moment, he's unhappy with the way his country has treated him, he's received some support but quite a lot of antagonism and it's fascinating."