Arsenal midfielder Mikel Arteta happy to adapt to a more defensive role
Mikel Arteta says he has had to change his mentality to provide a better balance between attack and defence at Arsenal.
Last Updated: 14/10/12 5:33pm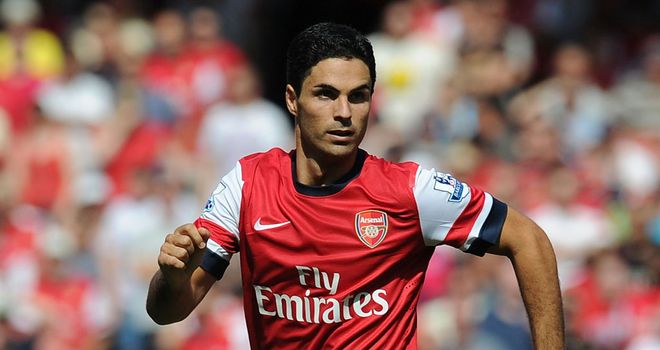 The Spaniard has been regarded as one of the most gifted playmakers in the Premier League for a number of years but this season he has had to adjust to a slightly deeper role at the Emirates Stadium to accommodate others.
He insists he is happy in his new position as he can see how crucial it is for the team, even if it has been a challenge.
"It's a very important job, balancing the team between attack and defence, and that's what I've been attempting to do," Arteta told the Official Arsenal Magazine.
"I've had to change my mentality a little bit - I know that I can't go forward as much as I used to, and I need to sacrifice more in attack - but if it's beneficial for the team I'm more than happy to do it.
"If you want to play at a top-level club like Arsenal you have to adapt to different roles and situations. We've got so many attacking players now, with a lot of quality going forward, and I know I now have more defensive responsibility.
"I need to assume that responsibility to help my team-mates and I'm very pleased to do it if we get the right results."
Different aspects
Arteta acknowledges that he may not possess the physical attributes commonly associated with defensive midfielders, but he feels he is clever enough to fill the role effectively.
"There are many different aspects to it," he explained. "For me it's not only about how strong physically you are, or how demanding the position is physically - it's about being aware, anticipating, being able to read the game and assess what's happening.
"Sometimes you don't need to make unbelievable tackles to win the ball back - not if you're in the right position.
"But it's a demanding position for me mentally, because we have a lot of defensive responsibility and if you don't do it correctly then you can get caught by a run, or something like that, and it's a goal. That's the biggest thing to be mindful of."