Andre Santos wants to stay at Arsenal after Galatasaray link
Andre Santos insists he wants to stay at Arsenal for a 'long time' and has no immediate plans to return to Turkey.
Last Updated: 21/10/12 6:59pm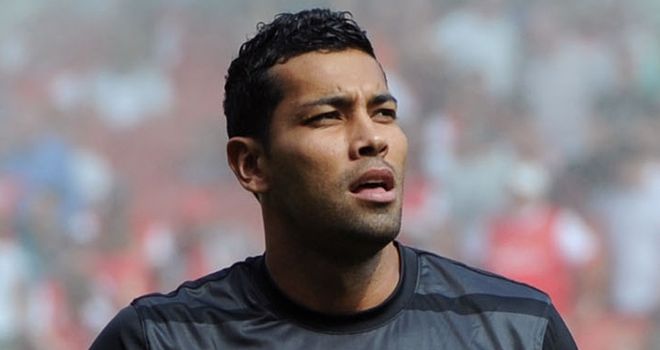 The Brazilian full-back has made just 25 appearances for the Gunners since arriving from Fenerbahce in 2011 and is generally the back-up to Kieran Gibbs.
Galatasaray have confirmed an interest in offering the 29-year-old a route back to Turkey and Santos has fielded plenty of questions on the subject.
However, Santos has no plans to quit the Emirates Stadium and has praised the Arsenal fans during his time at the club.
"There were some rumours that my name was involved in this possible comeback," Santos told Arsenal Player.
"I had people asking me on Twitter and even players from Fenerbahce asking if it was true, but I am very happy here at Arsenal and I hope to stay here at Arsenal for a long time.
"I have a contract and I am very happy here, not only at Arsenal but in London too, it is a great city.
"The Arsenal fans are amazing, this is a great club, and I hope to stay here for a good while."
Santos acknowledges it is difficult not being Arsenal's first choice at left-back, but he is happy to be in competition with Gibbs.
He added: "In life you always find competition and this competition exists but it is only on the pitch and this is good for the team.
"Kieran is an exceptional player, and I know I have qualities too. This is a very healthy competition, we're always talking about it between us before and after training. Kieran is a good friend and I respect the hard work he puts in every day and I know he feels the same way about me.
"He has been playing well and, even if we fight for the same position, I know how good he is. I know that he's having a good spell in the squad and obviously I respect that and am pleased for him.
"I believe that whoever is better at the moment will keep on playing and it's the manager's choice. However, he will always give opportunities to all the players.
"Of course it is hard [when you are not playing. At every club I've been at I've always played regularly. It is difficult to be on the bench, but we are a team, we are doing well and I'll just keep on working hard so I can be back on the pitch regularly."