Premier League: Tomas Rosicky says Arsenal will ignore doubters in title fight
Midfielder Tomas Rosicky says Arsenal are ignoring all their doubters as they fight to win the Premier League title.
Last Updated: 22/03/14 12:21pm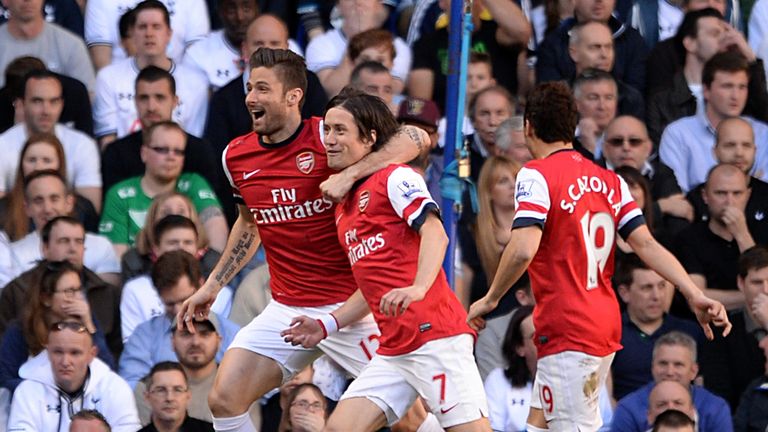 Rosicky scored a stunning goal as Arsenal won the north London derby with Tottenham 1-0 on Sunday - a result which lifted Arsene Wenger's side to just four points behind league leaders Chelsea with a game in hand.
Arsenal are still regarded as outsiders for the championship, with Manchester City expected to go clear at the top having played two games less than the Gunners, while Liverpool, currently second on goal difference, also impressed with a 3-0 thrashing of Manchester United at the weekend.
Rosicky, though, stresses that confidence remains high at the Emirates.
"You cannot influence what the people around you are saying. I mean no disrespect to you (media), but I absolutely don't care what you are saying - don't take it negatively, but it is like that," Rosicky said.
"Only what counts is that you come to the pitch and win the game, if you don't win the game, obviously you are right.
"The only thing that you can influence is on the pitch, the truth is on the pitch, nothing else matters."
Rosicky added: "Since I have been in England and playing for Arsenal, it is the first time it has been like this, with four teams basically fighting for the title.
"You can see how unpredictable it is - we lost at Stoke (last weekend), Chelsea lost at (Aston) Villa (on Saturday), so every game is very important for everyone.
"It can change very, very quickly in two games and of course you talk about Chelsea and Man City, but you have to talk about Liverpool also."
Rosicky believes Arsenal are in a strong postion to finally end their long trophy drought, with an FA Cup semi-final against Wigan at Wembley to look forward to.
"When we were 1-0 up in the past, sometimes these games slipped through our fingers... maybe in the past we would not have won a game like that," he added.
Arsenal boss Wenger is expecting a tense run-in for all concerned.
"We wanted to get back in the race and the defeat of Chelsea, the win of Liverpool and of Man City away makes the final sprint very interesting," he told Arsenal Player.
"It is not in our hands because even if we win our game in hand we are still a point behind, but if we continue to win our games that will of course be very important, then it is in our hands.
"(Afterwards) then it is just focus, recover, focus and try to win the next game."