Arsenal boss Arsene Wenger says he has no problem with Theo Walcott - who has been out for 10 months out with a serious knee injury - playing for England in the upcoming matches against Slovenia and Scotland.
Walcott came on as a late substitute in Arsenal's 3-0 win over Burnley last weekend, his first competitive action since rupturing the anterior cruciate ligament in his left knee against Tottenham in January.
The 25-year-old was named in Roy Hodgson's 26-man squad on Thursday, along with Gunners team-mates Calum Chambers, Jack Wilshere, Kieran Gibbs, Alex Oxlade-Chamberlain and Danny Welbeck.
"He's available and has been chosen by England. Roy Hodgson is free to do what he wants," said Wenger, who confirmed Walcott would be in the squad to face Swansea on Sunday.
Mechanics
"Theo needs competition, he's been out for 10 months. People think it's like mechanics, but these are human beings not machines.
"To get back into the rhythm, of the top, top level of competition will take time."
Meanwhile, Wenger said midfielder Aaron Ramsey should just focus on playing well rather than worry about trying to emulate last season's prolific goalscoring run.


Ramsey has scored three goals this season, including one in the Community Shield victory over Manchester City, with his most recent coming against Everton on 23 August.
At the same stage last season, Ramsey had already scored 11 times for Arsenal in a spectacular start to the campaign.
"He just needs to keep the priorities right. A midfielder needs to defend well and make the other players play well," said Wenger.
"You have to be guided not by what people say but by the way you want to play and the way the game should be played. When you score a goal and have a disastrous game, people say you have been great.
"As a midfielder you have to defend and attack well and give good passes to the other players, that's what the heart of the game is about.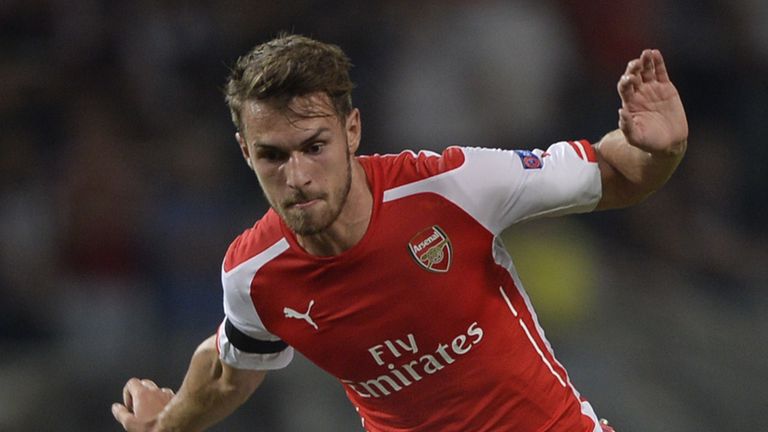 He (Ramsey) just needs to keep the priorities right. A midfielder needs to defend well and make the other players play well.
"It's not about goalscoring, goalscoring is a consequence of playing well first, so focus on playing well."
'Tactically clueless'
Wenger also hit back at the "predictable" criticism of his players after Tuesday's 3-3 draw with Anderlecht in which the Gunners let a 3-0 lead slip at home.
Sky Sports pundit and former Arsenal player Paul Merson described the team as "tactically clueless" but Wenger said the spirit remained high within the squad.
"If you are 3-0 up and get back to 3-3, you always get the same," he said.
"I have managed 2,000 games and can anticipate what people will say. If you defend and get back to 3-3, people will ask why you defend and not continue to play a normal game. If you continue to attack, people ask why you attack. It is so predictable.
"We are very positive inside the camp. We are not touched by the negativity. When we do not win, we are not happy. The rest, we can live with."